Coming Soon


It's been a while, but as they say, better late than never. We finally made some time to redesign our blog and soon we will have our own independent website. The blog helped us reach a huge audience and generate a lot of interest in this area. As a result, the format and (utility) of the blog seems overwhelmed, hence the transittion to the dedicated site. The URL for the new site and content will be disclosed soon. Till then, enjoy the blog and continue to contribute to our posts.
Cope Thunder 2004 - Alaska
Cope Thunder 2004 - Alaska
Cope Thunder 2004 - Alaska
Cope Thunder 2004 - Alaska
Cope Thunder 2004 - Alaska
Cope Thunder 2004 - Alaska
Cope Thunder 2004 - Alaska
Cope Thunder 2004 - Alaska
Cope Thunder 2004 - Alaska
Cope Thunder 2004 - Alaska
Cope Thunder 2004 - Alaska
Cope Thunder 2004 - Alaska
Cope Thunder 2004 - Alaska
US army takes CT tips from India
Crippled by the lack of expertise of US soldiers in low intensity counter operations (Lico) in its ongoing war in Iraq, a senior level team led by a general from the US Army visited the 15 Corps Battle School (CBS) at Khreul, 20 km from Srinagar, early this month to replicate a similar model for its troops.

A dedicated institution to impart counter terrorism (CT) training to all security forces operating in the militancy-infested Jammu & Kashmir, the CBS has within its set-up, a mocked-up Kashmiri village with dummy hide-outs, which are otherwise used in normal situations by militants to either take refuse or launch an offensive against the security forces.

Deputy commandant and chief instructor at CBS, Lt Col Kulwant Singh, while confirming the visit by the US army, headed by commanding general Chris Kevin, told TNN the team had specifically come to replicate a similar model in the US for training its troops fighting the Iraqis. "The idea was to acquaint their troops in anti-militancy and unconventional operations," he added.

"The US army is fighting under similar conditions of a proxy war where they come under attack from unsuspected quarters," Singh said, adding that the team besides witnessing training activities and interacting with instructors, also took a detailed purview of the kinds of situations faced by the security forces fighting a proxy war.

Instructors at the school said despite being equipped with the latest surveillance systems and weaponry, the US army is facing a major challenge to resist increasing attacks from the Iraqis.

"It has only exposed their vulnerability and inexperience in handling low intensity conflicts," an instructor said.

The model village, named Takribal, was conceptualised and set up in July 2003, after a young Army officer lost his life in the valley during an offensive with the militants, who were holed up inside a house.

Local Kashmiri Noor Mohammad, who designed the plan, said the village, with 38 houses represents a typical village in the valley, but has 18 hideouts of different kinds. The plan was finalised after gathering information from villagers and intelligence sources about the different types of shelters being used by the militants.

"Like for instance, one of the hideouts is a water tank with an underground opening, which leaves little scope to imagine that somebody can actually remain beneath it with water filled up at the top," Noor said, adding in another such hideout.

This is the second such instance this year when the US Army sought assistance from its Indian counterparts to equip themselves in low intensity conflicts. In March this year, the US soldiers had trained along with the Indian army in low intensity conflict exercises in the Counter Insurgency and Jungle Warfare School at Vairangte in Mizoram.

"The initial phase would be for carrying out cross-country runs, slithering and firing and later on the two sides would conduct exercises in anti-militancy and unconventional operations," the spokesman said.

Italian Company To Design India's Third Carrier
The Indian Navy's aircraft carrier project, the Air Defense Ship (ADS), has taken a leap forward with the Defence Ministry's award of a $30 million contract to Fincantieri's Naval Vessel Business Unit to help prepareconcept, design and implementation plans.

The Genoa, Italy-based firm also will build and integrate the propulsion systems for the vessel, a Navy official said.

The Defence Ministry also considered bids by DCN International, Paris, and Izar Construcciones Navales, Madrid.

The $800 million ship will be built by 2010 at state-owned Cochin Shipyard Ltd. (CSL), Kochi, but the yard does not have the expertise to complete the design, the official said.

Many other parts, including the hull and the landing deck, will be built by Mumbai-based Larsen & Toubru, the official said.

A Defence Ministry official said the Cochin yard would need major modifications to build the ADS, and said technical assistance would be obtained from state-owned Mazagon Docks, Mumbai, and various foreign shipyards and contractors.

The ADS will be India's third aircraft carrier. The Navy already operates the INS Viraat and is slated to receive the Russian aircraft carrier Admiral Gorshkov by 2007.

Ship Similar to Cavour

Fincantieri's design and construction of the Italian Navy's Cavour carrier tipped the scales in favor of the Italian shipyard, the official said.

The ADS is expected to be of similar shape and weight, displacing 40,000 metric tons and measuring 57 meters wide and 252 meters long. Its top speed will be 32 knots. It will carry 1,200 sailors and 18 combat aircraft, including Sea Harrier jump jets and MiG-29K fighters, and 10 Advanced Light Helicopters.

The ADS is expected to be equipped with indigenously developed systems such as the Trishul anti-missile system, Aparna radar, electro-optical fire control systems and Humsa sonar systems.

The vessel will be powered by four General Electric LM 2500 gas turbines built by Hindustan Aeronautics Ltd., Bangalore.

Negotiating Details

The MoD official said the ministry is negotiating with Russian arms exports agency Rosoboronoexport, Moscow, for the construction of ADS superstructures, such as the runway and the Short Take-Off But Arrested Recovery system, as well as for the supply of communication equipment, missiles and an unspecified number of MiG-29MK aircraft.

The ministry official said India may still shop elsewhere for aircraft, helicopters and weaponry.
The Navy in January signed a long-delayed deal with Russia to purchase 16 MiG-29K aircraft, worth $750 million, for the Admiral Gorshkov.

The plan for an ADS was conceived in 1986, when India was looking for a second aircraft carrier. It then bought the Viraat from the U.K. Royal Navy, and work commenced at the Directorate of Naval Design for an indigenous product.

The clearance to build the ADS was given by the former National Democratic Alliance government last year, when it decided to have three aircraft carriers for the Indian Navy in the next 10 years.

Cope Thunder 2004 - Alaska
Indian air force Junior Warrant Officer Kumar attaches a bomb pod to the bottom of a GR-1 Jaguar here July 12. The Indian air force is just one group participating in Cooperative Cope Thunder 04-01 which begins July 15. Cooperative Cope Thunder is a combat-operations exercise involving aircraft from several services and nations.
Cope Thunder 2004 - Alaska
Airman 1st Class Trevor Smith fuels a GR-1 Jaguar from the Indian air force. He is assigned to the base's 354th Logistics Readiness Squadron. The Indian air force is just one group participating in Cooperative Cope Thunder 04-01 which begins July 15. Cooperative Cope Thunder is a combat-operations exercise involving aircraft from several services and nations.
India-Singapore Air Excersice
Come September, the air forces of India and Singapore will join hands to test each other's preparedness, as the south-east Asian island nation joins the growing band of countries wishing to go in for joint exercise with the Indian Air Force.

The IAF, which has already earned the respect and admiration of the US Air Force, arguably the best in the world, after the joint-exercise between the two countries at Gwalior earlier this year, will pit a combination of MiG-21s, MiG-23s, Jaguars and Mirage-2000 fighter aircraft against the F-16 Fighting Falcons of the Republic of Singapore Air Force during the exercise scheduled to be held in the first half of September this year.

While the main exercise is likely to be held at the Gwalior air base, the RSAF, according to defence ministry sources, may also get the nod to test their prowess at Pokharan range near Jaisalmer.

These Magnificient Men & Their Flying Machines
When Group Captain S.J. Nanodkar lands in Alaska with his magnificent men in their flying machines to go head-to-head against American, British, Japanese and German fighter pilots, all radars will try to lock on him. He has a reputation to defend—that Indian pilots are smarter, more skilled and steer some of the best aircraft.

Cold Alaska will be turning hot with anticipation, the Eielson Air Force Base buzzing and whirring not only with the Jaguars and F-15s, but with mind games. Will Nanodkar and his team win the contest again? The last time they met, Indian pilots outgunned the Americans, scored most of the "kills" and shook up the Pentagon chiefs. This time, however, the exercises involve other big boys of NATO.

At the invitation of the US Air Force (USAF), the Indian Air Force (IAF) is participating for the first time in multi-nation combat exercises, equipped with six Jaguars, two heavy lift IL-76 transport planes, two IL-78 tankers and a 200-strong team. Cooperative Cope Thunder 2004 is a tough test with multiple mock scenarios of assassinations, unrest, rescue and other emergencies. In other words, an imagined "real" world will come alive for 15 days with crises erupting and governments toppling.

At the height of the battle, up to 70 jets could be flying in the same airspace at one time. The IAF will be part of the "Blue" forces or the good guys, fighting off the "Reds" or the bad guys. No ideological compulsions here, the colours are simply a tradition coming down from World War II. The USAF has teams on both sides. Ground forces will be "White" or neutral, doing the umpiring and ensuring everyone's safety.

It is serious business. Most units arrive a week early to get a feel of the 66,000 square miles of airspace, including high-altitude areas, spread over the US and Canada. They need to get acclimatised, learn about local flying restrictions (caution: watch for polar bears and people), and prepare mentally for the test. They may bring their yoga mats—in the two weeks, air crews will be subjected to every conceivable war threat and every nerve-wracking situation imaginable. Scenario builders are toughies. "

It is a very dynamic and fluid situation. It can vary from minute to minute. Scenarios are created to give advantage to some and you don't know what the enemy will field," says Air Commodore Sumit Mukerji, air attache at the Indian embassy. You have to study the given info, anticipate your enemy's moves in the air and plan your attack in the span of a few hours. And resolve the imponderables such as the decoding of the Yank accent or a southern Indian twister at high altitude with a missile on your tail. Or converting kilometres into miles if you are with the non-metric guys of the USAF.

Joint exercises are all about learning and improving, they say, but the last lesson was a bitter one—for the USAF. That they can't take their air superiority for granted. The results of Cope India '04, the first Indo-US combat exercises held in Gwalior, were a rude awakening for the Washington establishment. Indian pilots bested their US counterparts 90 per cent of the time in mock fights. This unsavoury detail, supposedly classified, was revealed shortly after by Congressman Duke Cunningham of California in a defence subcommittee hearing on Capitol Hill.

The top USAF generals then decided to go public and ever since they have been talking unusually frankly about their Indian summer. USAF chief Gen John Jumper told a Senate subcommittee in March that the results of Cope India were "very revealing". Two weeks ago, Gen Hal Hornburg, head of the air combat command, was more blunt when he told defence reporters, "We may not be as far ahead of the rest of the world as we once thought." He described Cope India as a "wake-up call".

Another commander called it a "reality check" and mused about the American tendency to routinely underrate the other side while devising training procedures". What we faced were superior numbers, and an IAF pilot who was very proficient in his aircraft and smart on tactics. That combination was tough for us to overcome," said Col Greg Neubeck, exercise director.

Now the USAF is aggressively demanding the induction of F/A-22, the next generation fighter to replace the F-15C which lost to the Indian Su-30s and Mig-21 Bisons. "We were pleasantly surprised by IAF pilots. It was certainly a validation for us that we have to ensure we keep our edge in both skill and equipment," Col Jeffrey LeVault, an operations chief in the Pacific Air Forces, told Outlook in a telephone interview from Hawaii.

"We always see the need for changes in training and tactics. It was a great learning experience for our pilots," he added. The IAF came out tops in terms of both skill and equipment. India's Su-30s had a clear advantage over the F-15C in long-range flights, and even though the US and Indian pilots were "seeing" each other at the same time on their radars, the Indian pilots were able to "fire" first, sources said.

That means the Indian radars are more advanced, which came as a real shocker for the USAF. With China set to acquire the Su-30s, the Americans are clearly worried. From India's perspective, a strong showing against the US unsettles Pakistan and China a bit and sends a fine signal. Since the Alaska exercises are a multi-nation affair, the idea is to be able to execute and cooperate in an emergency with a mixed team.

Can different military cultures and equipment work together and achieve "interoperability"? This is the first trans-Atlantic journey for the IAF aircraft, and their first foray out of South Asia. Both the US invitation as well as India's acceptance are loaded with political and military significance. "It is part of our coming out.

India is such a large military but we have been insular. The US is always looking for interaction," comments C. Raja Mohan, professor of South Asian Studies at the Jawaharlal Nehru University in New Delhi. "It is in our interest to engage and reach out. China is reaching out to NATO." The Indo-US military-to-military interaction has certainly shot off like a rocket ever since India lifted its veil and offered help after the 9/11 attacks. This is the fourth time in two years the two air forces will exercise together.

They have already done a pilot exchange programme, a US instructor is at the IAF training academy and air force surgeons are working together, says Col LeVault. The Alaska exercises will bring countries in the Pacific and Indian oceans closer as "we have mutual interests and concerns as democracies". Air Commodore Mukerji added that the "crux of the whole exercise is to work in partnership and create an understanding among friendly air forces".

Although he insisted that a real joint operation was "a political decision", he agreed it would be easier once the pilots had flown together and dined in the same hall. In the end, the Indian military seems eager for the experience and glad the political barriers are down for it to get some fresh air.

Indian Top Guns blaze US skies
EIELSON AIR FORCE BASE (Alaska): An Indian Air Force (IAF) Jaguar fighter jet roared into the cold clear skies, simulating combat manoeuvres along with fighter aircraft from the US and several other countries as part of joint air exercise taking place in frozen Alaska.

Junior Warrant Officer Kumar, Corporal Singha and Sergeant Chandra, all from the IAF, attached a bomb pod to the bottom of the GR-1 Jaguar as part of the air manoeuvres nicknamed Cope Thunder.

Two hundred IAF personnel are participating in the fortnight-long annual exercise that imitates a near realistic scenario. Cooperative Cope Thunder 04-01, which kicked off Monday, is a multination combat operation exercise that allows allied forces to familiarise themselves with the other country's combat tactics and capabilities.

The IAF, which displayed its superior skills during joint Indo-US air exercises in Gwalior, India, earlier this year, participated in aerial exercises along with US and other countries. The other participating countries are Canada, Britain, Germany, Singapore, Japan, Malaysia, Mongolia and Sri Lanka. Indian embassy officials said here that Cope Thunder was a reflection of the growing military ties between India and the US. It is for the first time that the Jaguar fighter aircraft is participating in an international exercise outside the Indian subcontinent.

The IAF team flew non-stop to Alaska, with air-to-air refuelling by the Il-78s -- the first time that the air refuellers were employed in international airspace. The IAF pilots will train with their counterparts from other countries in key areas like protection of aerial assets and ground attacks, the sources said. The IAF contingent comprises six Jaguars, two IL-76 and two IL-78 flight refuelling aircraft.

Embassy sources said the exercise would "help us validate our concepts and operational philosophy. It would also provide a good opportunity for professional interaction with the other air forces".

The IAF's earlier participation in Cope Thunder exercise was limited to sending observers in 2001 and 2002. A lone IL-76 aircraft had participated in 2003. The IAF contingent is expected to return to India on Aug 16.

The first bilateral dissimilar air combat exercise between the US Air Force and the IAF in more than 40 years had taken place on Feb 16 when approximately 150 airmen from Elmendorf Air Force Base, Alaska, went to Gwalior for the exercise.

Sweden links sale of jets to Indo-Pak talks
Sweden has declined to sell its advanced Gripen fighter planes to Pakistan until positive movement is made in the Indo-Pak peace process. However, it has agreed to sell Erie-eye Airborne Early Warning and Control System (AWACS), to counter-balance India's acquisition of the Israeli Phalcon Airborne Surveillance System.

''Sweden has decided not to sell Gripen planes to Pakistan until positive developments are made in the region,'' Swedish Ambassador to Pakistan Ann Wilkens was quoted as saying, by the Pakistan NNI news agency.

The sale of planes was not discussed during President Pervez Musharraf's visit to Sweden earlier this month, added Wilkens.

Asked when Sweden would prefer to sell the planes to Pakistan, she said: ''That is mainly linked with regional development. Positive regional developments can put this issue on the agenda, but for the moment that is not an issue and it is still an open question''.

Navy begins to induct BrahMos
The Navy has begun inducting the deadly BrahMos supersonic cruise missile, in some of its frontline destroyers and guided-missile frigates.
Sources said the five Rajput or Kashin-II class destroyers in the Navy's surface fleet would be among the first ones to induct this unique air-breathing missile, jointly developed with Russia. "The destroyer INS Rajput, as it is, has been serving as a trial platform for the anti-ship BrahMos missile for over a year now. These destroyers are currently armed with the older P-20M missiles. BrahMos will give them tremendous long-range strike capabilities," said a source.
TRANSFER OF TECHNOLOGY FOR MANUFACTURING OF SUKHOI - 30
Agreement of transfer of technology for manufacturing of Sukhoi – 30 MK-1 was signed between India and Russia. The agreement envisages licensed production of SU 30 MKI aircraft along with engines and sets of aggregates.

The Russian side will provide for supply for license technical documents, specific non-standardised equipment and tooling, technical assistance, deputation of Russian Specialists to India, training of Indian engineers in Russia and supply of technical kits in different stages of production.

The Government accorded sanction to the licensed manufacture of SU-30 MKI aircraft, its engine and accessories at HAL at a total cost of US $ 4809.3 million (Rs. 22122.78 crore at year 2000 price level and at 1 US $ = Rs. 46) which includes payment to Russia towards license fee, technical assistance technological facilities and cost of technical kits.

This information was given by the Defence Minister Shri Pranab Mukherjee in a written reply to Shri Subhash Sureshchandra Deshmukh and Shri Sushil Kumar Modi in Lok Sabha today.

Sea King Center Planned in India
India has established a facility to repair the Navy's Sea King helicopters, grounded because of age and unavailability of spare parts.

India's state-owned Hindustan Aeronautics Ltd. (HAL) in March began developing the dedicated repair facility, at a cost of more than $15 million, in Bangalore in technical collaboration with AgustaWestland Helicopters, said HAL Chairman Nalini Ranjan Mohanty. The facility is expected to be functional by year's end.

Details of the technology transfer agreement with AgustaWestland were not provided, but sources said it covers availability of the most critical spares needed for the Sea Kings.

The grounded helicopters need gear boxes, rotor systems, transmission systems, sonars and avionics gear.
A Navy official said current efforts include the repair of only seven Sea Kings, while the Navy plans to replace 14 of the helicopters with another anti-submarine warfare helicopter.

Mohanty said, however, the Bangalore facility would be capable of overhauling the entire Sea King fleet. Mohanty said efforts are under way to acquire from Britain's BAE SystemS and other Western companies the necessary parts for the Sea Kings.

Most of the 43 anti-submarine warfare Sea Kings purchased from the U.K. company Westland Helicopters about 20 years ago had to be grounded. Spare parts were unavailable following U.S. sanctions in 1999, which were lifted in September 2001.

"The present fleet of 32 Sea King helicopters has got very low serviceability due to nonavailability of spares affected by the U.S. sanctions, and efforts are being made to increase the flightworthiness and availability of the present fleet," a Navy aviation official said.

The ineffectiveness of the Sea King fleet has severely crippled the Navy's offshore surveillance capability, the official said. Mohanty said the facility also may be used to overhaul the additional anti-submarine warfare helicopters the Navy intends to procure to replace 14 Sea Kings.

An Indian Defence Ministry official said the ability to overhaul the Sea Kings is vital in view of Pakistan's acquisition of French-made Agosta submarines and because of the heightened presence of China's submarine force in the Indian Ocean region.

Meanwhile, the Defence Ministry is sending requests for proposals to replace the 14 Sea Kings to Eurocopter, Paris, for its Cougar model; AgustaWestland for its EH101; and to France's NH Industries for the anti-submarine model of its NH90.

Israel Pressures India To Conclude Defense Deals
A high-level Israeli delegation meeting with senior Defence Ministry officials here July 19-20 demanded that New Delhi set a deadline for finalizing ongoing defense projects with Tel Aviv, according to ministry sources.

Baljit Singh Menon, deputy spokesman for the Indian Defence Ministry, confirmed that Israeli defense officials are here, but he refused to give details about their meetings with Indian counterparts.

However, Defence Ministry sources said Israel warned the new United Progressive Alliance government here that a date for decisions on the projects must be set and met or Israel will sell the armaments to other countries. No deadline was specified during the meetings.

Negotiations for the supply of Israeli products for more than two dozen Indian defense programs are in various stages of approval with the Defence Ministry here. However, Israelis are uneasy because negotiations have been slow since May elections here, which brought into power a new government allied with India's pro-Palestinian Communists. These concerns make it unlikely that India will get top-of-the-line avionics or hardware from Israel for some time, the Defence Ministry sources said.

India has proposed leasing imagery from Israel's Ofeq-5 military satellite and is negotiating to buy a variety of Israeli products, including Arrow-2 air defense systems; Python air-to-air missiles; Heron unmanned aerial vehicles, and aircraft upgrades.

A senior Indian Defence Ministry official said that India cannot afford to lose Israel's help in getting defense equipment, whatever the shape of the government in New Delhi. Israel in the last five years has become India's second largest defense supplier after Russia.

A senior leader of the Communist party here told Defense News on July 20 that the party will not force the government to reverse its defense ties with Israel, though politically the party's support of the Palestinian people remains unchanged.

Defence date with Israel today
Senior officials of Israel's military-industrial complex would be in a delegation expected to hold talks with the defence ministry tomorrow, official sources said today.

The visit comes close on the heels of visits by senior Indian military officials, including the vice chief of army staff Lt General Shantonu Choudhary and Vice Admiral Arun Prakash, who is due to take over as the navy chief on July 31.

India-Israel military ties continue to grow despite both sides being cagey about publicising the relationship. This is the first time that a senior Israeli defence delegation will be visiting New Delhi since the United Progressive Alliance government took over. The Congress' major ally, the Left has been critical of the growing ties with Israel and has been steadfast in its support for the Palestine Liberation Organisation. But defence minister Pranab Mukherjee has said that India's security considerations were paramount and that its military relations would be guided by that token.

Talks with the Israeli defence team will focus on acquisition of Barak missiles for Indian warships and joint development in projects. India's premier defence firm, Hindustan Aeronautics, has already entered into an agreement with Israeli Aircraft Industry that is marketing the HAL-manufactured Advanced Light Helicopter.

New Delhi has bought unmanned aerial vehicles from Israel and is understood to be negotiating purchases of more surveillance systems such as sensors, night vision and remote sensing devices. Some of the IAF Russian-origin fighters are also being upgraded with Israeli avionics.
Israel is a distant second to Russia as a supplier of military equipment to India. About 70 per cent of Indian military hardware is sourced from Russia or from the former Soviet Union countries. But India is Israel's largest buyer of military equipment. Israel packages its military trade with India into its diplomatic ties.

India-Israel military trade is now estimated to have crossed $ 10 billion. The latest acquisition signed was for five Phalcon airborne early warning and control systems in a $ 1.5 billion deal.
Last September, a major Israeli delegation that had come to Delhi, sought and got an assurance from the then defence minister George Fernandes that information on military ties and military technology would be kept confidential. The Israelis had asked for the assurance because it was not very comfortable with India's diplomatic relations with Iran. Israel accuses Tehran of backing Hizbollah militants in its territory.

Israel has proposed to India that it can consider participating in a development programme for a conventional submarine. India and Israel are also understood to have agreed to collaborate on developing a short-range missile.

India To Buy 16 Additional Sea King Choppers For Its Navy
India wants to buy 16 more Sea King helicopters for its Navy from Britain's Westland Helicopters, a senior naval official told reporters July 17. The purchase would boost its fleet strength to more than 30 medium-range choppers.
"We need about 16 helicopters to complete our fleet strength and have asked Westland Helicopters to look around for Sea King-class helicopters that have flown about 1,000 to 2,000 hours," Vice-Admiral S.V. Gopalachari, deputy chief of the Indian Navy, told reporters here.
"We will buy it out, but of course, subject to government approvals," he said.
The Sea Kings were inducted into the Indian Navy in 1970.
Russian firm agrees to assist IAF on Sukhoi repairs, overhaul
Russian manufacturers of the Sukhoi-30 MKI fighters have agreed to provide all assistance to the Indian Air Force for repair, overhaul and servicing of the multi-role aircraft, the entire fleet of which was grounded several months ago creating a near-crisis situation in the country.

The grounding of the entire SU-30 MKI fleet came after some of the planes experienced 'nicks' on the engine blades, which, the Russian experts said, were caused by foreign objects like stones or sand getting sucked inside the engine during take-offs or landings, according to a report in the premier journal 'Indian Defence Review' in its latest issue.

The journal quoted the aircraft's engine designer, Viktor Chepkin, as saying that though there was a "delay" in the delivery of special tools for independently repairing this damage, the engines were very user-friendly.

Mikhail A Pogosyan, General Director of Sukhoi Holding Company, said "our experts, who always work in very close cooperation with the IAF, have found out what caused the damage to the engine blades".

He said the logic of operation of a protective screen in the air intake of the engine has been explained to the Indian experts. "Besides, we have worked out certain measures to clear dents and scratches and all the necessary technical manuals and tools have already been supplied to the IAF"."

So, the engine problem can be considered to have been resolved", Pogosyan said.

Anti Missile System for Indian Air Force 1
WASHINGTON: If the UPA government's position on BMWs imported by the previous government is anything to go by, India may soon be stuck with high-end avionics and defence capabilities for three VIP Boeings.

The Pentagon on Thursday announced it has cleared the sale to India of missile warnings and countermeasure systems for the aircraft used by Indian leaders in a deal worth $ 40 million. The systems were ordered by the NDA government.

The three systems each consist of a AN/AAQ-24 large aircraft infrared countermeasures system, a AN/ALE-47H countermeasure dispensing system and a AN/ALQ-211 early warning suite controller and radar warning system, the Defense Security Cooperation Agency said in a statement.

The AN/AAQ-24 is a system that automatically alerts an aircraft's crew to a missile launch and activates an infrared countermeasure to foil the launch. The AN/ALQ-211 is used to detect hostile radar signals and jam them, and the AN/ALE-47H is computer controlled system to dispense decoys.

"India will install the self protection system on three new Boeing 737 aircraft," the DSCO said, pointedly adding that, "They will use the system for the movement and protection of their head of state."

The UPA government has declined to use a fleet of BMW's featuring sat phones and other high tech gadgetry imported at a cost of $ 1.3 million by the Vajpayee government. Prime Minister Manmohan Singh has said he prefers the familiar old Ambassador car. While some might appreciate the return to spartan ways, others might see it as misplaced zeal.

Across the world, leaders are depending on technology to avoid being targeted by terrorists. Pakistan's military leader Pervez Musharraf escaped an assassination attempt last year because of high-tech jammers in his car that delayed detonation of explosives terrorists set off.

The prime contractor for the Indian VIP security project is Greenville, Texas-based L3 Communications, a firm that boasts of expertise in installation of interiors and avionics systems, including integration of mission systems, for VIP and head-of-state aircraft.

U.S. Says Sale to India of Countermeasures Is Possible
The Pentagon announced July 15 the possible sale to India of missile warning and countermeasure systems for three new Boeing 737 aircraft used by the country's head of state.
The three systems each consist of an AN/AAQ-24 large-aircraft infrared countermeasure system, an AN/ALE-47H countermeasure dispensing system and an AN/ALQ-211 early warning suite controller and radar warning system, the Defense Security Cooperation Agency said in a statement. It said the total value, if all options were exercised, could be as high as $40 million.

"India will install the self-protection systems on three new Boeing 737 aircraft," it said. "They will use the system for the movement and protection of their head of state." The prime contractor will be L3 Communications, Greenville, Texas.

The AN/AAQ-24 is a system that automatically alerts an aircraft's crew to a missile launch and activates an infrared countermeasure to foil the launch. The AN/ALQ-211 is used to detect hostile radar signals and jam them, and the AN/ALE-47H is computer controlled system to dispense decoys.

Admiral Prakash to meet Israeli officials
Jerusalem, July 14. (PTI): Signaling continuity in India's defense ties with Israel, Navy Chief-in-waiting, Vice-Admiral Arun Prakash, who is currently on a three-day trip to Israel, will visit various naval establishments and interact with senior officials here.

Admiral Prakash, the second high ranking officer to visit Israel after the Congress-led UPA Government came to power at the Centre, will meet senior officers of the Israeli Navy to explore areas of cooperation, official sources said here.

Vice Chief of Army Staff, Lt. General Shantano Choudhary, had visited Israel last month and was shown army facilities in both the Golan Heights and the Negev Desert in the south of Israel.

India and Israel, for the past six years, have entered into major defense deals running into thousands of crores of rupees. The deals include supply by Israel of Phalcon Air-borne Early Warning System, Unmanned Aerial Vehicles (UAVs), ground sensors and Travor Infantry Combat Assault Rifles.

Allaying anxiety in Israel regarding the future course of Indo-Israel defense ties, sources said Prime Minister Manmohan Singh, Defense Minister Pranab Mukherjee, and other senior officials have already made it clear that the ties have sound foundations and "the current visit will put an end to all unnecessary speculations."


Next Navy chief goes to Israel to signal smooth bilateral sailing
The Left may express its reservations over New Delhi's relations with Israel but the UPA government wants to continue India's defence cooperation. So the government has quietly sent Navy Chief designate Vice Admiral Arun Prakash to Tel Aviv to allay Israeli apprehensions. Admiral Prakash follows Vice Chief of Army Staff Lt General Shantano Choudhary who visited the country in June.

''We have developed defence cooperation with several countries and we are not making any distinction between country A and country B. We have defence cooperation with Israel like with many other countries and if any deals for import of high-tech have been finalised, those will carry on,'' Defence Minister Pranab Mukherjee told The Sunday Express. ''I cannot say what we will require in future from them. But in general terms, I can say that (it's) a country with which we have defence cooperation, that will continue.''

But is he bothered about pressure from the ruling alliance's biggest support group, the Left? ''Let me clarify that nobody from the Left parties has spoken to me about this issue. In a multi-party system, there may be differences of opinion, but the business of governance goes on,'' he said.

Admiral Prakash, who takes over as Navy Chief on August 1, is on a three-day official visit beginning Sunday. He will interact with his Israeli counterpart and visit naval establishments. The Indian Navy's guided missile destroyers, INS Godavari and Mysore, docked at Haifa on May 23, a day after Manmohan Singh government was sworn in.

General Choudhary, who was in Israel from June 19-22, was shown the counter-infiltration devices at the Golan Heights and Negev desert. The Vice Chief also witnessed demonstration of Soltam 155 mm Howitzers while in Israel. Soltam, which is one of the three contenders for the Rs 5,000-crore deal for purchase and transfer-of-technology of 1,000 Howitzer guns, is coming to India in September to do a field trial at the Pokharan ranges. The Army evaluation trials of Soltam, Swedish SGS (formerly called Bofors) and South African Denel howitzers will begin in November.

When Gen Choudhary was in Israel, Defence Minister Mukherjee said that there would be no change in the existing defence ties with either US or Israel unless there was any adversity with the particular country. Mukherjee's statement came after the Israelis expressed their concern over the pace of the bilateral relationship in the context of the UPA government's emphasis on the Palestinian issue.

Even though the Left parties are for a course correction in the Indo-Israeli defence cooperation, the government knows the armed forces are largely dependent on the Israeli hardware for enhancing their precision capabilities. Tel Aviv had helped New Delhi with precision capability during Kargil as well as Operation Parakram. In fact, when New Delhi was preparing for a limited strike in June 2002 against Pakistan, Israeli Director General, Defence Ministry, Amos Yaron flew to India and subsequently ensured hardware supplies through special planes.

CPI(M)'s Nilotpal Basu told The Sunday Express that his party was not opposed to ''state-to-state'' relationship with Israel but wanted the government to place more emphasis on the Palestinian issue. ''We do not want to elaborate on the defence ties... but we are not opposed to any business relationship with Tel Aviv... we are against Israelis persecuting the Palestinian people in the name of fighting international terrorism,'' the Rajya Sabha member said.

But with the US still reluctant to pass on its sophisticated hardware to India and Russia lagging behind in producing state-of-the-art defence systems, New Delhi has no options but to look towards Tel Aviv.

WHY NEW DELHI NEEDS TEL AVIV

Almost all of India's hi-tech defence systems come from Israel. Here's what tops the list:

STRATEGIC SYSTEMS

Almost all of India's hi-tech defence systems come from Israel. Here's what tops the list:

• ARROW MISSILES

Tel Aviv passed on the Green Pine radar, core of the Arrow-2 missile system, in 2002. Now, it wants India to invest in the anti-ballistic system's development

• PHALCON AWACS

India is buying three PHALCON systems to be mounted on Russian IL-76 aircraft.

ARMY

• Arjuna Main Battle Tank development

• Heron/ Searcher II Unmanned Aerial Vehicles

• Thermal Imaging Stand Alone system (T-72S tanks)

• Thermal Imager Fire Control system (T-72S tanks)

• Mi-35 attack helicopters upgrade

AIR FORCE

• Helmet mounted sights/ digital map generations for Jaguars, MiG-27

• Delilah II bombs

• Crystal maze bombs

• Harpy hard radar kill missile

• Pechora III surface-to-air missile

• Pop-Eye beyond-visual-range air-to-air missile

NAVY

• Self-protection jammers for Sea Harriers

• Seven Barak anti-missile systems

• Unmanned Aerial Vehicles

• Fast attack patrol crafts


Indian Navy Drafts Plan for Industry-Military Partnership
The Indian Navy has drafted a plan that calls for local industry to help meet the service's equipment requirements for the next 15 years, an effort the Navy's chief of materiel calls a win-win situation.

"This would help private domestic industry to conceive and plan production initiatives for meeting naval requirements," Vice Adm. Pramod Chandra Bhasin said, addressing a meeting of the Navy-Industry Partnership here Dec. 3. The meeting was organized by India's largest lobbying group, the Confederation of Indian Industries.

This does not implement an official "buy Indian" policy, as local companies will still have to compete with international bidders to gain some orders from the Navy.
But under this plan, the Navy will help domestic companies identify spare parts and systems that they could manufacture for the service in the long run, and the service in turn would show preference to local industry. The Navy also will lend support to industry.

Bhasin noted that while the domestic industry faces stiff international competition to build naval systems, it should be glad to get a slice of the local defense pie, and the Navy for its part would not have to rely on foreign suppliers and the red tape that goes with international contracts.

Bhasin said the new plan, covering 2003-2018, would address immediate requirements as well as future, cutting-edge ideas.

Indian industry now has the chance to benefit from nearly every aspect of naval procurement, from weapons and sensors to maintenance and repair.

Under the first part of the effort, marine engineering, the Navy has invited private firms to pitch ideas for the development and production of propulsion solutions for ships and submarines, machinery control systems, auxiliary equipment and miscellaneous gear, including firefighting equipment, thermal-imaging cameras, protective clothing, acoustic enclosures and infrared separation devices.

For the electrical engineering portion of the plan, the Navy is looking for equipment in areas such as satellite communication systems, satellite navigation, automatic fire-detection systems, navigational radar systems, and command-and-control systems that can be produced locally.

The Indian Navy spends millions of dollars each year on weapons and sensor systems. Under this plan, the funds would bolster local industry and long-term research and development.

The Indian Navy today is completely dependent on steel from overseas sources, which accounts for nearly 40 percent of the cost of a warship, Bhasin said.

He added that the Navy today spends nearly $200 million annually on the procurement of machinery and spare parts alone, and nearly $1 billion each year on replacing equipment and weaponry.

Retired Indian Army Lt. Gen. S.K. Bhatnagar, chief adviser at warship equipment-maker Satish Kumar Bhatnagar TIL Ltd., Calcutta, said the concept of an Indian Navy-industry partnership is not adequate to bolster the local defense trade because, even for local companies, the Indian government's procurement process is still too cumbersome for industry to find much immediate benefit.

Commodore K. Chandra Shekhar, assistant chief of materiel for the Indian Navy, said that bureaucratic hassles and red tape can be reduced through continuous dialogue between the users and the industry.

He said efforts would be made by the Navy to overcome procurement bottlenecks.


Procurement Plan

The new plan, covering 2003-2018, is broken up into five areas:
* Marine engineering
* Electrical engineering
* Weapons and sensors
* Hull materials
* Other naval equipment
India's Defense Minister Wants More Funds
India's new defense minister said July 10 the military would be short of funds within months despite an 18-percent hike in the national budget to modernize the armed forces.

"Almost from the month of October onwards, we will be short of funds, I am told," Pranab Mukherjee told a press conference in New Delhi.

"Therefore I am afraid I may have to go the finance minister for begging money... which I do not want to do but at the same time it may be necessary," he said.

India's Finance Minister Palaniappan Chidambaram, presenting the new left-leaning government's first budget on July 8, alloted 770 billion rupees ($16.7 billion) for the military from 653 billion rupees in 2003-2004.

Chidambaram said the rise had become "necessary" because of low hikes in defense spending in previous years and a massive military acquisition programme.

But Mukherjee said the funding was not enough to acquire new hardware.

"Not much money has been provided for new programs this year. And it is also not possible because, after all, when the entire budgetary exercise will be over it will be by the middle of September," Mukherjee said, referring to time needed for final parliamentary approval of the finance bill.

India has long-standing plans to buy a Russian aircraft carrier, British jet trainers and French submarines, besides a proposed $900 million project to boost the firepower of its infantry.

Indian military acquisitions frequently trigger concern by rival Pakistan, although the nuclear-capable adversaries are now engaged in a peace process.
Defence hike fires Pak imagination
ISLAMABAD: Pakistan expressed strong concern on Monday at the sharp increase in India's defence spending, saying it could trigger an arms race between the South Asian neighbours.

Last week India increased defence spending to Rs 77,000 crore ($16.8 billion), a rise of 16.7 percent over the amount fixed by the previous BJP-led coalition in February.

Pakistan's Foreign Ministry spokesman Masood Khan said the scale of the increase was not justified by recent moves to improve ties in South Asia, including talks between India and China and thawing relations between old foes India and Pakistan.

"Naturally, this would accentuate the asymmetry that we already have in the conventional sphere between Pakistan and India," Khan told a news conference.

"I would like to say this would, wittingly or unwittingly, advertently or inadvertently, accelerate the arms race between the two countries, which we could have avoided."

India defended one of its highest peacetime hikes in annual defence expenditure by saying the funds were needed to honour a slew of arms contracts finalised by the previous Atal Behari Vajpayee government.

But Masood Khan said: "There is no need, no doctrine justifying arms build up.

"This trend in their Budget runs contrary to the regional developments, which were very salutary, and it is a cause of concern to us and I am sure it is a cause of concern to several other countries in the neighbourhood."

Pakistan raised it own defence budget by seven percent in the financial year 2004/05, which started on July 1, to 193.92 billion rupees ($3.32 billion) from 180.54 billion rupees spent in 2003-04.

After coming to the brink of a fourth war in 2002, the countries have embarked on a tentative peace process to settle disputes including the core issue of Kashmir, the Himalayan region over which they fought two of their three wars.

The next round of bilateral talks between officials and foreign ministers are slated for late August but the two sides will also meet on the sidelines of a regional meeting in Islamabad later this month.
India Develops Hyperplane Design
India announced it has developed a preliminary design for a hyperplane, the most ambitious project of the state-owned Defence Research and Development Organisation (DRDO).

Defence Minister Pranab Mukherjee told the Indian Parliament July 8 that DRDO scientists "have evolved" a hyperplane design based on "certain technology packages [which] are being developed with participation of academic institutions … However, no project has been sanctioned for developing a hyperplane."

A senior DRDO scientist told DefenseNews.com on July 9 that the design for the hyperplane, called Avatar, is an effort by the Defence Research and Development Laboratory, Hyderabad; Indian Institute of Technology, Mumbai; and the Aeronautical Development Agency, Bangalore.

The Avatar design is a kerosene-fueled, scramjet-powered vehicle and would be much cheaper to build and operate than hyperplanes under development in Germany, France and Japan, the DRDO scientist said.

The hyperplane would be able to take off from conventional airfields, collect air in the atmosphere on the way up, liquefy it, separate oxygen and store it on board for subsequent flight beyond the atmosphere, the scientist explained. He added that it could be put into orbit at around 250 kilometers above the earth and could fire missiles without being intercepted by the enemy.

"Avatar is primarily intended as a reusable missile launcher, one which can launch missiles, land back and be loaded again for more missions," the DRDO scientist said.

DRDO has announced no timeframe for building an Indian hyperplane, and the scientist refused to discuss any details for possible construction.

India Opens Bidding for Acoustic Rangefinder
The Indian Army is asking Thales and BAE SYSTEMS to bid on a multimillion-dollar contract to produce hundreds of acoustic rangefinders that can locate and identify enemy guns by their sounds.

Dubbed Sound Ranging Systems, the devices will be used in mountainous Jammu and Kashmir, where a number of Indian troops died in the 1999 Kargil battle from Pakistani artillery, a senior Defence Ministry procurement official said.

The rangefinders will detect 80mm and bigger mortars, 100mm and bigger artillery, and tank fire in urban or mountain terrain, an Army artillery official said. They must be able to detect artillery from 20 kilometers away, and in a full circle, the official said.

The devices, which must be set up quickly and used by troops with little training, will be spread along the Pakistani and Chinese borders, the Army official said.

The ones in the Kashmir valley will send their information via secure digital VHF radios to local and theater command posts, where the data will be used to plot Pakistani artillery batteries on a map, he said.

The official gave no specific cost for the expected contract.

Meanwhile, India is using two leased AN/TPQ-37 Firefinder weapon-locating radars from the United States. A dozen more will arrive in 2006, thanks to a $190 million-plus deal signed in September 2001.

"The Sound Ranging Systems are much cheaper than the Firefinder weapon-locating radar and are more useful in Indian conditions," a senior Indian artillery officer said.
BAE To Deliver First Hawks to India in 2007, Defense Minister Says
The New Delhi government has spelled out the schedule for its acquisition of Hawk 115-Y Advanced Jet Trainers from BAE SYSTEMS.

In his first official statement about the aircraft, Defence Minister Pranab Mukherjee told the Indian parliament on July 7 that delivery will commence in 2007, and 75 Air Force pilots will be trained in the United Kingdom to fly the Hawks.

The $1.7 billion trainer deal was signed by the former National Democratic Alliance government earlier this year. Since May, when the United Progressive Alliance government assumed power following a general election, Mukherjee has said on several occasions that the defense deals entered into by the former government were being reviewed.

Mukherjee informed the parliament that the memorandum of understanding between India and the British government states that 24 of the 66 Hawk trainer aircraft will be available by 2008. The remaining 42, to be built by state-owned Hindustan Aeronautics Ltd. in Bangalore, will be delivered between 2008 and 2010.

After nearly 10 years of intense negotiations that often stalled over price, India and the United Kingdom signed the Hawk deal on March 19.
Indian Defense Minister for better US-Indo Ties
NEW DELHI: Refuting perceptions that the UPA government will slow down the process of defence cooperation with the US, defence minister Pranab Mukherjee says it will in fact further consolidate the strategic relationship.

"The defence relationship with the US will not be confined to mere exhibitionism...we will expand it with more joint exercises, training programmes, bilateral visits, exchange of information and so on," said Mukherjee.

"We will expand ties with England, France, Israel and others," he added. Pointing out that the present defence cooperation with the US "practically began" in 1991 with the Narasimha Rao government, he said the previous NDA government had only built on the existing foundations.


US urges NATO to help in Pak defense purchases
Brussels, July 2 (NNN): The United States defence officials here are engaged in encouraging their European allies of the North Atlantic Treaty Organisation (NATO) to effectively consider Pakistan's requests for purchase of defence equipment from European countries.

The move comes ahead of President Pervez Musharraf's upcoming visit to two European sates.

Sources said Pakistan has made several formal requests for purchase of defence equipment including used F-16 fighter planes from different European countries. After completing all formalities involved in declaring Pakistan a Major Non-Nato Ally, the US has officially decided to provide help in strengthening, at all possible venues, the defence and security of the country playing a vital role in international war against terror.

Prior to the upcoming US-Pakistan Defence Consultative Group meeting expected to be held in September this year in Islamabad, the US authorities are working assiduously to get congressional approval for refurbishing the F-16 fleet provided to Pakistan including its up-gradation. The policy makers at the Pentagon have already agreed to raise the strength of Pakistan's F-16s to its original level of 40 and help upgrade them, but it wouldn't be possible before a congressional approval.

The issue of strengthening Pakistan's security remained a subject of informal consultations in the recent EU-US summit in Ireland, Nato summit in Turkey and G-8 summit in the USA and leaders from both sides of the Atlantic agreed that Pakistan's security was vital for the ongoing war against terror.

Sources, however said the US authorities have not initiated as yet the process of seeking a congressional approval on the Pakistani request to provide Awacs as this issue will once again be discussed in the next Defence Consultative Group (DCG) meeting.

There is a wide difference of opinion in senior US defence official on the Pakistani request, which was made after Indian acquisition of Phalcon air borne system from Israel. Pakistan pleads that the Awacs is direly needed by the country in the changed security environment in South Asia.

Sources also said the decision on Pakistan's request to acquire used F-16 fighter planes will be taken shortly. Belgium can only sell the used F-16 fighters to Pakistan if a clearance is given by the US administration. They indicated that the US administration was willing to give such a clearance.

Defence experts in the West, however, are still busy in analysing the outcome of the Wana operation launched by the Pakistani security forces, the source said.

Some European countries are also planning to schedule of military-to-military exercises and training activities with Pakistan, the sources said. Such plans would provide Pakistan avenues for deepening its existing military relations with European countries, besides offering new opportunities for strengthening it defence capability with the changing security environments in the region, they added.


India increases defense budget by 27%
India increases defense spending by 27%
IANS Thursday, July 08, 2004

NEW DELHI: India Thursday hiked its defence spending for fiscal 2004-05 by a whopping 27 percent, allocating Rs.77,000 crore ($16.74 billion) for the sector, largely with an eye on several big ticket arms deals currently in the pipeline.

In the national budget for 2004-05 presented in the Lok Sabha Thursday, Finance Minister P. Chidambaram proposed an increase of Rs.11,700 crore ($2.55 billion) over the allocation of Rs.65,300 crore ($14.51 billion) for defence in fiscal 2003-04.

But actual expenditure on defence during 2003-04 was about Rs.60,300 crore, with the new allocation marking a 27 percent hike.

Chidambaram noted the increased allocation was largely for concluding several major defence deals to modernise the armed forces.

He said the allocation for "capital expenditure", parlance for funds provided for arms purchases, would be hiked from Rs.20,953 crore ($4.57 billion) to Rs.33,483 crore ($7.31 billion)

"As promised in the national common minimum programme, the government is determined to eliminate all delays in the modernisation of the defence forces," Chidambaram said.

"Having regard to the trend of defence capital expenditure in recent years, it has become necessary to make a higher allocation this year."

The sharp hike in India's defence budget came almost a month after Pakistan increased defence spending by 20 percent for fiscal 2004-05. Pakistan had increased the defence outlay to Rs.19,392 crore ($3.32 billion), Rs.3,300 crore more than the budget for fiscal 2003-04.

India has recently inked several major defence contracts, including a $1.5 billion deal with Russia to acquire the Admiral Gorshkov aircraft carrier and a 795-million pound deal with Britain's BAE Systems to purchase 66 Hawk advanced jet trainers.

It has also clinched a deal with Israel for three Phalcon airborne early warning radar systems worth $1 billion.

Chidambaram, however, gave no indication that the Congress-led coalition government had plans to create a Rs.25,000 crore ($5.31 bn) rolling fund to buy sophisticated military hardware as mooted by the previous Bharatiya Janata Party-led regime in its interim budget in February.

Defence Minister Pranab Mukherjee had last month said such a concept was not constitutionally or legally valid.


Kargil: Lessons to be learnt
It is five years since India fought, and won, a treacherous war to regain territory in the Kargil sector of Jammu and Kashmir, which had been seized surreptitiously by Pakistani intruders. But why was India taken by surprise? The question still begs an answer. Senior Editor Sheela Bhatt reviews the conflict on the eve of the fifth anniversary of a creditable victory.

How should a concerned Indian look back on the Kargil conflict?

Undoubtedly, the Atal Bihari Vajpayee government's two major successes were the nuclear tests and the victory in Kargil.

After the nuclear tests in May 1998, when the United States and some of its allies imposed economic sanctions on India, there were fears that the economy would crash. But India withstood the fallout.

Likewise, during the Kargil war, the government showed tremendous patience and did not cross the Line of Control, which separates India and Pakistan in Jammu and Kashmir. For the first time in history, the US and China both supported India vis-is Pakistan, subtly acknowledging the LoC as the de facto border between India and Pakistan. They supported India only because India did not violate the 'sanctity' of the LoC. Credit is certainly due to the Vajpayee government for its strategic and diplomatic acumen during and after the war.

The war also saw an outpouring of patriotic fervour by Indians after a long time.

What was the flip side?

After five years and many inquiries, no one knows what exactly happened before the conflict broke out and why everyone was taken by surprise.

Why did Kargil happen?

No soul in government can give you a credible answer. Whatever be the government's own claim, Kargil was a surprise. The government bungled before the war broke out. India's military and intelligence establishments erred in assessing the indicators.

It came as a shock for the Kargil Review Committee (headed by defence analyst K Subrahmanyam) when a lady officer at Army Headquarters told it that General Ved Prakash Malik, then chief of army staff, got a report of intrusions by Pakistanis a day before he was to leave for Poland on an official visit. General Malik instructed his office not to forward the report until his return. The Kargil Review Committee did not, however, pursue this matter.

It must be acknowledged, however, that when war actually broke out General Malik and the government acted well.

Did the euphoria caused by then prime minister Vajpayee's bus ride to Lahore cause the government to take its eye off the ball? Is that why Kargil happened?

Looking at the published facts one can only say that the government was naive to trust the Pakistani establishment. It was swayed by a 'peace fever.' Across the board there was a craving for friendship with Pakistan. Military and intelligence personnel neglected all indicators about General Pervez Musharraf's duplicity.

So the Kargil war was an intelligence failure?

Yes and no. Our intelligence set-up got the inputs, but failed in the assessment of these inputs.

Kargil also showed our military leaders in poor light. Even when they started getting reports of the intrusion, they underplayed it, at high cost. Defence Minister George Fernandes termed it, initially, a 'small intrusion.' Even a cursory look at the newspapers of April-May 1999 make the government's attempt to underplay the event evident.

There is an interesting anecdote in this connection. When the Kargil report came out, a senior and highly respected retired intelligence officer sought an appointment with Vajpayee. He was unhappy with the report. Vajpayee heard him out patiently. When the meeting was about to get over, he said: "'Bataiye Kargil kyon hua?"

The ageing sleuth said in anguish, "Chowkidar sow gaya tha, ab shikayat kar raha hai humko sone kyon diya!" (The army was asleep on the borders and now it is asking why was it allowed to sleep by intelligence!)

How important is the recent debate on the delay in the decision to use the Indian Air Force during the war?

It is just one of the many issues relating to the war. Any government would think twice before bombing its own territory.

Has anyone been held responsible for the lapses in Kargil?

A few heads rolled, but the Kargil Review Committee did not go too seriously into individual lapses. No authority in the establishment discussed threadbare the role of General Malik and officers at his level. Surinder Singh, a brigadier who was the commanding officer in the Kargil sector when the infiltration took place, has gone on record with many vital facts. The government should not have dismissed him as 'merely an alarmist.'

Also, till today no healthy debate has taken place on why the government was taken by surprise. The real cover-up of the Kargil conflict is this. The government handled the situation well once war broke out. But it was before the war broke out that it bungled. That, however, got buried in the overwhelming emotions stirred up by the conflict.

Why was the death rate so high?

Because of the terrain. The Indian soldiers had an uphill task, literally.

On the fifth anniversary of the conflict, what can we expect from the new government?

A debate on the Kargil Review Committee's report in Parliament. The report has not been debated so far. The previous government's attempt to cover up what happened before the conflict should not be allowed to succeed.

What are the lessons for India from the Kargil war?

The conflict has to be viewed through the prism of the nuclear tests conducted by India and, soon after, Pakistan in May 1998, simply because it was the first military conflict after both nations went nuclear. Kargil proved that nuclear weapons offer only an illusion of national security and are useless in dealing with limited conflicts of this nature. On the contrary, they proved a hindrance for India, which could not retaliate as freely as it would have liked.

Nuclear weapons have given Pakistan a psychological sense of parity with India. How?

Pakistan's nuclear capacity and, in turn, its military self-confidence were underestimated by India (external reference: Pakistan's Nuclear Weapons Program). After India's nuclear tests, then home minister L K Advani declared, 'The strategic equation has changed in India's favour.' How wrong he was!

In New Delhi, there was utter confusion about Pakistan's tests. Indian experts had dismissed Pakistan's nuclear programme as China's baby. But since 1998, not one Pakistani nuclear-capable missile has failed. On the other hand, India has seen several failures.

Islamabad's programmes can no longer simply be dismissed as stolen or bought. Their successful tests show that Pakistani scientists are a confident lot and the country has the capacity to enhance its nuclear and delivery capability. Kargil must be examined in this light.

What should be done now?

As mentioned earlier, the whole episode starting from Prime Minister Vajpayee's visit to Lahore should be debated threadbare. The reports of the Kargil Review Committee and the Task Force must be discussed.

The BJP has tried its best to prove that Vajpayee was not taken for a ride by his opposite number Nawaz Sharif. To prove this, a top-secret tape was released during the war. It had a telephonic conversation between General Musharraf, on a visit to China, and his deputy, Lieutenant General Mohammad Aziz, in Islamabad. The BJP claimed that the conversation proved that even Sharif was taken for a ride by his army chief. The BJP government actually acted as Sharif's defence.

Singapore Air Force, Army Units To Train in India: Report
Singapore will train its air force and army units on Indian territory under an expansion of a defense cooperation pact signed last year, Defence Minister Teo Chee Hean said in remarks published June 30.

Air force units will start training by the end of the year, while army personnel will follow next year, he was quoted as saying in the Straits Times.

The training will be carried out in camps run by the Singapore Armed Forces (SAF) on long-term leases following talks to expand defense cooperation.

Training in foreign countries will boost the capability of the SAF as well as help the city-state overcome the space constraints at home, Teo said.

"We are always looking for opportunities to train with other armed forces because it provides the SAF with a new dimension in its training," he said.

Singapore already trains its military personnel in about a dozen countries including France, the United States and Australia.

This will be the first time that India has allowed troops from a foreign country to train on its territory.

Singapore-India defense ties have grown steadily since the mid-1990s with regular exchanges of visits by ministers and high-level military officials and the signing of the Defence Cooperation Pact in October.


India Tests Nuclear-Capable Missile
India on July 4 tested a short-range variant of its nuclear capable surface-to-surface Agni missile from a testing site off the country's east coast, a defense official said.

The homegrown missile, with a strike range of 700 kilometers (about 435 miles), was tested from a mobile launcher at Wheeler Island off the coast of eastern Orissa state at 10:10 am (0440 GMT), the official said.

The missile, one of the variants of the Agni (Fire) series, can carry a one-ton payload.

Defence Ministry spokesman Amitabh Chakravarty in New Delhi described the test as "a perfect launch".

Pakistan said it was not worried about the missile test as it was a "sovereign right" for any country to enhance its defense and military capability.

The test comes within weeks of talks between India and Pakistan on reducing the risk of nuclear confrontation.

In the June 19-20 talks in New Delhi, both sides agreed to set up a hotline to prevent nuclear confrontation, to continue a ban on nuclear tests and to conclude an agreement on informing each other in advance about impending missile tests.

It also comes just days after media reports in Pakistan quoted President Pervez Musharraf as saying that Islamabad would conduct an "important" missile test within two months.

Musharraf did not disclose details of the test but said domestic critics who believed that Pakistan had decided to roll back its nuclear and missile programs were living in a "fool's paradise", the Dawn newspaper said Thursday.

The president did not specify whether the test would be of a nuclear-capable missile.

"It has become a joke that people with negative minds are propagating the ill-notions of roll-back," he was quoted as telling a group of Pakistani journalists.

Early last month, Pakistan successfully test fired a ballistic missile, Hatf V, which has a range of 1,500 kilometers (930 miles). The missile could carry nuclear warheads deep inside India.

The South Asian neighbors held nuclear tests two weeks apart in 1998 and have since come close to war twice in their dispute over the Himalayan region of Kashmir.
US Urges NATO Allies To Help Pak In Defence Purchases
Brussels, July 2 (NNN): The United States defence officials here are engaged in encouraging their European allies of the North Atlantic Treaty Organisation (NATO) to effectively consider Pakistan's requests for purchase of defence equipment from European countries.

The move comes ahead of President Pervez Musharraf's upcoming visit to two European sates.

Sources said Pakistan has made several formal requests for purchase of defence equipment including used F-16 fighter planes from different European countries. After completing all formalities involved in declaring Pakistan a Major Non-Nato Ally, the US has officially decided to provide help in strengthening, at all possible venues, the defence and security of the country playing a vital role in international war against terror.

Prior to the upcoming US-Pakistan Defence Consultative Group meeting expected to be held in September this year in Islamabad, the US authorities are working assiduously to get congressional approval for refurbishing the F-16 fleet provided to Pakistan including its up-gradation. The policy makers at the Pentagon have already agreed to raise the strength of Pakistan's F-16s to its original level of 40 and help upgrade them, but it wouldn't be possible before a congressional approval.

The issue of strengthening Pakistan's security remained a subject of informal consultations in the recent EU-US summit in Ireland, Nato summit in Turkey and G-8 summit in the USA and leaders from both sides of the Atlantic agreed that Pakistan's security was vital for the ongoing war against terror.

Sources, however said the US authorities have not initiated as yet the process of seeking a congressional approval on the Pakistani request to provide Awacs as this issue will once again be discussed in the next Defence Consultative Group (DCG) meeting.

There is a wide difference of opinion in senior US defence official on the Pakistani request, which was made after Indian acquisition of Phalcon air borne system from Israel. Pakistan pleads that the Awacs is direly needed by the country in the changed security environment in South Asia.

Sources also said the decision on Pakistan's request to acquire used F-16 fighter planes will be taken shortly. Belgium can only sell the used F-16 fighters to Pakistan if a clearance is given by the US administration. They indicated that the US administration was willing to give such a clearance.

Defence experts in the West, however, are still busy in analysing the outcome of the Wana operation launched by the Pakistani security forces, the source said.

Some European countries are also planning to schedule of military-to-military exercises and training activities with Pakistan, the sources said. Such plans would provide Pakistan avenues for deepening its existing military relations with European countries, besides offering new opportunities for strengthening it defence capability with the changing security environments in the region, they added.
India Initiates Vast Project To Network Army
The Indian Army is setting into motion a 25-year, multibillion-dollar plan to establish a dedicated network-centric warfare (NCW) infrastructure.

Unveiled last month, the plan aims for battlefield information superiority by getting the right information to the right place, in the right format, at the right level of precision and accuracy, and at the right time.

"We hope to build 25 percent of the NCW infrastructure in the next five to seven years, from present level of nil capabilities," an Army planner said, adding that the service also would buy more precision weapons and move away from platform-centric warfare. "The Indian Army will shortly bring out a dedicated NCW doctrine to implement this plan."

The new network would connect intelligence gatherers, decision-makers and battlefield commanders to ensure the optimum deployment of soldiers and equipment, said Lt. Gen. Davinder Singh, signal officer in chief at Army headquarters.

"This demands a seamless integration of strategic and tactical networks," Singh said.

Work would begin early next year on a mobile communication and satellite system that integrates surveillance, command-and-control, and satellite communciations. India plans eventually to build a satellite dedicated to the Army's use, but meanwhile, NCW will use the existing Cartosat military satellite. A new tactical data network will be built, plus what military officials here call an anti-technology system that would secure the network and paralyze an enemy's command-and-control and weapon systems.

India will have to rely on overseas technologies to build and protect the NCW infrastructure, a Defence Ministry official said.

The NCW plan does not require parliamentary approval. Senior Army officials said it will cost billions of dollars to implement, starting in the new defense budget, which will be considered in Parliament on July 8. It will include a substantial increase for military communications.

The Army intends to follow the U.S. Army's example — the use of sensors, information processing and precision weapon technologies — but would not get direct U.S. help, the planning official said.

He said Indian Army planners are working on infrastructure models that involve the use of satellite-borne sensors to carry out near-instant surveillance over China and Pakistan.

The Army also has approached the state-owned Defence Research and Development Organisation about using nanotechnology to build a variety of sensors to disseminate vast quantities of surveillance data to all levels of command.

The Army has named Lt. Gen. Pattabhi Raman to the new post of deputy chief of Army staff for information systems, which was created in an effort to facilitate the new NCW plan, a senior Army planning official said. Duties for the new position include coordinating convergence of information technology, information systems and telecommunications technology. The new Information Systems directorate under the deputy chief will manage the information flow as well as its use in planning military operations.
Indian pilots to train on Hawk next week
The training of the first batch of the Indian Air Force pilots on the Hawk jet trainers will commence at the Royal Air Force valley base in North Wales next week.

Six pilots from the Indian Air Force will take part in the training, a spokesperson of the RAF valley said on Thursday.

The Chief of Air Staff, Air Chief Marshal S Krishnaswamy who is on a week-long visit to London, held discussion in this regard at the RAF Valley yesterday.

"The Indian Air Force is keen for its pilots to begin training at the earliest possible opportunity and the exercises will be conducted as a combination of simulated flying and live flying on the older version of the aircraft," the spokesperson told PTI.

"The RAF Valley is chosen because we deliver the best training in Hawk jet trainers in the world. We hope to train around 25 student pilots per year under the 900 million pounds contract signed between Indian and British arms manufacturer BAe Systems," the spokesperson said.

Under the agreement, India would purchase 66 Hawk Mk 128 and the BAe would train Indian pilots for three and a half years. With four courses per year, RAF Valley would train a total of 75 IAF pilots by the time the first batch of the aircraft is delivered in 2007.

This is the first time such a large contingent of Indian pilots are being trained in the UK and the programme would be coordinated by the RAF Valley station commander, Group Captain Mark Green.
In the Spotlight: Jaish-e-Mohammed (JEM)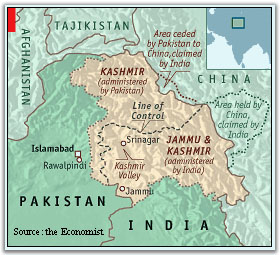 The objective of Jaish-e-Mohammed (JEM) is the overthrow of Indian rule in Kashmir and the province's integration with Pakistan. The group, whose name means Army of Mohammed, was founded in Pakistan in March 2000 by Maulana Masood Azhar, shortly after his release from prison in India. Azhar had been incarcerated there since 1994, and was one of four Islamic militants set free on New Year's Eve 1999 in exchange for 155 hostages aboard an Indian Airlines plane that had been hijacked and flown to Kandahar, Afghanistan. Previously a leader of the Harakat ul-Mujahidin (HUM) terrorist organization, Azhar was reportedly joined by three quarters of that group's members in his new venture, and soon after his release from jail, traveled to Afghanistan where he met with Osama bin Laden. The al Qaeda leader is thought to have provided extensive funding for the JEM. Azahar also organized recruitment rallies across Pakistan that called for jihadis to fight in Kashmir, and were screened on the country's state-owned television station. The JEM leader was placed under house arrest in Pakistan last December after the country's President, Pervez Musharraf, banned the group.

Another leading JEM member, Sheikh Omar Saeed, has been charged with the murder of American journalist Daniel Pearl. Pearl, the South Asia bureau chief for the Wall Street Journal, disappeared last January in Karachi, and was confirmed dead a month later. Twenty seven year-old British-born Saeed, had been arrested by Indian authorities in 1994 on charges of kidnapping an American and 3 Britons, and was serving a prison sentence for terrorist offenses when he was freed along with Azhar. Both men have lived in Pakistan since being released, part of the agreement worked out following the hijacking of the Indian Airlines plane. Saeed's co-accused in the Pearl case are Sheikh Mohammed Adeel, Fahad Naseem and Salman Saqib. Seven other suspects are believed to still be at large. Evidence against the men includes a video of Pearl's execution, ransom emails, and 31 witnesses including FBI agents and a taxi driver who claims to have driven Mr. Pearl to meet Saeed.

The JEM has grown rapidly since its inception. It is now thought to number several hundred and be located mainly in Azad Kashmir, Pakistan, and India's Doda and southern Kashmir regions. The group's supporters are mostly Pakistanis and Kashmiris, although it also includes Afghan and Arab veterans of the conflict in Afghanistan. As well as the Pearl murder, the JEM has been implicated in a series of terrorist incidents, including:



April 2000: A suicide car bomb attack on the main army base in Indian-administered Kashmir.


May 2000: An attack on Kashmir's state secretariat building. 16 rifle grenades were fired at the complex, but missed, killing a civilian and wounding 2 other people, one of them a policeman.


June 2000: The killing of 5 people, 3 of them policemen, and wounding of 3 in three separate attacks in Srinagar.


November 2000: A landmine planted by JEM killed 1 and injured 7 when it exploded under a vehicle carrying paramilitary soldiers in Parimpora, Srinagar.


February 2001: A grenade attack killing 1 member of India's Border Security Force and injuring 5 others.


March 2001: The killing of one policeman and wounding of 6 paramilitaries in a gun attack in Srinagar.


The incident which brought the JEM under the scrutiny of the United States and saw the group targeted as part of the wider war against terrorism provoked by the Sept. 11 atrocities in America took place in Oct. 1, 2001. The attack took place in Kashmir's summer capital, Srinagar, where a suicide bomber exploded a hijacked government jeep loaded with explosives outside the state assembly building, while at least two accomplices wearing police uniforms seized a building in the complex. The ensuing gun battle left 38 people dead, and caused the chief minister of the region to demand that the Indian federal government attack Kashmiri-separatist terrorist bases in Pakistan. Initially the attack was claimed to be the work of the JEM, although they later retracted this.

The United States banned the JEM in November 2001. The following month a suicide attack on the Indian parliament killed 13 people. The JEM is thought to have carried out the assault along with another Pakistani-based terrorist group, Lashkar-e-Tobia (LET). Combined with the changed geopolitical environment that had developed since Sept.11, this put Pakistan's President Musharraf under immense pressure to move against groups such as the JEM and LET. He responded by banning both organizations, although he ruled out handing over Pakistani nationals on a list of militants drawn up by Delhi to the Indian authorities. A wave of police detentions followed in Pakistan, and included members of both the JEM and LET.

Like other Kashmiri separatist groups, the JEM has enjoyed the support of a large number of madrassahs (Muslim seminaries) in Pakistan. Indeed India has claimed that Pakistan's Inter Services Intelligence (ISI) conducts the insurgency in Kashmir, recruiting and training terrorist groups such as the JEM before dispatching them across the line of control (LoC) dividing the state between the two countries. It is alleged that the ISI pays militants, with foreign recruits paid approximately Rs400,000- Rs5000,000 ($8,500 - $10,630) over a two-year period, half of which is paid in advance to a recruit's family, with the rest collected upon completion of contract. Pakistan denies such charges.

According to Indian estimates, some 13, 609 terrorists have been killed between 1989, when the insurgency began, and October 2001. Over 3,140 members of India's security forces have also died in a conflict which has often threatened to erupt into full-scale war between India and Pakistan. The JEM is not the only player in this conflict, but it has become a major one. Moves by Islamabad to counter it, and similar groups, which have enjoyed Pakistani support over the years, official or unofficial, are therefore welcome, even if President Musharraf must tread carefully lest he provoke domestic unrest in Pakistan.


Sources:

April 2001, "Patterns of Global Terrorism, 2000," United States Department of State.

B. Raman, "The Jaish-e-Mohammad (JEM)," South Asia Analysis Group, Paper no. 376.

M. Ehsan Ahrari, "Jihadi Groups, Nuclear Pakistan, and the Great Game," Srategic Studies Institute: U.S. Army War College, August 2001.

"Pakistan: Not a Pariah, A Friend," The Economist, March 7, 2002.

Rahul Bedi, "Kashmir Insurgency is Being 'Talibanised,'" www.janes.com, October 5, 2001.

Umer Farooq, "Pakistan to Reorganize Intelligence Services," Jane's Defense Weekly, April 3, 2002.

Various articles from BBC Online.





The global defense industry is constantly shaping how borders are protected, wars are fought, terrorists are tracked and caught, and global security maintained. We aim to track news, policy, military exercises and strategic affairs between the world's largest democracies - India and the United States.
Given the vast interest and passion we have in this field, we decided to launch this blog to give visitors the ability to track these developments, exchange ideas and link to other sources of Information. Our primary sources and links can be found on the main page. Some of the pieces published herein our ours, otherwise it is reproduced from other sources (news, think-tanks or publications) to provide our readers the ability to interact and respond. The link to the original source can always be found under the article. Articles and op-ed pieces written by us include thoughts and opinions that are ours, not those of any government or political party. Last but not least, this blog is not-for-profit, nor is it financially supported by any corporation, entity or organization. It is purely to be used for informational purposes and not commercial and/or profit motives.
Thank you, Nik Khanna & Jango Unwalla
| | |
| --- | --- |
| | |
About The Blog
This blog focuses on current issues concerning defense and national security for the world's largest democracy - India. It is updated regularly providing readers with in-depth information on technology transfer, acquisitions, counter-terrorism, security and military collaboration and strategic dialogue between India and the United States. The site includes links to top defense policy & research institutes, think-tanks, military sites and research organizations.
Cooperative Cope Thunder
Nikhil and Jehangir wrote an exhaustive article about the Cooperative Cope Thunder joint event. Their article was publihed in Vayu magazine. Click on the link below to read the in-depth article with amazing pictures courtesy of mark Farmer at topcover.com
Download
Guard members are ordinary people doing extraordinary things.
If you're looking for a way to serve your community and country while maintaining your full-time civilian career, the National Guard is for you. Click below to learn more about the proud history of the Army National Guard.
Link