India marked the successful inaugural flight of a 14-seater plane on Sunday, with hopes that the project could launch it into a global consortium for mid-sized aircraft.
"Saras", named after an Indian crane, took off over blue skies in India's technology capital of Bangalore, marking a milestone in the six year state-funded project.
The venture is a long haul for India, whose airlines buy all its passenger aircraft from global firms like Boeing and Airbus. India also sources most of its military aircraft from overseas, but makes some small military planes.
The Saras prototype cost around 330 million rupees ($7.1 million) to make at the National Aerospace Laboratories (NAL).
India, with its low-cost engineers, is keen to emulate the success of Brazil's Embraer, the world's No 4 civilian aircraft maker, in the market for planes used in executive travel, cargo, surveys and rescue.
The Indian Air Force has expressed interest in buying six Saras aircraft, to be made by NAL in partnership with state-owned Hindustan Aeronautics Ltd (HAL) and private firms.
India has been approached by a consortium that comprises Russia's Sukhoi design bureau and NPO Saturn, Boeing and France's Snecma with an offer to join as a partner, said N R Mohanty, HAL's chairman.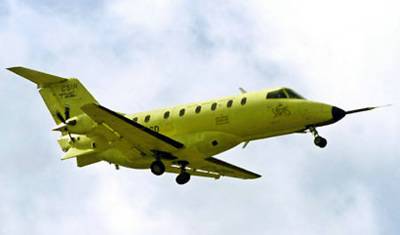 He added that some 5,000 planes of 60-95 seat capacity were expected to be sold across the world in the period up to 2020.
In order to build the plane India had to overcome US sanctions linked to India's nuclear tests in 1998. The country suffered in importing components after US imposed sanctions against export of civilian parts that could be put to military use after New Delhi staged nuclear tests in 1998.
S Prahlad, a project consultant and former head of NAL, said after the launch that about 60-70 per cent of Saras's parts were made in India but the engine and avionic equipment were imported.
He added, however, that there were still some hurdles to cross in building the aircraft.
"We have quite a lot to do before making Saras a commercially viable aircraft," he said.
Critics say Saras, at 6.9 tonnes, is 800 kg overweight in relation to its original estimate but its makers said the additional weight only added to passenger comfort. A second prototype with improved features is expected within a year.
The federal government is also looking at buying 30 planes, Science and Technology Minister Kapil Sibal said recently.
Saras can help connect remote corners of India's sprawling rural areas besides laying the ground for serving a lucrative global market, officials said. They said India could make such aircraft roughly 20 per cent cheaper than key rivals.