Coming Soon


It's been a while, but as they say, better late than never. We finally made some time to redesign our blog and soon we will have our own independent website. The blog helped us reach a huge audience and generate a lot of interest in this area. As a result, the format and (utility) of the blog seems overwhelmed, hence the transittion to the dedicated site. The URL for the new site and content will be disclosed soon. Till then, enjoy the blog and continue to contribute to our posts.
Moscow engine flop show casts cloud on fighter takeoff
India's home-grown Light Combat Aircraft is years away from fighting fit. A flop show in Moscow has belied hopes that the money-guzzling fighter, christened Tejas, will join the air force within the next three years.
The LCA, a joint effort by the Defence Research and Development Organisation (DRDO) and the public sector Hindustan Aeronautics Limited (Hal), is meant to replace the ageing MiG-21s as frontline air defence fighters.
The latest setback came when the Kaveri engine, designed by the Gas Turbine Research Establishment in Bangalore to power the fighter jet, flopped during ground tests at the State Institute for Aerodynamics Research, Moscow.
The engine collapsed when high-altitude conditions were simulated at the research facility. The next round of tests onboard a Tupolev-16 (TU-16) bomber at the Gromov Flight Research Institute, Moscow, was called off as a result, DRDO sources said.
They added that the glitch would hold up the project further, delaying the fighter jet's induction by the Indian Air Force in 2007-08.
Last month, DRDO chief V.K. Atre said on the day of his retirement that the authorities may have overestimated their capability to deliver the LCA.
"The schedule of flight tests (in Russia) for the engine was to end in mid-2005, followed by several hundred hours of flying onboard two aircraft in India prior to certification. Even if these tests start in 2007 (on Indian aircraft), the earliest certification will be in 2010. We want to be doubly cautious about the engine because the LCA is a single-engine aircraft," a source said.
Each indigenous LCA will cost $17-20 million against the $35 million price tag of Su-30 fighters.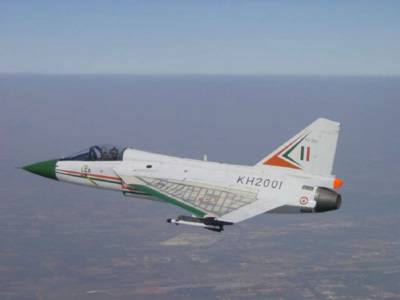 The IAF has been insisting on fitting the LCA with an indigenous engine rather than the F-404 engines of the US company General Electric. The GE engines were acquired for Technology Demonstrators and prototypes under a $100- million contract.
The contract permits the import of 17 engines with an option for increasing the number to 35 over a five-year period.
Three of these engines now power two Technology Demonstrators and a prototype and have logged more than 150 hours in flight tests. The first Demonstrator took to the skies on its maiden sortie on January 4, 2001.
The LCA project has slipped up on weaponisation as well.
The multi-mode radar being developed by the Electronics and Radar Development Establishment and Hal has been plagued by technical snags and cost overruns.
The radar is a key component of the fighter's weapon system, taking care of detection and tracking (of targets) and delivery of weapons. Its track-while-scan facilitates simultaneous tracking and engagement of 10 targets.
Besides this, the air-to-air "Astra" missile of the beyond visual range (BVR) class with an 80-km range, which is being developed by the DRDO for the LCA, has only reached the stage of test-firing motors on the ground.
"It's a big task to complete the design of this missile and carry out sufficient number of tests by 2008," sources said.
The option of importing similar weapons will cause cost overruns and belie the claim that the indigenous fighter is an inexpensive replacement for MiGs.
The LCA project was launched in the early 1990s with the Aeronautical Development Agency, Bangalore, as the nodal agency.
During the Rs 5,500-crore development phase, seven aircraft (two Technology Demonstrators, four prototypes and one two-seater trainer version) will be manufactured to log 2,500 hours of test-flying ahead of induction by the IAF.
Once the tests are completed, Hal will start largescale manufacture of the fighter jets.
IAF's base in Tajikistan will be ready by '04
India's first-ever military outpost on foreign soil, located at Farkhor, about 10 km outside Tajikistan's capital Dushanbe, is ready to become operational by this year-end, without any fanfare.

Reliable sources in the government say the Indian Air Force (IAF) is pressing for an early decision on a suitable aircraft to be stationed at this military base. Operational requirements stipulate at least two squadrons to be stationed there.

Logically, experts say, IAF could opt for MiG-29s that are already in its inventory and can be flown in and out of the region.

Although Indian officials are not willing to discuss the importance of the Farkhor military base, foreign analysts have noted that the acquisition of the military base in Tajikistan would certainly give the Indian armed forces a longer strategic reach.

Defence sources describe it as a "modern" military base where 95 per cent of the infrastructure is in place. The runway, the blast pans and the control tower are ready.

The Army is also into this exercise, having operated a military hospital there, basically to nurse the Northern Alliance soldiers who fought the Taliban regime in neighbouring Afghanistan between 1997 and 2001.

It was to this hospital that Ahmed Shah Massoud, the last of the anti-Taliban resistance leader, was brought dead after Al-Qaida's emissaries, posing as TV journalists, killed him in an explosion three years ago.

The base is the outcome of considerable behind-the-scene work by the MEA, clinched after the US, which marked a big military presence in Central Asia in the wake of 9/11, preferred not to establish a base.

Work by then defence minister George Fernandes led to a bilateral agreement being signed in 2002 during then PM Atal Bihari Vajpayee's visit to Tajikistan.

Even before 9/11, Tajik President Emamoli Rakhmanov has been visiting India. The two countries share common security threat perceptions.

Although Russia's 82nd Motorised Division guards the Tajik border with Afghanistan, the bilateral agreement stipulates the presence of both Indian Army and IAF personnel who will also assist in warding off any threat to Tajikistan.
U.S, India reach accord on dual-use technologies
EE Times
September 29, 2004 (11:31 AM EDT)
WASHINGTON — An accord between the United States and India loosens export restrictions on dual-use technologies, paving the way for closer space and civilian nuclear cooperation along with increased high-tech trade.
The agreement, dubbed the Next Steps in Strategic Partnerships initiative, removes the Indian Space Research Organization in Bangalore from the Commerce Department's "entity list." Dual-use items with commercial and military applications cannot be shipped to countries on the list.
The two governments have been meeting since January to conclude the first phase of the initiative, including implementation of nonproliferation measures and ensuring compliance with U.S. export controls. The export rules are designed to ensure that technologies are not passed along to third parties.
The U.S. imposed strict export restrictions on India and Pakistan after the rivals conducted a series of nuclear tests in 1998.
Negotiators are now expected to broaden their dialogue on missile defense technologies, the Commerce Department's Bureau of Industry and Security, said in a statement.
Pak to double its defence exports: Jane's
LONDON: In an effort to meet its burgeoning defence imports, Pakistan plans to double its defence exports in the near future, a leading defence weekly reported Wednesday.

Pakistan's strategy is to focus on building the Khalid and Zarrar main battle tanks and Mushshak trainer aircraft and earn enough from exporting them to match its defence imports, the Jane's Defence Weekly said in its latest issue quoting country's top defence industry officials.

"Our products have started to mature... today there are things that we can offer that can really interest the whole world," Zahid Anis, Pakistan's secretary for defence production, told the weekly.

"We are sustaining 100 million dollars now and that's good considering we're a new entrant into the market," Maj Gen Syed Ali Hamid, director general of the Defence Export Promotion Organisation, which co-ordinates the export activities of Pakistan's defence manufacturers, said.

"But if we sell one or two of the big-ticket items, say one billion dollar over five or six years, then you're looking at 200 or 300 million dollars a year, which is still just a fraction of the global defence market. But my target is, whatever our import bill is, if we can match our exports to that then I'll be satisfied," he said.

Pakistan's defence exports, currently amounting to about 100 million dollars a year should increase dramatically when the country starts to export Khalids, which could happen in the next couple of years, along with the JF-17 fighter it is developing with China, which could be ready for export by 2008 or 2009, the officials said.
UK arms boss set for talks
SUJAN DUTTA
New Delhi, Sept. 27: The head of the British armaments export agency, Defence Export Services Organisation, Alan Garwood, will be here tomorrow to initiate talks on a range of military equipment that India is negotiating with the UK. The British military is also interacting closely with the triservice set up in the Indian defence establishment, the Integrated Defence Staff and is sharing experiences on procurement processes and logistics support. Last month, Indian curry and pulao made it to the British army's menu.
India-UK defence trade recorded a quantum jump this year with the signing of the contract for the British Aerospace Hawk Advanced Jet Trainers. Garwood, who will meet officials in the ministry of defence and in the armed forces, is expected to take talks on other military hardware further. Among the equipment are:
Personnel-locating beacons for the air force (that will make detection of fallen
aircraft easier. This is an equipment the IAF has been looking for since two MiG-21
aircraft went missing during training sorties in the Northeast last year)
Hand-held chemical agent detectors for the army
Ejector seats for IAF aircraft
Remote-controlled vehicles
Air-to-air refuelling probes for Sukhoi 30 aircraft
Mine ploughs for army vehicles

The British military industry is also keen on beginning talks on ship design management systems and combat management systems for Indian Navy frigates. The contract for the British Hawk has made the UK the third largest military equipment supplier to the Indian armed forces after the former Soviet Bloc countries and Israel.
The two militaries are also holding planning conferences for the command post exercise to be held early next year called Emerald Mercury. It will involve elements from all three armed services. It is understood that Exercise Emerald Mercury will involve the setting up of a
temporary joint staff headquarters in the southern command area near Hyderabad. The
exercise will be held in a peace support operations framework that will involve deploying a command post in-country, to simulate a peace enforcement operation in a third country.
India-UK military ties are governed by a Defence Consultative Group (DCG) of the
two ministries of defence. Sub-committees of the army, navy and air force under the
DCG are meeting this month and in December to chart out future programmes. More
than a 100 Indian and British military officers have participated in exchange programmes this year alone.
India not to have military exercises with Israel
India has no plans to conduct military exercises with Israel even as it works to strengthen military-to-military contacts with that country, official sources here said.

"There are no plans at all to conduct joint exercises with the Israeli defence forces," said a highly placed source familiar with the thinking in the highest levels of the external affairs ministry.

"We will, however, maintain high level military-to-military contacts with Israel that are mutually beneficial," the source told IANS.

The external affairs ministry was particularly miffed after Indian Air Force (IAF) chief, Air Chief Marshal S. Krishnaswamy, told the Jerusalem Post newspaper during a visit to Israel this month that he had received a "positive" response for a proposal to conduct joint manoeuvres.

After Krishnaswamy's comments were highlighted by a New Delhi-based daily, the IAF clarified last week that the air force chief had not signed any formal agreement or taken any decision on holding joint exercises.

Israel has emerged a major supplier of hi-tech military hardware like pilot-less spy planes and sophisticated sensors and radars that have been deployed along the Line of Control in Jammu and Kashmir to prevent terrorist incursions.

India has also signed a $1.1 billion deal with Israel to acquire three Phalcon airborne warning and control systems.

New Delhi is keen to ensure that it continues to have access to such sophisticated Israeli hardware as well as continue cooperation with Tel Aviv in areas like sharing of intelligence, said officials of the defence and external affairs ministries.

At the same time, Prime Minister Manmohan Singh's coalition government is keen to be seen as balancing its strategic ties with Israel with New Delhi's traditional friendly relations with the Arab world.

"We do need cutting edge technologies like the radars and thermal imaging systems that are being used in Kashmir and would like to keep up high-level contacts with the Israelis," said a defence ministry official.

The Left parties, which provide crucial support to the government from outside, have been particularly critical of India's military ties with Israel.

But Defence Minister Pranab Mukherjee has ruled out any dilution of the strategic and military ties with Israel.

India this month sent its Minister of State for External Affairs E. Ahamed as a special envoy to meet Palestine President Yasser Arafat. And shortly thereafter, Manmohan Singh met prominent Jewish leaders in New York.
US could hit Pak nukes if Musharraf is removed
The US may consider military strikes against Pakistan's nuclear assets if President Pervez Musharraf is removed from power, a Democratic candidate for the S
enate has said.

Dawn Tuesday quoted Barack Obama, a Democratic Party Senate contender, as saying in San Francisco that the US feared that Islamic extremists would take over Pakistan if Mushrraf were overthrown.

In such a situation, the US would have to consider "going in and taking the nuclear bombs out", he said.

The Senate hopeful's remarks are in line with Musharraf's own argument that it was important for Pakistan to have him at the helm of affairs as the country would otherwise be taken over by fundamentalists.

Ever since Pakistan conducted nuclear tests in May 1998 in a tit-for-tat retaliation against Indian tests, there have been international concerns about its nuclear weapons falling into the hands terrorist and Islamic fundamentalist groups.

Pakistan's close links with Afghanistan's then Taliban regime and the way various terrorist groups, including those active in Jammu and Kashmir, operated freely in that country had heightened these fears.

Though Islamabad under Musharraf dumped the Taliban and supported the US military offensive against Afghanistan following the 9/11 terrorist attacks against the US, these failed to remove concerns about the safety of Pakistan's nuclear weapons.

The admission by A Q Khan, the scientist behind Pakistan's nuclear weapons programme, that he had sold nuclear secrets to countries like Iran, Libya and North Korea had added to these fears.
MiG Chief Fired, Head of Rival Irkut Takes Over
Prime Minister Mikhail Fradkov has fired the head of state-owned MiG Corp., Valery Toryanin, and replaced him with Alexei Fyodorov, the head of rival fighter manufacturer Irkut, in a move that analysts said may be the government's first step toward industry consolidation.
Fradkov approved Fyodorov's appointment, put forward by the Industry and Energy Ministry, on Saturday, according to a statement posted on the government's web site Monday.
No reason was given for the change, although Toryanin was widely viewed in the industry as a temporary manager when he took MiG's reins last November.
A source in Irkut said that at the time, Fyodorov was also under consideration for the top MiG job.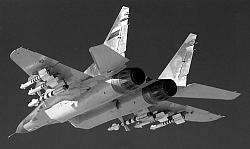 The personnel change was long expected, a source in MiG said. "We didn't know who it would be, but Fyodorov looks like a logical choice."
Fyodorov will head a company that has more than $1.4 billion in orders on its books and unites nearly a dozen enterprises nationwide with more than 45,000 employees.
Neither Fyodorov nor Toryanin were available for comment.
"I hope that Fyodorov's appointment will be the first step to an Irkut-MiG merger and a real consolidation of the industry," said Konstantin Makiyenko, deputy head of the Center for Analysis of Strategies and Technologies.
The Federal Industry Agency has been pushing for the creation of a new company, Unified Aircraft-Building Corp., or OAK, that would bring state-controlled companies Sukhoi, MiG, Tupolev and Ilyushin, as well as Fyodorov's privately controlled Irkut, under one roof.
Toryanin has been a vocal opponent of OAK, saying that it would mean the redistribution of property and cash flows away from MiG.
Fyodorov, however, has supported the idea. Just last week he said that private business and the government should work hand-in-hand in the defense industry.
"I think that Alexei Innokentyevich [Fyodorov] is one of those who understands this synergy very well," said Sergei Nedoroslev, head of private aerospace group Kaskol.
Kaskol controls Nizhny Novgorod aviation plant Sokol, which it is moving to integrate into MiG.
Yelena Sakhnova, an industry analyst with United Financial Group, cast some doubt whether Irkut would be able to merge with MiG anytime soon.
"It will be difficult to unite a private and a totally state-run company," Sakhnova said. "The state could increase its stake in Irkut by giving it MiG."
The state holds 13 percent in Irkut, which is majority controlled by its management. Fyodorov himself holds a blocking stake.
It was not clear on Monday whether Fyodorov will retain his post as president of Irkut, which is a manufacturer of the Sukhoi fighter jet.
"He may keep both posts for an initial period," Irkut spokeswoman Yelena Fyodorova said by telephone from Irkutsk.
"Irkut management is one of the most effective in the aviation industry," she said, adding that it will be able to follow through on its strategic planning even without him.
It would not be the first time that the Irkut president has had to wear more than one hat -- Fyodorov is also a top official in the Irkutsk branch of United Russia.
Fyodorov, who has worked his way up the ladder in aircraft manufacturing, from designer in the Irkutsk plant in the 1970s to top manager, turned the plant into a corporation in 2002.
"He is a very knowledgeable industry specialist, a modern-style manager who learns very fast and is headstrong in achieving goals," Nedoroslev said.
Under Fyodorov's management, Irkut has racked up $4.5 billion in orders -- mostly for Su-30 fighters for India and Malaysia.
The company was the first in the domestic defense industry to audit its books to international accounting standards. Earlier this year Irkut floated 23 percent of its shares on two Moscow bourses, attracting $127 million in the largest domestic initial public offering ever.
European aerospace giant EADS is now seeking to acquire 10 percent of the company.
Irkut has been actively looking to diversify its product range into civil aviation with its Be-200 multi-mission amphibious plane. It has also worked to boost its designer school by snapping up 75 percent of Yakovlev Design Bureau earlier this year.
MiG has $1.4 billion worth of orders on its books, with another $1.5 billion in potential deals pending. The company, however, is burdened by a $290 million debt.
It is unclear what will happen to the company's product range, as some of its jets are direct competitors, like the MiG-AT trainer and the Irkut-supported Yak-130.
BEL, IAI Get Indian ZSU Upgrade Work
India's state-owned electronics giant, Bharat Electronics Ltd. (BEL), will team with Israel Aircraft Industries on a $104 million contract to upgrade 48 Russian-made Indian Army Shilka ZSU-23 air defense systems.

The firm, based here, won the competition for the contract last year, beating out Rosoboronexport of Russia.

Tests are proceeding on two prototype upgraded systems, and the rest will be delivered by 2005, said BEL Chairman Y. Gopala Rao.

The Israeli company will help with system integration, Rao said.

He declined to say how much IAI would receive.

Abrahim Bahar, who runs IAI's Indian arm, was not available for comments.

The upgraded systems will get modern solid-state radar and computers, a new engine, electro-optical fire control systems and overhauls of subsystems.

They are intended to serve for 15 more years,

The main features of the upgraded Shilka systems include a modern solid-state radar and computer, electro-optical fire control systems, a new engine and overhauling of all subsystems.

The upgraded systems must be able to operate despite enemy jamming, must be able to pick up targets more than 15 kilometers away, and must function in temperatures between 35 and minus 40 degrees Celsius.

The gun must be able to shoot down targets flying up to 450 miles per hour up to 1,500 meters and out to 2,500 meters, a BEL official said.

The purpose of the upgrade would be to extend the life of the Shilka system by 15 years.

India has another 600 30-year-old ZSUs that need upgrades in the next three to five years.

The contract for a second batch will begin next year, an Indian Army official said.

US lawmakers cash in on Indo-Pak bonhomie
An Indo-Pak rapprochement on their soil has made several US Congressmen and senators smell opportunity. Some of them, members of the India Caucus, now want to lobby for both the South Asian rivals on the Capitol Hill.

A dozen of them jumped on to the Pakistani bandwagon when Pakistani president Pervez Musharraf opened the US-Pakistan Caucus in Washington last Wednesday. While the Pakistani diplomats who worked hard to snatch them are jubilant, political activists among the Indian Americans are angry.

And Americans are asking whether their lawmakers are reportedly being bought and sold in almost public auction-style bids between the Indian and Pakistani lobbies in Washington.

A report by Dr Manzur Ejaz, a Washington-based, Howard University academic, on the web site of BBC Urdu Service, is headlined: "What price for a US congressman?" While India Caucus is nearly 200 strong and has been around, the Pakistani effort has begun with a modest figure, but the significant thing is that many of them have been members of India Caucus.

"South Asia Tribune" web site on September 19 published a list of the Congress members, obtained from the office of Rep Dan Burton, a long time friend and supporter of Pakistan. SAT alleges that these 24 members on Burton's list include two who have taken a persistently pro-Pakistan position for years while others are new and unknown names who do not figure in any equation at Capitol Hill.

Of them, 12 are currently members of the Congressional India Caucus.
Mission possible
The Jaguar ground attack fighters come in from 7 'clock, the Sukhoi 30 multi-role from 5 'clock. Inside the cockpit of the huge Ilyushin 78, there is a steady thrum from the engines. Squadron Leader Tapesh Shankar and co-pilot Squadron Leader Milind Kumar depress buttons on the joysticks and speak into headphones.

Shankar and Kumar are from an exclusive squadron of the Indian Air Force (IAF) commanded by Group Captain Shouvik Roy. Roy has today despatched a crew overseas, to Tashkent, to fly back an IL-78 — the fifth for his squadron.

Roy's 78 Mid Air Refuelling Squadron (MARS) is redefining the way the IAF fighters will wage future battles. It is now buttressing its operational doctrine with strategic depth. For the moment, though, Roy is monitoring what his pilots here in this aircraft — Astra 1 — are doing.

"Harpoon 1 to line up at port," Shankar commands into the headphones. "Harpoon 2 at starboard and Romeo 1 at the tail". "Harpoon" is the call sign for the Jaguars, "Romeo" is the Sukhoi.

On the port side, the propeller at the head of the fuel pod under the huge wing of Shankar's and Kumar's Astra 1 starts spinning and sends a hose floating out. That happens from the Astra 1 starboard wing, too. At the tip of the hoses are funnels called drogues.

Behind, obscured from view, another hose has floated out and a fighter has docked in. Now, to port, "Harpoon 1" lines up. It is less than a third of the size of the IL78. The speeds synchronise at 500 kmph. The aircraft are "RV-ing" — jargon for rendezvous — in the IAF's central command area. Astra 1 has taken off from Agra, the Jaguars from Gorakhpur and the Su 30 from Bareilly. They are joined by Mirage 2000s from Gwalior.

On the port side where Harpoon 1 is flying parallel to Astra 1, the pilot of the Jaguar is wearing a white helmet with a dark visor. Just ahead of his cockpit the fuel probe juts out in an inverted . The Jaguar reduces speed, gets behind the wing of Astra 1, levels with the hose and accelerates. The probe mates with the drogue, pushing the hose a little deeper into the pod. Harpoon 2 — the other Jaguar at starboard — does the same.

Astra 1 is the IL-78 midair refueller and we are inside it flying at 17,000 feet in airspace between Lucknow and Gorakhpur. From this height, the turbid water of the Ganga looks like it is plaited into brown strands.

The air force is flying a media team through an exercise to showcase its midair refuellers, now fully convinced of their utility after testing them in a gruelling 40,000 km run to Alaska and in a wargame with the Americans.

Astra 1 now nurses three fighters, each connected to it by the hose. Aviation turbine fuel is being pumped through the hose and the drogue of the IL78, through the probe of the Jaguars at 500 litres per minute. The SU 30 guzzles more fuel and quenches thirst at up to 620 litres a minute.

Astra 1's cavernous belly holds two yellow tanks capable of storing 44,000 litres; together with the capacity in its wings, the FRA (Flight Refueller Aircraft) can hold up to 85,000 litres.

Within a few minutes the fighters signal that they don't want any more fuel. Probes and drogues disengage but not till Squadron Leader Shankar, the pilot of Astra 1, gives the command. The Jaguars fly parallel again, the pilot with the white-and-black headgear nods in acknowledgement, the aircraft banks and flies off, a speck on the horizon seconds later, off to another mission without having needed to fly back to base.

Astra 1 has just ensured that an IAF fighter can perform multiple missions without needing to cut down on flying time, without having to take excess fuel and with the ability for excess payload — like more weaponry — for operations.

Astra 1 is the first aircraft in 78 MARS, acquired last year. Next month, Group Captain Shouvik Roy expects to increase the strength of the squadron to six aircraft with the addition of two more IL 78s. The refuellers now enable the aircraft to project power over vast distances.

"We have been exercising continuously," says Squadron Leader Kumar. One exercise, for example, involves Sukhoi 30 Mki fighters taking off from their base in Pune, firing in a mock drill over ranges near Pokhran in the Rajasthan desert, "RV-ing" with a 'thirst quencher' over Alwar, flying to another mission over ranges near Tezpur in Assam, "RV-ing" with an Astra over Bagdogra in north Bengal and flying back to base in Pune after a bombing run in ranges in Madhya Pradesh.

What does this mean in a war scenario? It means, not only that IAF fighters can fly longer and on multiple missions — testing the endurance of pilots — but are being enabled to open two fronts against an adversary, attacking not only from one direction but also from the rear.

The refuellers are being inducted following a Rs 800-crore deal signed in 2001. With the addition of two more IL78s by the end of next month, the Uzbek firm, Tashkent Aircraft Corporation and the Israeli Aircraft Industries (which is supplying the fuel pods) will have completed the deliveries. The IAF's force multiplying refuellers incorporates technologies from five countries.

High-tech barriers to better ties
Catchphrases like "enhanced engagement," "strategic partnership" and "sustained interaction" are bandied about to describe the new U.S.-Indian relationship. A novel, hyperbolic tag, NSSP, or Next Steps in Strategic Partnership, was added to the diplomatic lexicon when on January 13, 2004, then-Indian Prime Minister Atal Bihari Vajpayee and U.S. President George W. Bush released matching statements to "enhance cooperation in peaceful uses of space technology . . . and create the appropriate environment for successful high-technology commerce."

Now, a joint statement has proclaimed the conclusion on Sept. 17 of Phase One of the NSSP plan, after India agreed to implement "measures to address proliferation concerns and ensure compliance with U.S. export controls." The latest development was portrayed in the Indian media as an important breakthrough that supposedly lifts some decades-old export restrictions on equipment for India's commercial space and nuclear programs. What is the reality?

There is little doubt that U.S.-Indian relations have been positively transformed in recent years, especially as an increasingly confident India has pursued its self-interest by opening up trade in goods and services and by strengthening its defense. A subtle but discernible shift in India's strategic posture has fostered close military-to-military cooperation between the two countries and encouraged the United States to consent to Israel's sale of the Phalcon airborne early warning system to India. The new direction and closeness in U.S.-Indian ties have in turn helped raise India's international profile.

Paradoxically, the very subject that bedeviled bilateral ties in the past and continues to be the main obstacle to high-technology commerce -- the nuclear issue -- acted as a catalyst to transforming the relationship. India's 1998 tests marked the defining event in elevating U.S.-Indian relations and promoting closer engagement. A nuclear India got greater attention and respect in the world, including Washington.

Today, what has changed in U.S.-Indian relations is so obvious as to sound almost cliched. Not so obvious is what ought to have changed between the U.S. and India but has not happened. The hype over the transformed relationship has shrouded what has not changed. The U.S., for example, remains loath to choose India over Pakistan, or cooperate with India at the level it engages China.

Stringent restrictions on India's access to advanced technology -- many dating back to the 1970s -- are testament to how the bilateral relationship, in some aspects, remains trapped in the past. Not many in Washington seem embarrassed that despite American concern over the growing power imbalance in Asia, the U.S. still provides far greater high-technology access to the world's largest autocracy, China, than to the world's most populous democracy. The U.S. is now set to clinch a deal with China to sell what it will not even discuss with India -- nuclear reactors to produce electricity.

Any interstate relationship to be robust demands equilibrium and equivalence. And it is axiomatic that no partnership can be built with one partner seeking to maintain and enforce penal measures against the other. The U.S. interest in gaining greater access to the huge Indian market, while reasonable, mismatches the determination of its nonproliferationists to preserve India-specific barriers to high-technology commerce.

U.S.-Indian efforts in the past to liberalize high-technology commerce did not go very far because they became bureaucratic exercises. Lamentably, the latest initiative too, the NSSP, has turned into an exercise of bureaucratic haggle, ensuring that progress would come at a snail's pace. This is all the more unfortunate because the Bush team has had a more straight-thinking approach toward India than the Clinton administration, saddled as it was with the nonproliferation ayatollahs bearing scars from the battles they lost against India when it conducted nuclear testing in 1974 and 1998.

Once India declared itself a nuclear-weapons state in 1998, the Clinton administration simply moved the goalpost. As a consequence, even political dialogue -- the 14 rounds of closed-door negotiations between then Deputy U.S. Secretary of State Strobe Talbott and then Indian Foreign Minister Jaswant Singh -- became centered on persuading India to accept a set of benchmarks, including limits on the development and operational deployment of nuclear weapons and missiles, a halt to fissile-material production, international inspections on nuclear facilities, U.S.-certified export controls, and signature on the Comprehensive Test Ban Treaty. Holding India to the benchmarks became the name of the game.

The Bush administration has not sought to "benchmark" India, but nor has it freed policy amply from the Clinton framework to facilitate a real strategic partnership. The U.S. sanctions imposed on India in response to its 1998 tests are all gone, but not the technology controls that predate those detonations. While the Bush team has not tried to rein in the Indian strategic programs, it has allowed the political process to promote high-technology trade to be taken over by its bureaucracy and turned into a wearisome export-control exercise likely to stretch out over years.

Despite the latest announcement on "modifications to U.S. export-licensing policies," major procedural and legal barriers remain in place in the three areas identified for U.S.-Indian cooperation: high-technology trade, civilian nuclear safety, and commercial space activity.

If the U.S. political leadership were to order a liberal interpretation of existing U.S. laws and guidelines, it would throw open for export to India many high-tech items currently barred. In the past, including during the Cold War, the U.S. has given elasticity to tough national laws when it has suited its strategic interests,

India is seeking access not to militarily significant technology, including space-launch vehicles and high-resolution, remote-sensing devices, but to technology that can aid its economic modernization. It is willing to reassure Washington through legislation and enforcement that its high-technology imports are adequately protected against misuse or re-export, but it cannot incorporate into its national laws the guidelines of cartels that have traditionally targeted India and continue to exclude India -- the London Club of nuclear suppliers, the Australia Group and the Missile Technology Control Regime.

With Washington calibrating India's high-technology access to Indian progress in meeting "nonproliferation standards," New Delhi has to do more than present itself as a suppliant, pleading and beseeching the U.S. on a range of issues, from high-tech commerce to Security Council permanent membership. New Delhi has to think of ways of integrating its economic and political policies to create synergy and countervailing leverage, even as it seeks to encourage a forward-looking U.S. policy on high-technology cooperation.


Refuelling aircraft add teeth to IAF
Manoeuvring delicately at a height of 17,000 feet and at a speed of 500 km an hour, the powerful Su-30 jet fighter sidles up the huge Il-78 aircraft that can best be described as a flying fuel tank.

Extending a short probe located ahead of the cockpit, the Su-30 moves closer and locks on to a pipe extended from a pod attached to the 75-tonne Il-78, sucking in several tonnes of fuel in a matter of minutes.

During the entire procedure, both aircraft maintain the same distance and speed.

The refuelling complete, the Su-30 peels away, able to remain in the skies for several more hours and capable of flying several more thousands of kilometres.

It is this capability, said Air Commodore R.C. Baruah -- commander of the Agra airbase where the India's four Il-78 mid-air refuelling aircraft are based -- that will allow the Indian Air Force (IAF) to project power on a global scale.

Baruah knows what he is talking about.

The IAF is only the world's sixth air force to acquire mid-air refuelling aircraft. By refuelling in the sky, frontline jets like the Su-30 can almost double their range of 2,500 km, making them capable of striking at targets deep within China.

In just a little more than 18 months since the IAF acquired the Il-78s from Uzbekistan, the aircraft have helped jet fighters to make long journeys to Alaska and South Africa to join international military exercises.

"The Il-78s are helping maximise the IAF's offensive potential and flexibility for tactical operations," Group Captain Shouvik Roy, commander of the Mid-Air Refuelling Squadron (MARS), told a group of journalists.

Currently, the IAF's Su-30, Mirage 2000 and Jaguar jets have the capability to refuel in the air.

Pilots are being trained round the clock to acquire the expertise required to hook up to the Il-78s -- each of which can carry 110 tonnes of fuel and refuel three jets at a time -- and take in several tonnes of fuel in about five minutes.

Those flying the Su-30s, Mirages and Jaguars are considered among the best of IAF pilots, but even they need to train for several months to simply become capable of hooking up with the flying fuel tankers. Only after this are they allowed to refuel in mid-air.

"We have flown 2,300 hours in training missions since May last year, made 4,800 engagements (mid-air refuelling contacts) and delivered over 2,300 tonnes of fuel," said Roy.

While the Il-78s were bought from Uzbekistan, the refuelling pods, three of which are fitted on each aircraft, were acquired from Israel. With four Il-78s already in operation with the IAF, the force will receive two more refuelling aircraft from Uzbekistan next month.

Roy said his unit had framed its operational procedures from scratch, as the IAF had no experience of flying mid-air refuelling aircraft.

"We have learnt concepts from the Israelis, as well as the Royal Air Force and US Air Force during our recent exercises with them," Roy said. "We will also soon interact with the navy (to train for mid-air refuelling).

"While refuelling, we can't relax even for a second. We have to be continuously alert because we have to coordinate with up to three jets."

The Il-78s are now capable of carrying out refuelling missions over land and sea, during both day and night, Roy said.

During recent training missions, said an officer who did not want to be named, Su-30 jets based at Pune in Maharashtra flew close to Tezpur in Assam in the northeast, a distance of over 2,100 km, with a single mid-air refuelling.

The IAF has also had to adopt innovative tactics to cope with the needs of pilots flying longer hours after refuelling.

"Our aim is to provide up to five hours of flying for jets like the Su-30. So the pilots have been provided food and water," said the officer.

"They were also provided diapers as that was the only way to relieve themselves in the air!"

India, Pakistan Leaders Hail New Chapter in Ties
The leaders of India and Pakistan on Friday hailed a new era in often-fraught relations between the two nuclear rivals and agreed to study a joint pipeline project and pursue solutions to the Kashmir conflict.
The one-hour private meeting between Pakistani President Pervez Musharraf and Indian Prime Minister Manmohan Singh on the fringes of the U.N. General Assembly produced no apparent breakthroughs but there was considerable upbeat rhetoric.
"I sincerely believe that today is an historic day. We have made a new beginning," Singh said.
Musharraf said he hoped the meeting augured well for Indo-Pakistani relations, scarred by three major wars and frequent border skirmishes in Kashmir since winning independence from Britain in 1947.
"Both leaders reiterated their commitment to continue the bilateral dialogue to restore normalcy and cooperation between India and Pakistan," according to a joint statement read by Musharraf at a news conference.
They agreed to explore options for a peaceful, negotiated settlement to the 56-year-old conflict over Kashmir "in a sincere spirit and purposeful manner," the statement said.
They also agreed to implement measures to build trust and to explore a natural gas line via Pakistan to India.
Friday's much-anticipated meeting followed sluggish progress in peace talks between the nuclear-armed enemies since the Pakistani leader met Singh's predecessor, Atal Behari Vajpayee, in January.
The two sides have had one round of formal talks with no breakthrough on the core issue of Kashmir since Singh's Congress Party won a general election in mid-year.
But an expert on South Asia, Husain Haqqani, said the latest meeting achieved no substantial breakthrough.
"Neither side wants to give the impression that it is unwilling to continue the dialogue and so this is one of the examples of India and Pakistan continuing a negotiating process without actually negotiating anything," said Haqqani of the Carnegie Endowment for International Peace.
"In India, public opinion does not want a settlement on Kashmir that is unfavorable to India and in Pakistan, the military cannot afford to settle Kashmir in a way in which its pre-eminence ends in Pakistani politics," he said in an interview.
Pakistan insists on a time frame for resolving Kashmir, while New Delhi insists Pakistan must do more to stop what it calls cross-border infiltration of militants.
Before the meeting, Musharraf said he would bring no specific proposals but hoped the two leaders would develop a relationship and "judge each other's intentions."
Musharraf has said repeatedly in recent days that both sides must show flexibility in their negotiations.
He began Friday's session by presenting Singh with three gifts: two paintings depicting his childhood school and village and an album of photographs, according to Pakistani spokesmen.
In a twist of fate, Singh was born in what is now Pakistan and Musharraf was born in India.
Maoists from Nepal attack bridge with Uttaranchal
In a rare incident of violence by Nepal Maoists in northern India, a group of rebels on Thursday snapped the cables of a suspension bridge that served as a pedestrian bridge that connected Nepal with Uttaranchal.

The Seetapul bridge across the Kali Nadi was extensively damaged and pedestrian traffic was stopped by authorities.

The bridge, known as jhoolapul, connects the Garbangya and Kalapani area of Pithoragarh district with the Changru area of Nepal across the India-Tibet-Nepal border, 160 km from Pithoragarh district headquarters.

The walkway was mostly used by Nepalese living along the border to enter Indian territory to buy essential commodities and groceries from the nearby Garbangya and other markets in Uttaranchal.

Indian pedestrians had already stopped using this Seetapul bridge to buy goods from Nepalese markets across the border for fear of being targeted in the major incidents of violence there.

"Their main objective was to de-link totally Uttaranchal territory with the Nepal territory," said a senior administrative officer at Dharchula tehsil.

A senior police officer said that the information about entry of some jawans of Royal Nepalese Army and Nepalese police into the Garbangya area of Dharchula tehsil in Pithoragarh district to track down the Nepalese Maoists appeared to have provoked the insurgents to snap the land link.

"The Maoist insurgents who caused the sabotage might have thought that by de-linking the Uttaranchal territory with the Nepalese territory, the jawans of Royal Nepalese Army and the police would not be able to return to Nepal through this route," said a senior police officer at Pithoragarh.
Pakistan army gets new tanks
A second batch of 15 "Al-Khalid" battle tanks, jointly developed by state-owned Pakistani and Chinese companies, has been handed over to the Pakistan Army, officials said.
Vice chief of army staff General Muhammad Yousuf Khan handed over the tanks at a ceremony at Heavy Industries Taxila, some 40 km northwest of Islamabad, on Thursday.
The first batch of 15 Al-Khalid tanks was handed over in July 2001.
Around $20 million were spent over eight years on the development of the tank.
Al-Khalid is the result of a project between HIT and NORINCO (North Industries Corporation) of China.
It has a combat weight of 46 tonnes, carries a crew of three and has a combat range is 400 km.
Its thermal night vision devices enable the crew to fight at night.
Fitted with a 1200 HP water-cooled diesel engine, which gives it a maximum speed of 65 to 70 km/hr, it carries a 125 mm smooth bore gun, the officials said.
Scientist Dr. Raja Ramanna no more
Dr Raja Ramanna, a stalwart of India's nuclear programme who was associated with the country's first nuclear test in 1974, died in Mumbai on Thursday of intestine problem. He was 79 and is survived by his wife, two daughters and a son.
Ramanna had been admitted to Bombay Hospital on Tuesday. His end came at 1930 IST, his personal assistant Ramakrishna said. He was 'feeling all right this morning but breathed his last in the evening'.
The eminent scientist was heading the Bhabha Atomic Research Centre when India carried out its first nuclear test in Pokhran in 1974.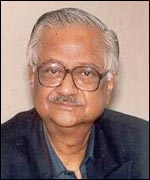 He has served as director-general of the Defence Research and Development Organisation and as scientific adviser to the defence minister.
He was the Union minister of state for defence from January to November 1990. In 1997, he was nominated to the Rajya Sabha.
In recognition of his services, he was appointed director emeritus of the Bangalore-based National Institute of Advanced Studies, which he headed earlier. He was honoured with the Padmashri, Padmabhushan and Padmavibhushan awards.
He had a deep interest in music and even penned a book on the subject: The Structure of Music in Raga and Western Systems
President A P J Abdul Kalam, who was in Aurangabad to attend a function, is expected to head for Mumbai to pay his respects.
Philippines, India Planning Defense Accord
India and the Philippines are planning to sign a memorandum of understanding on defense cooperation early next year, the Philippine Defense Department said Sept. 22.

Indian ambassador Navrekha Sharma has invited Philippine Defense Secretary Avelino Cruz to sign the memorandum during a visit to India in early 2005, the department said in a statement.

The accord would cover exchanges of information and technology and possible joint training between the two sides' armed forces, the department said, adding it would be the 13th such bilateral agreement sealed by Manila.
India, U.S. Work To Ease Procurement Relationship
The United States for the first time has conducted a special workshop for Indian military procurement officials on U.S. defense procurement procedures, hoping to capture big-ticket defense contracts from India.

Officials with the U.S. Embassy here said a senior-level military team from the U.S. Defense Department's Office of Defense Cooperation (ODC) was in New Delhi from Sept 13-17 to conduct an extensive briefing on U.S. defense export and sales procedures for 35 Indian Ministry of Defence and military procurement officials.

The briefing covered U.S. defense export licensing and procedures for dealing directly with U.S. defense companies in procuring specific weapon systems, embassy officials said. Indian procurement officials also were briefed on the advantages of adopting the Foreign Military Sale [FMS] route for procuring weapons from the United States: Not only are they less expensive, but lifetime support for spare parts and maintenance is guaranteed.

The United States has made a moderate beginning in establishing a stable military sales relationship with India by securing military orders worth $200 million since Washington lifted military sanctions against India in September 2001, according to U.S. military officials at the embassy. They said the United States hopes that relationship will be viable in the long term, adding that possible big sales to New Delhi could include P-3 Orion maritime aircraft and C-130 transport planes.

The U.S. government also expects regular large defense procurement orders from India once the two nations sign an agreement on dual-use technology. The U.S. Department of Commerce is expected to submit to New Delhi a draft defense export evaluation agreement that would guarantee India will use the U.S.-made high technology systems only for civil and defensive military purposes, and not for nuclear weapon-related technologies or their export to third-party countries, the embassy officials said.

India has high potential value as a market for U.S. defense companies, the same officials said, but the Indian procurement bureaucracy's red tape has disappointed many U.S. companies in the past.

However, growing cooperation between the two countries' military services, coupled with the Indian forces' ground-level training and equipment requirements, should help U.S. companies competing for Indian defense programs, the U.S. embassy officials said.

In an effort to encourage U.S. companies to participate more aggressively in Indian defense competitions, the Ministry of Defence here will host a closed-door session with U.S. defense industry leaders and senior Pentagon officials in November, a senior ministry planning official said.
Mirage 2000 crashes in Gwalior, Pilot safe
Gwalior: A Mirage 2000 fighter aircraft of the Indian Air Force crashed near here today with the pilot ejecting safely.

An IAF spokesman said the aircraft, which left the airbase here for a practice interception sortie at 12.45 pm, developed problem with the undercarriage with a wheel falling off soon after take off.

The pilot Sq Ldr Gill ejected from the fighter jet which crashed between Bhopal and Gwalior, he said.

According to initial reports there was no casualty on the ground. A Court of Inquiry has been ordered into the crash.

The French acquired Mirage 2000 are the frontline aircraft of the IAF and have had a very good flying record.

Bush, Singh move to expand US-India defence ties
NEW YORK - US President George W. Bush met for the first time with Indian Prime Minister Manmohan Singh here on Tuesday and agreed to push for expanded Defence cooperation as a key component of future ties.

The two men, here for the annual session of the United Nations General Assembly, noted that relations "had never been as close as they were at present" and set the direction for further development of the India-US strategic partnership, a White House statement said.

"Expanded Defence cooperation was perceived as an integral aspect of the expanding ties," it said.

Bush and Singh exchanged pleasantries at the start of their talks at the Waldorf-Astoria hotel.

"I've really been looking forward to meeting the prime minister," Bush said. "He's the leader of a great country and the leader of a friend of the United States and I'm proud you're here, sir."

Singh, an Oxford-educated economist whose left-leaning government took office in May, said he was confident that recent progress in the relationship -- including last week's US decision to lift export controls on equipment for nuclear facilities in India -- would only improve.

"I'm very, very happy to be in this land of opportunity that the United States is," he said. "Under your distinguished leadership, our two countries' relations have grown in diverse ways, but I do believe that the best is yet to come."

Ahead of his arrival in New York, Singh had said he wanted to discuss with Bush ways to bring to US-India relations "greater content, particularly in the economic and high technology fields."

On Friday, the United States agreed to lift the nuclear export controls after the Indians assured US officials they would address American non-proliferation concerns.

The move was the latest easing of sanctions imposed on New Delhi after it declared itself a nuclear power in 1998.

Bush and Singh welcomed the move, describing it as "the beginning of a new era of cooperation and trust" between the two countries.

Those sanctions resulted in a freeze on exchanges in nuclear and other high-tech sectors such as "dual-use technology" which finds applications in both civilian and military use.

Along with lifting the controls, Washington said it would ease export licensing policies to expand bilateral cooperation in commercial space programs.

The deal was the first phase under the "Next Steps In Strategic Partnership With India" agreed in January between Bush and Singh's predecessor Atal Behari Vajpayee.

Bush and Singh also stressed importance on working closely in the war against terrorism and in combating proliferation of weapons of mass destruction and their delivery systems, the White House said.

They agreed that stronger bilateral partnership would enhance global security and prosperity.


India, 3 Others Launch Aggressive UN Seat Bid
New York, Sept. 22 (Nippon News Network): India and three other countries - Brazil, Germany and Japan - on Tuesday pledged to back each other as they launched a joint bid for permanent seats on the 15-member United Nations Security Council.
"The Security Council must reflect the realities of the international community in the 21st Century," their joint statement here said. The four nations vowed to back each other's case and said similar status should be given to an African nation.
The joint statement was issued after talks between Brazilian President Luiz Inacio Lula da Silva, German Foreign Minister Joschka Fischer, Japan's Prime Minister Junichiro Koizumi and Indian Prime Minister Manmohan Singh in New York.
The statement noted that there has been a nearly four-fold increase in the UN membership since it was founded after World War II in 1945, including a sharp increase in the number of developing countries. "The Security Council, therefore, must be expanded in both the permanent and non-permanent categories, including developing and developed countries as new permanent members," the joint statement said. "It must be representative, legitimate and effective," it added. The joint statement also said Africa must also have a permanent seat, amid reports that African leaders are currently discussing which of their states should be put forward.
However, historic regional animosities are likely to complicate the joint bid. Supporters of India's membership point out that the country is the world-largest democracy where some 1.2 billion people live, while some of Brazil's backers say it can make a strong case to represent South America. "All four states regard themselves as natural candidates," Fischer said after the talks.
Japan pays more money into the UN coffers than any nation except the US. Germany is the third-biggest contributor.
In a speech to the UN General Assembly, the Brazilian leader, known as Lula, said the Council's composition must reflect today's reality, rather than perpetuate the post-WWII era. In another speech, Koizumi said Japan's reconstruction role in Iraq and Afghanistan, and its efforts to resolve the North Korean nuclear issue, entitled it to a permanent seat on the Council.
It is worth mentioning here that Pakistan has made it clear it will oppose India's bid for a permanent seat on the UN Security Council. Pakistan's permanent representative to the United Nations Munir Akram told a group of visiting Pakistani journalists here on Saturday last said Islamabad would strongly oppose increasing the number of permanent members of UN Security Council on grounds that it negates the principle of equality. Pakistan would do everything possible to thwart Indian endeavours in this regard, he added. He said besides India, Germany, Japan, Brazil and South Africa would lobby to secure a permanent berth in the Security Council during the coming 59th session of UN General Assembly. He further said Pakistan would prefer supporting Germany and Japan than India, if required.
The Council's five veto-wielding permanent members are Britain, China, France, Russia and the United States. The 10 other Council members are chosen for two-year terms by regional groups. UN Secretary General Kofi Annan is known to favour an expansion of the Council, to enable it to command greater respect - especially in the developing world - and to make it more effective.
* PERMANENT MEMBERS WITH VETO POWER:
1) China 2) France 3) Russia 4) United Kingdom 5) United States
* 10 ELECTED MEMBERS FOR 2004 ARE:
1) Algeria - until end of 2005 2) Angola - until end of 2004 3) Benin - until end of 2005 4) Brazil - until end of 2005 5) Chile - until end of 2004 6) Germany - until end of 2004 7) Pakistan - until end of 2004 8) Philippines - until end of 2005 9) Romania - until end of 2005 10) Spain - until end of 2004.
Musharraf Rules Out LoC Re-adjustment, answers a broad array of questions in NY
New York, Sept. 22 (NNN): Pakistan President General Pervez Musharraf on Tuesday ruled out any talks for re-adjustment of Line of Control (LoC) in Kashmir and said Islamabad wants a purposeful and meaningful dialogue to address the lingering dispute.

Musharraf hoped that during his meeting with Indian Prime Minister Manmohan Singh, "there would be progress," on issues, including those on Kashmir.
The Pakistani president's reaction followed following reports that the Indian Prime will offer to adjust the Line of Control (LoC) in troubled Kashmir during his talks with Musharraf on the sidelines of the United Nations General Assembly this week.
Time quoting a senior Indian official had reported from Hong Kong that Singh will make an offer to help defuse the situation in Kashmir. India will offer to "adjust" the LoC, "by a matter of miles" eastwards. The official further said its formal presentation in New York is a result of Singh's instruction that his foreign affairs team think "out of the box" on Kashmir "to get a solution, and soon."
In the meantime, asserting that Pakistan was doing its best in the fight against terror, Musharraf while proceeding to United Nations General Assembly from the hotel where he is staying, tol newsmen: "Tell me, who else is doing more than Pakistan."
He said he feels very upset when questions as smack of doubt as to what Pakistan was doing were asked. Asked what was the main issue of Pakistan, he said it is the issue of terrorism, which is foremost important. "We are certainly winning battles but we must win war on terrorism," Musharraf said, in response to a question by a newsman in the informal talk. "It can be done," he stated on winning war on terror. It could be done "by pursuing core reasons behind terrorism".
The Pakistani leader said a vast majority of Pakistanis abhors extremism but it was acting silently over the years. He said Pakistan is trying to establish long-term and broad-based relations with the United States, especially in trade and commerce.
"The Muslim world feels as if it is being targeted, and this needs to be addressed," Musharraf told an audience at a Manhattan hotel. He said the first priority should be the Israeli-Palestinian conflict but attention should focus further on poverty and illiteracy, which, he said, were "at the core of terrorism."
Asked what subjects would discuss in his meeting with President Hamid Karzai, he said Afghan presidential elections and terrorism would be topics to come up under discussion. Besides, he said, return of Afghan refugees from Pakistan and matter of their registration would also be discussed.
Responding to another question, he said it was not correct to state that "there was any pressure to monitor the Pak-Afghan border, nor we accept it." In reply to another question, Musharraf said a trilateral meeting was taking place against the backdrop of forthcoming Afghan elections. "We agreed to it, since we are in the same region and it was better to work for the cause of Pak-Afghan coordination," he stated.
When asked to comment on President George Walker Bush's speech in the UN General Assembly in which the US president mentioned democracy, Musharraf said parliament and democratic institutions in Pakistan are "fully working, and on track". "All is well," he said and added "we are very clear about it, and there is no confusion, whatsoever."
Meanwhile, speaking at a dinner hosted by the US Pakistan Business Council and the US Chamber of Commerce, on Monday night President Musharraf promised to "end the presence of al-Qaeda" in his country but said the United States could gain the confidence of the Muslims only by working to resolve the many international disputes that affect Islamic world. Musharraf drew a rosy picture of Pakistan for foreign investment, saying the country of 150 million was undergoing an "economic renaissance" based on development of industries from energy to tele-communications.
Answering a question regarding uniform, he appeared to hint at keeping the uniform, saying that "continuity" was essential to maintain security and managing changes occurring in Pakistani society.
Musharraf said handling of matters domestically and internationally requires "continuity of policies, and continuity of action." "What worries me is the imperative need for continuity," he said and added "I have not as yet decided, and I will take a decision in a few months' time." "There is much happening in Pakistan and the Muslim world today. The matters are important and there is need for continuity of policies," he added.
Besides domestic policies, he said, among others, the international policies need continuity. Musharraf urged the US businessmen and industrialists to invest in Pakistan for its rapid economic growth and poverty alleviation. The president said Pakistan has always been a safer place for foreign investors and no action has been taken against any foreign company out of 700 working in Pakistan, which reflects the best condition for investors in the country. "We have taken a number of steps to give more protection to the foreign investors," he added. Referring to Pakistan's strategic position in the region, Musharraf said it occupies a key place in economic activities in the region of Central Asia, South Asia, China and Gulf. He said it is only Pakistan, which provides inter-connectivity to the whole world for this region.

Meanwhile, a senior aide of Musharraf told Time that in his experience "there is more sound than substance" to India's negotiations. But he confirmed that a "territorial adjustment... is one idea being broached" and that it was an idea in which "in the past, as in the present, we have shown interest."
According to Time a senior Pakistani foreign affairs official added a "more productive agenda" was on the table for the New York meeting. "We want to make things happen there," he said. "We want implement-able ideas. We have spoken to the Indian on this score and hopefully the meeting will break new ground in Kashmiri diplomacy," he added.
Meanwhile, Indian Prime Minister has said his country was willing to discuss all outstanding issues, including Jammu and Kashmir with Pakistan, and find solutions 'rooted in ground realities.'
In an interview with Time magazine, Indian Premier was modest about his expectations of the meeting with Musharraf on the sidelines of UN General Assembly session in New York . 'Getting to know each other is important. But we are willing to discuss all outstanding issues, including Jammu and Kashmir and find solutions rooted in ground realities,' said Singh.
PM visits the US
NEW DELHI (AFP) - Indian Prime Minister Manmohan Singh left Sunday for the United States and Britain and said he would push forward dialogue with rival Pakistan, stress his commitment to economic reforms and lobby for a permanent seat on the UN Security Council.
Singh will address the UN General Assembly in New York where he will also hold his first meetings with Pakistani President Pervez Musharraf and US President George W. Bush.

The premier, whose left-leaning government took office in May, told reporters at the airport that his meeting with Musharraf "will be a further step in the ongoing dialogue process with Pakistan".

The rival neighbours have been trying cautiously to repair relations in a peace drive initiated last year by Singh's predecessor Atal Behari Vajpayee, whose Hindu nationalists lost elections a year later.

Singh said he would discuss with Bush ways to bring to US-India relations "greater content, particularly in the economic and high technology fields".

The United States on Friday agreed to lift export controls on equipment for nuclear facilities in India in the latest easing of sanctions imposed on New Delhi after it declared itself a nuclear power in 1998. "I will take advantage of being in the United States to convey that the government is determined to carry forward the process of economic reforms," Singh said.
Be tough on Musharraf: Brookings Chief to Bush
http://in.rediff.com/news/2004/sep/20talbott.htm
The former deputy secretary of the state is in India on the invitation of the Observer Research Foundation, which is a private sector, public policy think tank. Talbott will also be in Mumbai on September 23 and September 24. Talbott heads the Brookings Institution, based in Washington, DC.
RUSSIA MARKETS MISSILE DEFENSE SYSTEM
MOSCOW [MENL] -- Russia has launched the marketing of a new medium-range missile defense system.
The state-owned Rosoboronexport has briefed foreign militaries of the Buk-1M1-2 system. The system was described as being capable of intercepting both aircraft as well as a range of missiles.

"This is the only anti-aircraft missile system of medium range in the world, which is capable of destroying in unfriendly environment of radio and fire countermeasures not only aircraft of strategic and tactical aviation, helicopters and cruise missiles, but also tactical ballistic and aircraft missiles, including anti-radar, destroying elements of high-precision weapons as well as surface and ground targets," Rosoboronexport said in a statement.

Russian industry sources said the Buk has been marketed to Middle East militaries. But they said the focus of the marketing effort has been European Union countries.
Russia to deliver last batch of Sukhois this year
MOSCOW: Chairman of the Russian Air-Building Scientific and Production Corporation 'Irkut' Alexei Fyodorov said on Friday that Russia will deliver 10 SU-30MKI multi-role jets to India by the end of this year.

This is the last batch of the Sukhoi fighers to be delivered to India in line with the contract on the development and supply of 40 state-of-the-art combat jets, signed in November 1996.

Designed to suit the needs of the IAF, SU-30 MKI is a new variant of the multi-role Sukhoi aircraft, viewed as the most advanced fighter in the world. The twin-seater jet is capable of undertaking both strike and air defence sorties. It can hit surface, air and sea targets with smart weaponry in substantial distance from the home base. Earlier, Russia had supplied eight SU-30Ks and 22 SU-30MKIs to India.

Fyodorov had told the Itar-Tass news agency that "our cooperation will not stop at it, we will be engaged in upgrading earlier-built aircraft, as well as in realizing a licence agreement on building SU-30MKI fighters."

Russia began delivery of the component kits, last June, for the indigenous manufacture of 140 SU-30MKIs in India under licence from Russia. The first planes are expected to roll out before the end of the year.

US lifts nuke sanctions on India
Washington: Ahead of a meeting between Prime Minister Manmohan Singh and US President George W Bush next week, Washington has agreed to lift export controls on equipment for nuclear facilities to India and liberalise high-tech trade, including those related to space science.

US export licensing policies will be eased to foster cooperation in commercial space programmes and certain exports to power plants at safeguarded nuclear facilities, a joint statement titled 'The Next Steps in Strategic Partnership between India and the United States' said yesterday.

The first phase of this partnership was concluded yesterday following two-days of intensive talks between External Affairs Secretary Shyam Saran and senior US officials in Washington. The joint statement described the agreement as "major progress."

"The United States and India announced today major progress in the Next Steps in Strategic Partnership (NSSP) initiative. Implementation of the NSSP will lead to significant economic benefit for both countries and improve regional and global security," it said.

"The United States and India will continue to move forward under the NSSP, and have a joint implementation group for this purpose. The progress announced today is only the first phase of this important effort, which is a significant part of transforming the strategic relationship," the joint statement said.

Saran pointed out that the agreement is a "very important one" and "we're very happy to have this on the eve of the meeting between President Bush and Prime Minister Manmohan Singh."

The External Affairs Secretary expressed confidence that the liberalisation of trade in space will be followed in the next stage by such action in the civilian nuclear field. He anticipated there will be several stages, going step by step as the new relationship progresses.

Saran, who met several American officials such as Stephen Hadley, Deputy National Security Adviser and Chairman of the Senate Foreign Relations Committee Richard Lugar among others, said he expects the second stage of the Next Step in Strategic Partnership "will be focused perhaps a little more on the nuclear side."

The liberalised licensing regime, he said, would make very clear to Indian entities both in the public and private sectors what precisely is expected of them in terms of meeting certain licensing conditions.

"The Indo-US relationship fits in very well in terms of what we are looking at for India's economic future. There is in fact a great deal that the two countries can do together. We have found there is a very strong interest in the United States to participate in this broad new phase of our relationship", Saran added.

The Joint statement said in January 2004, the United States and India agreed to expand cooperation in three specific areas: civilian nuclear activities, civilian space programmes, and high-technology trade.

In addition, the two countries agreed to expand our dialogue on missile defence. These areas of cooperation are designed to progress through a series of reciprocal steps that build on each other," it said.

"Since January, the two governments have worked closely together to conclude Phase One of the NSSP. This has included implementation of measures to address proliferation concerns and ensure compliance with U.S. export controls," it said.

These initiatives have enabled the US to make modifications to US export licensing policies that will foster cooperation in commercial space programmes and certain exports to power plants at safeguarded nuclear facilities.

These modifications, including removing the Indian Space Research Organization (ISRO) Headquarters from the Department of Commerce Entity List, are fully consistent with U.S. Government nonproliferation laws, obligations and objectives, it said.

Meanwhile, on the political front, US officials fully shared the Indian view that breaking Musharraf's pledges, there is continued infiltration of terrorists from Pakistan from across the Line of Control into Kashmir. Indian sources said they expect the US to continue its pressure on Musharraf to end this nefarious activity.

Musharraf, while denying there is continued infiltration, has, in an interview to The Washington Post, left for himself an alibi by saying there is no way movement across the LoC can be stopped by Pakistan.

Pak concerned about Indo-Israeli defence ties: PAF chief
The Pakistan government is very concerned about Indo-Israel military cooperation, particularly about Washington's decision to okay New Delhi's purchase of the Phalcon airborne warning systems from Tel Aviv.

"We have no right to object to close relations between India and Israel, but we have concerns," said Air Chief Marshal Kaleem Sa'adat.

"We are fully aware of our defence needs," Saadat said, adding that despite limited resources, the Pakistan Air Force had achieved excellent results in self-reliance and indigenous defence productions.


Trishul test-fired
India's indigenously developed short range surface-to-air missile Trishul was test-fired from the Integrated Test Range (ITR) at Chandipur about 15 km from here on Wednesday.

The missile was launched from a mobile launcher at about 2.15 pm, defence sources said.

Trishul is a short range, quick reaction, all-weather surface-to-air missile designed to counter a low level attack, the sources said.
Lockheed Martin PAC-3 Missiles Successfully Defeat Tactical Ballistic Missile and Cruise Missile in Test
Lockheed Martin (NYSE: LMT) Patriot Advanced Capability-3 (PAC-3) Missiles successfully intercepted and destroyed an incoming tactical ballistic missile (TBM) and a low-altitude cruise missile in a dual test today at White Sands Missile Range, NM. The battle-proven PAC-3 Missile is the world's only fielded hit-to-kill, kinetic
energy air defense missile.

In the dual engagement test, two PAC-3 Missiles were "ripple-fired" at an
incoming Patriot-As-A-Target (PAAT) TBM, a legacy Patriot missile modified to
represent a short-range TBM. In a second simultaneous engagement, a single
PAC-3 Missile was fired at a low-flying MQM-107D cruise missile target.
Preliminary data indicates both the TBM target and cruise missile target were
destroyed. All test objectives were met.

"This was an outstanding demonstration of the ability of the PAC-3 Missile
to defeat the entire threat to the Patriot system," said Steve Graham, vice
president - PAC-3 Missile program for Lockheed Martin. "This was our fifth
successful "ripple-fire" of PAC-3 Missiles against TBMs, both in flight
testing and in combat. These tests continue to prove that PAC-3 can
effectively protect deployed troops and other high-value assets from a variety
of contemporary threats."

Test objectives included demonstrating the system's ability to detect,
track and engage a TBM and cruise missile simultaneously, and validating the
performance of several components of the PAC-3 Missile that were part of on-
going cost reduction initiatives. These include an Advanced Master Frequency
Generator (AMFG), Multi-Band Radio Frequency Data Link (MRFDL) and a
Simplified Inertial Measurement Unit (SIMU).

"We demonstrated several upgraded components during today's flights,"
Graham added. "These improvements add greater functionality to the system
while reducing overall missile cost."

The 'hit-to-kill' PAC-3 Missile is the world's most advanced, capable and
powerful theater air defense missile. It defeats the entire threat to the
Patriot Air Defense System: tactical ballistic missiles (TBMs) carrying
weapons of mass destruction, advanced cruise missiles and aircraft. PAC-3
Missiles significantly increase the Patriot system's firepower, since 16
PAC-3s load-out on a Patriot launcher, compared with four of the older Patriot
PAC-2 missiles.

Lockheed Martin Missiles and Fire Control is prime contractor on the PAC-3
Missile Segment upgrade to the Patriot air defense system. The PAC-3 Missile
Segment upgrade consists of the PAC-3 Missile, a highly agile hit-to-kill
interceptor, the PAC-3 Missile canisters (in four packs), a Fire Solution
Computer and an Enhanced Launcher Electronics System. These elements are
being integrated into the Patriot system, a high to medium altitude, long-
range air defense missile system providing air defense of ground combat forces
and high-value assets.

The PAC-3 Missile has been selected as the primary interceptor for the
multi-national Medium Extended Air Defense System (MEADS). Managed by the
NATO MEADS Management Agency (NAMEADSMA), MEADS is a model transatlantic
development program focused on the next generation of air and missile defense.
MEADS will focus on risk reduction, application of key technologies and
validation of a system design incorporating the PAC-3 Missile as the prime
interceptor.

The Patriot PAC-3 program is managed by the U.S. Army and executed by the
Army Program Executive Office, Air, Space and Missile Defense and the Lower
Tier Air and Missile Defense Project Office in Huntsville, AL.

Lockheed Martin is a world leader in systems integration and the
development of air and missile defense systems and technologies, including the
first operational hit-to-kill missile defense system. It also has
considerable experience in missile design and production, infrared seekers,
command and control/battle management, and communications, precision pointing
and tracking optics, as well as radar and signal processing. The company
makes significant contributions to all major U.S. missile defense systems and
participates in several global missile defense partnerships.

Headquartered in Bethesda, MD, Lockheed Martin employs about 130,000
people worldwide and is principally engaged in the research, design,
development, manufacture and integration of advanced technology systems,
products and services.


RUSSIA ADVANCES IN S-400 PROJECT
Russia has advanced development of a new missile defense system offered to the United Arab Emirates.

Russian officials said the S-400 Triumph was recently launched in what was described as the first comprehensive test of the missile defense system. The S-400 has been under development for a decade and offered to a range of Middle East clients, including the UAE.

The S-400 has been touted as the most effective missile defense system yet, superior to the U.S. Army's PAC-3 system. The S-400 was said to be able to detect and destroy enemy missiles at a range of up to 400 kilometers. The S-400's radar was said to be capable of tracking targets without emitting a signal for enemy aircraft.

Officials said the S-400 began undergoing tests in April at the Kapustin Yar Missile Firing Range as part of an accelerated effort to complete the development of the system. They said President Vladimir Putin wants the S-400 to achieve operational capability by 2005 in an effort to pave the way for export sales and deployment within Russia.
Stennis Fighters Go Head-to-Head with MiG 29s in the Pacific
By Journalist 2nd Class (SW) Christopher C. Fowler, USS John C. Stennis Public Affairs

ABOARD USS JOHN C. STENNIS (NNS) -- Soviet-designed MiG-29s flew against F/A-18C Hornets, F/A-18E Super Hornets and F-14D Super Tomcats Sept. 7 during joint air-to-air combat exercises over the South China Sea.

The joint Carrier Air Wing (CVW) 14/Malaysian Royal Air Force (RAF) exercise began with Strike Fighter Squadron (VFA) 115 flying the F/A-18E Super Hornet, and Fighter Attack Squadron VFA-25 flying the F/A-18C Hornet against the RAF MiG-29s with four one-on-one engagements, each practicing within-visual-range air-to-air combat exercises with the historically-adversarial MiG.

The second part of the exercise involved VFA-113 flying the F/A-18D Hornet, and Fighter Squadron (VF) 31 flying the F-14D Super Tomcat, conducting mock "dog fight" engagements in a beyond-visual range exercise.

Lt. Dave Faehnle, training officer for VF-31, said the exercise was a great opportunity to fly against an aircraft that presents a real-world threat.

"We flew two, two-on-two runs against the MiG-29s," said Faehnle. "We achieved our mission objective, to see their aircraft on radar and to engage a dissimilar aircraft. It was a great opportunity to observe some of their tactics and to exercise some of our own radar systems."

The exercise was controlled by CVW-14's Carrier Airborne Early Warning Squadron (VAW) 113 "Black Eagles," flying E-2C Hawkeyes.

Lt. Jill Dougherty was the air intercept control officer during the exercise and provided battle space situational awareness to the MiG to find their adversaries.

"It was fascinating," said the Lexington Park, Md., native, "to control and interact with one of the most significant threats to U.S. military aircraft today."

Lt. Stephen Dean flew a Super Hornet against the MIG during one of the morning engagements. According to Dean, one of the most impressive things he saw was when "his" MiG pulled a high performance, nine-G turn. A nine-G turn is a turn that causes the aircraft and the pilot to experience nine times the force of gravity.

"One of the qualities of the MiG-29 is its superb maneuverability," said Dean, of Oak Harbor, Wash.

According to VFA-115's Operations Officer, Lt. Cmdr. Keven Harms, the exercise was considered a success.

"The opportunity to fly against the aircraft that is considered Naval Aviation's percentage threat, the MiG-29, was truly a once in a lifetime event and is sure to be the highlight of the cruise for everyone who participated," he said.

Stennis is currently on a scheduled deployment to the Western Pacific and is scheduled to return to homeport in San Diego this fall.


India, Israel to hold joint air exercise in '05
The defence relationship between New Delhi and Tel Aviv has deepened further with India and Israel agreeing in principle to hold joint air exercises involving US-made F-16s and Russian-built Su-30 MKI fighters.

While the modalities of the first ever Indian Air Force and Israeli Air Force exercise will be decided by the executive steering group under the bilateral Defence Cooperation Group, Air Chief S. Krishnaswamy discussed the issue with his Israeli counterpart during his visit to Tel Aviv last week.

The IAF chief interacted with Israeli Defence Minister Shaul Mofaz and Israel's military top brass during his week-long trip. He also also flew a one-hour sortie on a twin-seater F-16 I fighter piloted by Major Jonathan from Ramon air base, south of Tel Aviv last Wednesday.

Sources said both sides were keen on pushing interaction between the two air forces and were all for exchanging operational tactics with each other. The joint exercise will be slated for 2005 after IAF Sukhoi-30 MKIs have done their tour of France.

Though Israel is smaller than Kerala in geographical area, its air force is one-and-a-half times more potent than the Indian Air Force. While IAF has a force level of 36.5 fighter squadrons, the Israelis have more than 30 fighter squadrons including 349 F-16s, 79 F-15s and 140 Kfir fighters.

Apart from undertaking joint exercises, New Delhi is also looking at Tel Aviv for help and hardware for its indigenous AWACS project. The AWACS project with the initial sanction of Rs 1,800 crore was cleared by the Cabinet Committee on Security (CCS) last week. A Defence Ministry official said critical equipment on board the indigenous AWACS will be an ''off-shoot of the India-Israel PHALCON AWACS'' deal. Israeli defence contractors will be involved in helping the Indian project in critical areas.

India will use nukes if deterrence fails
Indian Defence Minister Pranab Mukherjee said India would not hesitate to use nuclear weapons in "punitive retaliation", if the "policy of deterrence" failed. In an interview, Mukherjee spelled out his government's nuclear policy and said that while India maintained nuclear weapons as a deterrent, "it will use them in punitive retaliation, which could inflict unacceptable damage to the aggressor".

Mukherjee maintained that any nuclear retaliation would be consistent with the United Nations Charter that sanctions the right of self-defence. The interview was published in the 'Force', a magazine devoted to national security issues in India.

Mukherjee, India's first non-National Democratic Alliance defence minister since the nuclear tests in 1998, also hinted at the need for tactical nuclear weapons (TNW). He said, "We are fully aware of the procurements made by our neighbours and our armed forces are prepared to meet any eventuality."

The acquisition of TNW runs contrary to India's declared no-first-use nuclear policy. During Operation Parakaram, when India had amassed its troops along its border with Pakistan, both political and military leadership deliberated on the need for TNW following apprehension that Pakistan might use its nuclear weapons against advancing Indian armour columns, which would have halted the war as well as lowered the morale of Indian troops.

Asked if like Pakistan, India should reduce the strength of its army, Mukherjee said, "I don't think it is possible to reduce the strength of the army." He said there was no proposal to review the procurement contracts made by the previous government. He said all the contracts, such as for Admiral Gorshkov, SU-30 and T-90 tanks, were in the pipeline.

India - Indian Air Force team leaves for South Africa
A 100-strong Indian Air Force (IAF) contingent left here Monday for South Africa for multi-nation war games that will be witnessed by visiting Indian President A.P.J. Abdul Kalam.

The air forces of South Africa, Germany, Britain and the US will be represented in Exercise Golden Eagle.

The IAF contingent, led by Group Captain R. Bhasin, comprises six Mirage 2000 fighter-bombers, two IL-78 midair refuellers and two IL-76 transport aircraft.

The IAF vice chief, Air Marshal Michael McMahon, saw off the contingent at the Shangumugham airbase here.

The IAF team will reach South Africa Thursday after stopovers at Male and Mauritius. It will return in the first week of October.

Exercise Golden Eagle comes in the wake of the hugely successful Exercise Cooperative Cope Thunder 04-01 in Alaska in July during which IAF pilots matched their skills with their counterparts from the US and NATO air forces and came out with flying colours.

"Our participation in Exercise Cooperative Cope Thunder 04-01 brought laurels to the country, thanks to the high precision displayed by the fighter pilots in penetrating air defences and scoring direct hits on ground targets in the mountain ranges," the air chief, Air Chief Marshal S. Krishnaswamy, had said after the contingent returned.

Air forces from the Asia-Pacific and NATO countries such as Japan, Singapore, Malaysia, Canada, Germany and Britain too participated.

Early this year, a similar exercise was conducted by the IAF at Gwalior, where the US Air Force participated with F-15Cs and the combat skills of Indian pilots drew much appreciation.

A joint exercise has been planned in India with the Singapore Air Force in October, with the visitors flying with six F-16 fighters.

The IAF plans to hold another round of such exercises in France, Britain and the US next year.
India steps up efforts to market home-grown helicopter
India has stepped up joint efforts with Israel to market an indigenously developed helicopter around the world and is hopeful of receiving an order for it from Chile, the Indo-Asian News Service reported Friday.

N.R. Mohanty, chairman of India's aviation major Hindustan Aeronautics Limited (HAL) that makes the Dhruv advanced light helicopters, said his organization had signed an agreement with Israel Aircraft Industries for joint marketing of the aircraft.

HAL sold two of the home-grown helicopters to the Nepalese armed forces last year and it was recently demonstrated to the military in Chile by a team of Indian and Israeli experts.

"The Chileans were satisfied with the technical demonstrations and the commercial negotiations are yet to begin, but we are hopeful of orders from them," Mohanty told reporters here.

"We have 31 advanced light helicopters so far and 29 of them are flying in India," he said, noting that the country's armed forces and the Coast Guard had projected a requirement of 200 helicopters.

HAL currently has the capability to build 24 Dhruv helicopters a year, but Mohanty said this figure could be scaled up by workingclosely with private industry, which makes several sub-assemblies used in the aircraft.

"We are capable of producing up to 40 helicopters a year if the need arises," he said.

The Dhruv helicopter is currently powered by an engine suppliedby France's Turbomeca. HAL and Turbomeca are also working on developing a more powerful engine called Shakti for use in future versions of the helicopter.

The Dhruv helicopter can be used for both military and civilianpurposes and can carry 14 passengers. Almost 75 percent of its components are indigenous.
India Seeks Fleet Of Mini AWACS
Five years after the crash of India's first indigenous airborne surveillance aircraft, the state's Center for Airborne Systems (CABS) has announced plans to build three small Airborne Early Warning & Control Systems (AWACS) over five years for $435 million.

The planes will operate at up to 35,000 feet for up to seven hours, spotting 2-square-meter items up to 300 kilometers away. The planes also will carry a 300-kilometer Identification Friend or Foe transponder, GPS and inertial navigation systems, secure microwave datalinks, and data and voice radios.

CABS sources said the laboratory will develop the planes' radar warning receivers, missile warning gear, countermeasures dispensers, and other active and passive sensors for air and surface tactical data and data identification and classification equipment.

The Cabinet Committee on Security is expected to approve the program next month, CABS officials said.

Lead Candidate

But they already have a prime candidate for the airframe: the EMB-145 made by Embraer, San Jose dos Campos, Brazil. CABS officials said Embraer has mounted AWACS radar from Sweden's Ericsson, and the Indian Air Force has short-listed EMB-145 aircraft for its VIP aircraft fleet.

CABS scientists visited Embraer facilities in Brazil in July. India's defense research agency, Defence Research and Development Organisation, is expected to offer Embraer a sole-source tender for three aircraft, a deal expected to be signed before December, a senior agency scientist said.

CABS also intends to invite defense electronics firms such as Ericsson, Thales, Paris, and Elta, Ashdod, Israel, to bid on advisory contracts.

The planes will help monitor low-intensity conflicts, such as the ones in the Kashmir valley bordering Pakistan and on the northeast border with China. They also will provide training for the Air Force pilots and specialists who will operate the Phalcon AWACS when they arrive from Israel, the CABS scientists said.

The proposed planes will be a more stable surveillance platform than the Phalcons, according to retired Indian Air Force wing commander Bhim Singh.

India's Guardian AWACS program, later renamed AJRAWAT, began in the early 1980s. An Avro aircraft with 24-by-5-foot rotodome flew in 1990, and CABS was set up a year later to run the program.

Crash Forced Global Search

But the deadly January 1999 crash of a prototype Airborne Surveillance Platform dashed India's hopes of getting a homegrown AWACS program and led to a global hunt for AWACS from the overseas market.

Early this year, India concluded a deal under which three Il-76 Russian aircraft would be mounted with Israeli Phalcon radar to be used as AWACS. The deal was signed early this year for $1.1 billion.


Indian, U.S. Troops Swap Expertise: Ambassador
Indian military services may seek U.S. defense equipment once they better understand the characteristics and performance of American weapons, according to Ronen Sen, India's new ambassador to the United States.

The military services of both countries are engaged in joint exercises and training almost on a weekly basis, Sen said Sept. 7 during a reception hosted for him by the U.S.-India Business Council in Washington. The council promotes bilateral commerce and business.

"Right now, we are exchanging ideas among people, getting to know them and the [U.S.] systems," he said. "Then we will move into procurement of some of the [defense] items."

U.S. forces have strong conventional military capabilities, Sen said, but India's armed forces have a lot of experience in urban combat and counterinsurgency operations, which they share with their American counterparts during joint exercises.

Sen, who took office in August, was appointed by the new Indian government, led by Prime Minister Manmohan Singh, to replace Lalit Mansingh. Sen has been a career foreign service officer for the past 30 years and recently served as India's high commissioner to the United Kingdom.

The new government in New Delhi, elected in May, intends to continue economic reforms pursued by the previous government, Sen said, noting the raising of limits on foreign investment in India's telecommunications and financial sectors.

As India's ambassador, Sen said he would promote two-way trade between the two countries and work to enlarge Indian investment in the United States.

The global defense industry is constantly shaping how borders are protected, wars are fought, terrorists are tracked and caught, and global security maintained. We aim to track news, policy, military exercises and strategic affairs between the world's largest democracies - India and the United States.
Given the vast interest and passion we have in this field, we decided to launch this blog to give visitors the ability to track these developments, exchange ideas and link to other sources of Information. Our primary sources and links can be found on the main page. Some of the pieces published herein our ours, otherwise it is reproduced from other sources (news, think-tanks or publications) to provide our readers the ability to interact and respond. The link to the original source can always be found under the article. Articles and op-ed pieces written by us include thoughts and opinions that are ours, not those of any government or political party. Last but not least, this blog is not-for-profit, nor is it financially supported by any corporation, entity or organization. It is purely to be used for informational purposes and not commercial and/or profit motives.
Thank you, Nik Khanna & Jango Unwalla
| | |
| --- | --- |
| | |
About The Blog
This blog focuses on current issues concerning defense and national security for the world's largest democracy - India. It is updated regularly providing readers with in-depth information on technology transfer, acquisitions, counter-terrorism, security and military collaboration and strategic dialogue between India and the United States. The site includes links to top defense policy & research institutes, think-tanks, military sites and research organizations.
Cooperative Cope Thunder
Nikhil and Jehangir wrote an exhaustive article about the Cooperative Cope Thunder joint event. Their article was publihed in Vayu magazine. Click on the link below to read the in-depth article with amazing pictures courtesy of mark Farmer at topcover.com
Download
Guard members are ordinary people doing extraordinary things.
If you're looking for a way to serve your community and country while maintaining your full-time civilian career, the National Guard is for you. Click below to learn more about the proud history of the Army National Guard.
Link