Coming Soon


It's been a while, but as they say, better late than never. We finally made some time to redesign our blog and soon we will have our own independent website. The blog helped us reach a huge audience and generate a lot of interest in this area. As a result, the format and (utility) of the blog seems overwhelmed, hence the transittion to the dedicated site. The URL for the new site and content will be disclosed soon. Till then, enjoy the blog and continue to contribute to our posts.
Russia, India Eye $10 Billion Worth of Arms Contracts
Russia and India are discussing $10 billion worth of arms sales contracts, Interfax news agency quoted Indian Defence Minister Pranab Mukherjee as saying Nov. 16.

Mukherjee, who is in Moscow for bilateral talks, did not specify what stage the discussion of contracts had reached or a timeframe for the sales.

Russian Defense Minister Sergei Ivanov told Itar-Tass news agency on Nov. 15 the Russo-Indian commission was expected to discuss a wide range of contracts, including weapons for the Indian Navy, Air Force, ground troops and a joint production of military and dual-use equipment.

India is the second biggest buyer of Russian weapons after China, accounting for nearly 40 percent of Moscow's overall arms exports, which hit a record $5.12 billion last year.

Ivanov told Tass that, since 1960, India has bought some $40 billion worth of Soviet and Russian arms.

The sale of the Russian aircraft carrier Admiral Gorshkov and a contract for the production in India of SU-30MKI fighter jets have been the biggest contracts in the past five years.
Link
India Boosts Aircraft Buy, Widens Supplier Options
India will increase the number of Medium Multi-Role Combat Aircraft (MMRCA) it plans to buy to 200, opening the door for more than one supplier, said Air Force and Ministry of Defence officials

The Indian Cabinet Committee on Security, which clears major defense programs, in October accepted the Air Force's proposal to increase the number from the original 126, for which a request for information already has been sent to overseas vendors. The value of the original contract was $5 billion; the revised plan brings the combined value of one or more contracts to $8.5 billion.

A senior Defence Ministry official said the Air Force plans to phase out 60 of its 140 Jaguar aircraft in the next five years, by which time MMRCAs would start arriving. The additional planes will replace more Jaguars, aging MiG-23s, and some squadrons of MiG-27s, an Air Force official said.



The official said the first batch of MMRCAs could be supplied by one vendor, and perhaps the second lot could be made in India under licensed production from the same or a different vendor.

A request for information for the initial 126 planes was sent to Lockheed Martin for its F-16, Saab for the JAS 39 Gripen, Russian Aircraft Corporation MiG (RAC MiG) for the MiG-29 SMT, and Dassault Aviation for the Mirage 2000-5. Boeing also has offered its F/A-18 aircraft for consideration, as has RAC MiG for the MiG-35.

The indigenous Light Combat Aircraft (LCA) is due to replace the service's MiG-21 combat aircraft, but that program is more than a decade behind schedule. The LCA is slated for limited production by 2007 or 2008.

Defence Ministry sources said it will be difficult for the government to choose among the four vendors because political and strategic considerations must be weighed in addition to technical factors.

The sources noted that the move to buy up to 200 MMRCAs would certainly ease the government's burden, as more then one type of MMRCA could be selected.

They said the Air Force favors the French Mirage 2000-5 aircraft, but cannot ignore the firm from Russia, which is the largest supplier of arms and equipment to the Indian Defense Forces. However, it has been a year since Moscow and India have penned an arms deal. Russia has insisted India first sign an intellectual property rights accord on defense equipment and weapons, which would not allow India's Russian-built weaponry to be upgraded or fitted with equipment from a third country.

Another consideration is that India and the United States have entered into a new strategic partnership, with Washington agreeing to provide nuclear and space technology for civilian use. The purchase of the F-16 or F/A-18 would signal the beginning of a new defense relationship between India and the United States, said Surya Pal Singh, retired Indian Air Force air commodore.

The purchase of two types of MMRCAs not only will help speed up acquisition of the aircraft, it also may help the Air Force acquire American aircraft, which have been offered with the latest radar, Singh said.

India wants as part of the MMRCA package the U.S. Active Electronically Scanned Array radar as well as new-generation missiles, the Defence Ministry official said.
Link
MiG-29SMT demonstrates hi-tech capabilities
Russian aerospace heavyweight, MiG, is demonstrating its latest cutting edge defence technology at Dubai 2005 with the newest version of the MiG-29 multifunctional combat aircraft - a highlight of the show's daily flying display.
"This new MiG-29SMT has a host of improved, compatible technology that makes it more appealing to a wider audience," said Alexey Fedorov, director-general – Designer General, MiG.
"It is able to successfully compete with the most up-to-date fighters."
MiG claims its SMT is capable of precision weapons application on aerial, sea and ground targets.
The MiG-29SMT in Dubai features the new Zhuk-ME multimode radar, open architecture of avionics based on MIL-STD-1553B bus military standards, a multi-channel navigation system and a new fuel system which allows for in-flight refuelling and longer flight range.
Two SMTs are at Dubai 2005, one in the static park, the other taking part in the daily flying display. They company is also showcasing the latest MiG 29 simulators.
"Upgrading a huge fleet of the MiG-29 that are in use around the world is currently a priority in MiG's activities," said Federov.
"Since numerous operators of the MiG-29s in various countries impose different requirements to an upgrade of their aircraft, the Corporation has developed a package program for upgrading the aircraft to the MiG-29SMT configuration.
"We believe that the SMT upgrade will be of interest for many current operators of the MiG-29 and to new potential customers as they are getting a very advanced 4+ generation fighter."
The comprehensive upgrade program includes:
- upgrade of the armament management system. Particularly, the in-service N-019E radar will be replaced with the new-generation Zhuk-ME multimode radar. This will turn the MiG-29SMT into a multi-role aircraft able to effectively use air-to-air and air-to-surface precision guided weapons.
The aircraft's mix of guided weapons will be expanded with the Kh-31A anti-ship missiles with active radar seekers, the Kh-31P anti-radar missiles, Kh-29TE missiles and KAB-500Kr TV-guided bombs. When equipped with an external optical/laser targeting pod, the fighter can use the Kh-29L air-to-surface missiles and KAB-500L laser-guided bombs.
- improvements in the fuel system and an increase in internal fuel store. The internal fuel capacity on the MiG-29SMT has been increased by 950 liters through an addition of a strap-on tank behind the cockpit. The capacity of the external fuel tank has increased up to 2,000 liters. Ferry range with three external fuel tanks and two R-73 air-to-air missiles (for self-defense) has increased up to 3,100 km, and with one in-flight refueling the range will be 5,400 km. Also, the aircraft has been equipped with an improved fuel system featuring a new digital fuel metering system.
- upgrade of cockpit instrumentation with improved ergonomics and use of the HOTAS concept. Two full-color LC multi-function displays are used. Compliance of the digital devices with the МIL-STD-1553B standard means that the aircraft can be completed with optional Russian- or foreign-made equipment and airborne weapons depending on the particular customer's requirements and financial capabilities.
The MiG Corporation plans to carry out MiG-29 upgrade work on the customer's facilities, and a scope of upgrade will depend on the requirements of the particular user of the aircraft.
As a result, upon completion of the upgrade program in full measure, the upgraded aircraft will be able to operate like a multi-role fighter and carry the same mix of weapons as the current Russian fighters do. It will be 1.8 to 2.2 times and more than 3.5 times more effective against air targets and surface targets, respectively, than the original MiG-29.
As an option to any of the above upgrade versions, MiG offers the customers the following services:
– modifications of the aircraft for extension of its service life;
– a changeover to on-condition use. Modifications and introduction of a new diagnostics and maintenance system will enable a step-by-step increase of the fighter life to 40 years and 4,000 flying hours.
A Mig29-SMT Cockpit with advanced avionics and CRTs.
A Mig29-SMT on Display
Russia offers MIG-35s
The fight for the contract of 125 fighter aircraft, which the Indian Air Force (IAF) is looking to purchase, is due to carry on till the very end with none of the prospective parties involved in the future bidding process ready to give up in the favour of the other, especially the USA, which seems to be ahead of the others in common perception as of now.

While the French, who are offering the latest version of the Mirage-2000, have decided to go till the very last and are confident of getting the contract from the Indian Government, the Russians are also making intense preparations. It is an all out preparation for the war here in the city that is so used to bloodier versions of war.

The Russians have made their intentions clear to fight tooth and nail till the contracts are not decided as the stakes are very high. It will be one of the biggest contracts in the Indian defence history. The Russian Government and MIG (Russian Aircraft Corporation) are undertaking drastic changes and unprecedented preparations to get it.

Each of the fighter planes that the IAF would buy could cost anywhere between Rs 150 crore to Rs 200 crore, while the total contract would be well over Rs 25,000 crore. There are indications that the Indian Government could be issuing the Request for Proposals (ROF) in January finally putting the process for the purchase in motion.

On Wednesday evening, when Defence Minister Pranab Mukherjee and the high level defence delegation accompanying him reached the MIG's sprawling corporate complex in Moscow there were enough indications available that Russia was taking the whole process seriously and would be going all out to bid for the contract.

Receiving Mr Mukherjee and his delegation was the recently appointed new chief of MIG-Alexei Federov, the man who till recently was heading the company that manufactured Sukhoi-30s for the Indian Air Force. Mr Federov is a sort of legend in Russian aviation circles-the man headed Irkut Corporation after the Communist collapse, built the company from almost nothing to create the new series of Sukhois. And he led the successful negotiation with India and sold SU-30s in 1996-it was one of the biggest military contracts after the Communist collapse.

Now Mr Federov and his lieutenants have been brought into MIG-this time to fight its battle against the global giants like Lockheed Martin, which makes F-16s, Boeing, which makes F-18 Super Hornets, and the French Mirage-2000 manufacturers. Lockheed Martin at present being the frontrunner seeing the emerging Indo-US relations.

Mr Federov was not the only surprise. MIG Corporation made a detailed presentation on what they are offering to the IAF- they don't call it the MIG-29 but MIG-35s.

The aircraft are an improved version of the MIG-29s with capabilities that MIG Corporation claims no other fighter aircraft in the world has. It has an all aspect thrust vector control; can actually stop mid-way during flight. This quality will not only allow the fighter to get better accuracy in its attack role, but would also help it to avoid an enemy fighter chase, among other things, they argue.
Link
MiG's survival depends on India buying
For a country so used to bloody versions of war, it is time for one of a different sort -where stakes are really high, and more than an enemy to face off.

The Russian are making intense preparations to secure India's proposal to buy 125 fighters for its air force. All-out preparations are underway in the city as India and Russia steady their relations back on a long-term track. As India gets ready to issue RFPs (Request for Proposals) for one of the biggest defence contracts anywhere in the world in recent times, Russia is trying its utmost to ensure that the grand lady of Russian military aviation, MiG, lands the contract.

The Indian Air Force's decision to buy 125 multi-role fighters couldn't have come at a better time for MiG. For MiG Russian Aircraft Corporation, the contract is a question of life and death. With each of the fighters costing anywhere between Rs 150 to Rs 200 crore, the entire contract would be worth over Rs 25,000 crore. And it could provide the MiG corporation a fresh lease of life, and the energy to emerge out of the insipid days it has fallen into after the Communist collapse.

When Defence Minister Pranab Mukherjee and his delegation reached the MiG headquarters on Wednesday the Russian determination to garner the contract was visible. Receiving them at MIG was its new Director General, Alexei Fedorov. His team is very clear about what they are offering the IAF: A fighter unlike any other, what they claim is much more advanced than its competitors. They call it the MiG-35, an advanced version of MiG-29s. For the IAF contract, American biggies Lockheed Martin and Boeing are vying with their F-16s and F-18 Super Hornets, while the French are offering Mirage-200-5s. Swedish fighter Gripen too is in the fray.

It is no more the Cold War era, when India had to depend on Russia for most of its military acquisitions. It is a new marketplace, and India has enough financial clout to bargain for the best. Whatever the reasons, the contract would decide the future of MIG and influence the Russian military aviation sector.
Link
Chinese People's Army team witnesses war games in Rajasthan's Thar desert
In the presence of a high-level Chinese People's Army delegation, Indian armed forces on Friday conducted the largest ever war games in recent times in the Thar desert showcasing its prowess for short high-intensity wars in a digitised battlefield.

This is the first time a Chinese military team witnessed such an exercise. Defence attaches from many countries were also present.

In "Operation Desert Strike," the Army and the Air Force deployed their latest acquisitions, including Russian T-90 tanks, mechanised infantry combat vehicles in tandem with force multipliers like Israeli Searcher and Heron Unmanned Aerial Vehicles, to carry out rapid deep penetration blitzkrieg thrusts.

Synergy between air and ground forces marked the Corps-level exercises with IAF fighters such as Mirage 2000, ground attack MiG-27s, deep penetration Jaguars, upgraded MiG-21 Bisons and attack helicopters showering fire from air to pave the way for armour and mechanised columns to strike deep.
The previous high-intensity war games were held in the desert in 1987 codenamed "Operation Brasstacks."

Defence Minister Pranab Mukherjee, Army Chief J. J. Singh, Vice-Chief of the Air Staff Ajit Bhavnani and services top brass witnessed the war games.

Mr. Mukherjee told reporters later that the Government would spare no effort to further speed up modernisation of the forces. India was not merely interested in buying fifth generation fighter aircraft from Russia but would like to be involved in its conceptualisation.

Welcoming the Chinese delegation, he said they were invited so that they can acquaint themselves with the professionalism of the Indian armed forces. He denied that India has sought Moscow's cooperation for development of indigenous nuclear submarines during talks with his Russian counterpart, Sergei Ivanov, as reported in a section of the media.

``It was wrongly represented. When we talk of submarines, it was conventional submarines. We discussed Amur class diesel-electric submarines, which Russia wants to sell to India. We did not discuss ATV (Advance Technology Vessel). It came from them,'' he said.
Link
India Hopes To Build New Fighter Jet with Russia
Indian Defense Minister Pranab Mukherjee expressed satisfaction Nov. 18 with his country's already sizeable defense procurement cooperation with Russia and outlined hopes of their jointly building a new fighter jet.

Mukherjee reiterated India's hopes of developing a new fighter jet with Moscow, following an agreement signed this week to jointly build a new transport plane.

"Our armed forces and industrial enterprises in this sphere would like to take part in all stages of the production of a fifth generation fighter jet," he told the Vremya Novostei newspaper during an interview as he visited Moscow this week. He ruled a purely financial role for New Delhi in such an endeavor, however..

"Russia is India's biggest supplier of defense products and I don't foresee any change to that in the next few years," the newspaper quoted Mukherjee as saying.

"Our defense cooperation will widen and deepen. … Currently contracts worth around $9 billion dollars are being fulfilled," Mukherjee said.

Russia's defense industry has built on Soviet-era ties with India and now supplies around 70 percent of India's arms imports. New Delhi is the second-biggest buyer of Russian military hardware after China.

As India develops its own defense industry, the two countries are increasingly developing joint projects, with some production already carried out in India under license, including building of Su-30 MKI fighter jets and T-90 tanks, Mukherjee said.

Indian Prime Minister Manmohan Singh is himself due in Moscow next month, when he will sign agreements that include one aimed at protecting intellectual property rights.

The two countries held joint military exercises in the Indian state of Rajasthan last month.

Recent Indian purchases include the Russian aircraft carrier Admiral Gorshkov, while the two countries are jointly building BrahMos anti-ship missiles.
Link
India pressing Russia over BrahMos induction
India is pressing Russia to speed up the process of inducting the BrahMos anti-ship cruise missile, in its Armed Forces, before launching its marketing in third countries.

"Some countries have shown interest in the BrahMos missiles. But before their marketing is launched, they should be inducted in the countries of their production," Defence Minister Pranab Mukherjee told reporters after his visit to the NPOM Mashinosctroenia, outside Moscow, on Thursday.

"There is no problem from our side, in their induction. But Russian laws require to be amended for their induction into the armed forces," Mukherjee said.

Mukherjee would not reveal the names of the countries, interested in the BrahMos "There are many competitors in this field and if I mention any particular country, others will approach them to buy the systems from them," he said.

Meanwhile, an Itar Tass report quoted a Russian Defence Ministry official as saying that over 200 projects worth $19 billion were included in the Indo-Russian military and technical cooperation programme until 2010.

''Transactions totalling $9 billion have been already carried out under the programme...Contracts on military deliveries, as well as other similar projects to the tune of $10 billion are being prepared," he said.
Link
Joint military exercises strengthening ties: US diplomat
The India-US joint military exercises are strengthening bilateral ties and would help take on the scourge of terrorism more effectively, a senior US diplomat said here.

"Over the past five years the US and India have held several joint military exercises resulting in strengthened US-India bilateral relationship," said Robert O. Blake, charge d'affaires of the US embassy in India, at a reception here Wednesday night.

Referring to the Oct 29 Delhi serial blasts and the Nov 9 bombing in Amman, Jordan, he said the bombings are "sad reminders that terror knows no borders and respects no religion".

"It is through joint training that our two militaries will enhance their capacity to confront the scourge of terrorism," said Blake at the reception held to toast the ongoing 12-day India-US air exercises - Cope India 05 - at the Kalaikunda airbase in West Bengal, which began Nov 7.

"These 10 days, our two forces have trained side by side on the ground and in the air. USAF (United States Air Force) F-16 have flown with IAF (Indian Air Force) Mirage 2000, MIG-21, SU-30 and Jaguar aircraft offering a tremendous training opportunity to both sides and enhancing the bonds between us," Blake said.

According to Blake, the "amazing progress in the defence cooperation should be seen as one element of a comprehensive relationship that continues to expand and deepen in scope and the July 18 visit of Indian Prime Minister Manmohan Singh (to the US) has marked a watershed in the ties between the two democracies".

Blake hoped that the defence framework signed by Indian Defence Minister Pranab Mukherjee and US Secretary of Defence Donald Rumsfeld in June will promote the defence relations of the two countries for the next decade.

"Through this framework we will improve cooperation between our armed forces, enlarge defence trade, co-produce military hardware and increase technology transfer," he said.

The air exercises at the Kalaikunda airbase, about 120 km southwest of here, are being protested by the Communist Party of India-Marxist (CPI-M), which rules West Bengal.
Link
Indo-US air exercise concludes
The second Indo-US air exercise in which F-16 Fighting Falcons and E-3 Sentry Airborne Warning System and Control Aircraft of the US Air Force took part for the first time concluded at the Indian Air Force's Kalaikunda airbase in West Bengal today.

The aim of the exercise codenamed 'Cope India 06' was to interact professionally and culturally with the USAF positioned as the largest and most technologically advanced air force in the world, Air Officer Commanding in Chief (AOC-IN-C) Air Marshal F H Major said here.

"The home-grown ingenuity and skills of the IAF pilots earn respect from different nations across the globe," he said.

The joint exercise, which commenced on November seven, saw flying exercise for eight days with three days' holidays thrown in between, IAF sources said here.

Twelve F-16s, C-5 transport aircraft from the USAF besides frontline IAF fighters Sukhoi-30, MIG 29, MIG 27, Mirage 2000, MIG 21 bison, and also AN 32 and GCI radars participated.

The AOC-in-C said over the last few years the IAF had carried out bilateral and multilateral air exercises with a number of foreign countries within and outside India.

"Such exercises not only help in promoting mutual understanding and learning from each others' experience but also enhance interoperability and help refine joint operational procedures," Air Mashal Major said.

The first such air exercise was held at Gwalior on February one, last year.

"Our pilots were exposed to flying in an AWACS environment which will help us when we induct our AWACS," Air Marshal FH Major Air Officer Commanding in Chief Eastern Air Command, who was also present, said. On their flying experience in tandem with the AWACS, Indian pilots said it gave them an eye deep into rival territory. "We could pick up incoming targets whether aircraft or missiles almost 400 kms away. It gives a grand battle coordination in the air", they said.

Indian flight controllers were allowed by the USAF personnel to handle the AWACS system during the exercises, senior IAF officers said.

Though both Air Force officials painstakingly shied away from giving any figures of "kills" or "hits", US Air Force pilots said they had been impressed by the flying skills of the Indian pilots.

Gen David Deptula as well as Air Marshal Major stressed that in almost two week long exercises, the pilots flew in mixed groups simulating dissimilar Air Combat Missions, Basic Fighter Manoeuvres and largescale engagements in which no indiviual scores were kept.

"US Air Force is the largest and most technologically advanced Air Force in the world with rich operational experience. At the same time, the home grown ingenuity and skill of the IAF pilots has earned them respect from different nations of the world", Marshal Major said.

Outlining the objective of the exercises, Major said it was to familiarise fighter and weapon controllers with each others procedures and terminologies and train together with AWACS. Besides, the lone Boeing 707 mounted E3C AWACS, the US Air Force deployed a full squadron of the Block 50 F-16 fighter aircraft, the type the makers Lockheed-Martin are offering to sell to India.

On the Indian side, the fighters which took part in the exercises included six SU-30's, four Mig-29, four Mig-27, six Mirage 2000 and six upgraded MIG-21 Bisons.

"The Exercises met all their missions and objectives", Major and Deptula told newsmen, with the Pacific force commander saying that military-to-military cooperation between the two countries was now entering into highly advanced stage.

Air Marshal Major said the base which has recently been rennovated at a huge expense could become a home to all IAF exercises with foreign forces. The Singapore Air Force, sources said, would be coming here in January next year to conduct live exercises at the nearby Air to Ground range.
Link
US pilots get 'surprises' from India's ageing MiG-21s
US Air Force pilots flying sophisticated F-16 jets were in for a few "surprises" when they squared off with their Indian counterparts in ageing MiG-21 fighters during an exercise at an airbase here.

Though senior Indian and US officials were at pains Thursday to emphasise Cope India 05 - the largest air force exercise between the two sides - was all about cooperation and not competition, others privately admitted the US pilots were often "amazed" by the performance of the Indians.

The nearly two-week-long wargame that began Nov 7 sparked angry demonstrations from Left parties opposed to New Delhi's growing military ties with Washington, but US and Indian pilots were unconcerned with such protests, focusing instead on training for possible joint missions in future.

Gen. D. Deptula, vice commander of the US Pacific Air Force, said the manoeuvres - which featured 12 F-16s flying alongside 26 Indian jets, including Su-30s, MiG-21s, MiG-29s and Mirage 2000s - led to increased mutual understanding that would help both countries respond to "unnamed and unknown" contingencies.

"As these unknown contingencies pop up, we can respond better without wasting time," Deptula told a news briefing.

Deptula and Air Marshal Fali Major, chief of the Indian Air Force's (IAF) Eastern Command, insisted that "kills" or successes during combat missions during Cope India 05 were not tallied or reported, but other officials from both sides privately said the Indians had often surprised the American pilots.

Major merely noted that the "home grown ingenuity and skill of IAF pilots has earned respect from different nations", but some Indian pilots admitted the performance of the ageing but refurbished MiG-21s had "dumbfounded" the Americans.

"This happened despite the fact that the Americans had an AWACS (airborne warning and control system) with them and we had little experience of operating in an AWACS environment," said an IAF pilot who did not want to be named.

Deptula brushed aside protests against the exercise by the Left parties that rule West Bengal state, remarking that the US and India were democracies whose militaries had to protect the rights of expression of all sections of society.

"That's what this is all about - protecting the people's right to articulate their feelings," he said.

Lt. Col. Pete Bastien, a fighter controller on the US E3Sentry AWACS sent from Japan for the exercise, had plenty of praise for India's Su-30 multi-role jets. "We had never flown in India and we had never operated with the IAF. The page was blank and we learnt a lot during this exercise," he said.

Capt. Ben Mosley, an F-16 pilot, was more forthright. "We're very proud to be allies with India and happy that we will work with the IAF," he said after a few training sorties with the Su-30s.

Cope India 05 also marked the return of US forces to Kalaikunda after nearly 60 years - the airbase was created specifically for US Army Air Force pilots to ferry supplies to China over the "hump" of the Himalayas during World War II.

The IAF recently refurbished the airbase for use in future joint exercise with foreign countries. It will also be "hired" by the Singapore Air Force early next year for training exercises, officials said.
Link
Mukherjee invites RAC MiG to present concept of fifth-gen plane
Defence Minister Pranab Mukherjee has invited Russian Aircraft Corporation (RAC) MiG to present its concept of fifth generation fighter aircraft before the top brass of Indian Air Force even as New Delhi has expressed its desire to join the Russian project.

"MiG had presented its concept of fifth generation fighter aircraft when I visited them yesterday. I invited them to make a presentation in India for the IAF officers," Mukherjee told reporters before leaving for home tonight at the end of his three-day Moscow visit.

In the course of his press conference at the Russian Defence Ministry yesterday, Mukherjee had for the first time publicly acknowledged that India is keen to take part in the development and financing of the fifth generation fighter aircraft with Russia, which would rival the Joint Strike Fighter (JSF) being developed by the United States.

Russia had for the first time made this offer to NDA government three years ago after successful completion of Sukhoi Su-30MKI project, which already incorporates some features of the futuristic super fighter plane.

Local defence experts have noted that China, a major buyer of Russian military hardware has not been offered stake in the project. France is the only other foreign nation, which has also been invited besides India.

Russian Air Force had identified Sukhoi Corporation as the designer of the fifth generation fighter aircraft, which has already made presentation in India. However, India seems to be in favour of a lighter aircraft, in which RAC MiG specialises.

On the last day of his Moscow visit the Defence Minister addressed the cadets and staff of the Russian General Staff Academy and visited NPOM, the Russian partner of Indo-Russian 'BrahMos' joint venture for the manufacture of supersonic cruise missiles.

Mukherjee said that several 'friendly' countries have evinced interest in the missile, which would be jointly marketed by India and Russia.

He, however, said that first it was the need to induct the missile by the armed forces of India and Russia before global marketing.

"Russia would require to amend some of its laws for inducting BrahMos, and we are pursuing this issue with them," Mukherjee said.

Describing his three-day stay in Moscow and talks with the Russian leadership including President Vladimir Putin and Deputy Prime Minister and Defence Minister Sergei Ivanov "quite successful", Mukherjee said that long pending Intellectual Property Right (IPR) agreement has been finalised and it would be signed during Prime Minister Manmohan Singh's Moscow visit early December.

IPR agreement would help in resolving the problem of spares, he said.

India and Russia will also sign agreement on the joint development and production of 145 medium multi-role transport aircraft (MTA) of which IAF will get 45 aircraft for replacing ageing AN-32 fleet.
Link
Russia to help build nuclear submarine
Russia has agreed to help India build the Advanced Technology Vessel (ATV) and the air defence vessel.

Speaking after a two-day session of the Indo-Russian Inter-Governmental Commission (IRIGC) for military-technical cooperation on Wednesday, Defence Minister Pranab Mukherjee said the Russian side had assured him that it would share the technology for building the ATV and air defence vessels and would go in for co-production in some areas of their construction.

ATV is an indigenous project for the development of nuclear submarines.

The Russian Defence Ministry had also agreed to a request from the Department of Space to give India access to civilian and military applications of Russia's Glonass space navigation system, Mr. Mukherjee said.

This will enable the Indian Armed Forces to target missiles with high precision. Under a bilateral accord signed last year, India and Russia will jointly launch navigational satellites to make Glonass fully operational by 2007.

Decision has been taken at the 5th IRIGC session that India and Russia will jointly design and manufacture a Multi-role Transport Aircraft (MTA) for the airforces of the two countries. Russia will purchase 100 planes and India will go for 45 planes, Mr. Mukherjee said.

It has been agreed that the two sides will have equal participation and work share in the project. The Indian side has handed over to Russians a draft agreement on MTA that is expected to be signed during the coming visit of Prime Minister Manmohan Singh to Moscow early next month.

India is also interested in joining hands with Russia to build a 5th-generation fighter aircraft, Mr. Mukherjee said. Russia's Sukhoi and MiG aircraft building companies have made proposals to India regarding the project, and the IAF and HAL are actively involved with the Russian side in discussing details.

"We are interested not just in financial participation in the project, but want to fully participate in designing, developing and manufacturing the 5th-generation plane," the Defence Minister said. He explained that the Sukhoi aircraft company had already made a presentation of the 5th-generation aircraft in India, and the Indian side was now waiting for the MiG corporation to make their presentation in order to be able to compare the two offers.

The sides discussed terms for the supply of three TU-22M long-range bombers to India. "We want to have the planes on a lease basis and to have Russia's assurance of post-delivery maintenance and servicing," Mr. Mukherjee said.

Mr. Ivanov said the sides identified several thrust areas for military-technical collaboration in the coming years, which include joint development, production and marketing of defence systems for third countries, as well as modernisation, servicing and maintenance of Russian hardware supplied to India.

"Cooperation in these areas will progress far more dynamically than before," the Russian defence chief said. "We are advancing from the buyer-seller relation to technology partnership in designing, developing, producing and marketing of weapon systems in third countries."
Link
Navy for posting officer at U.S. Central Command
Despite reservations expressed by Defence Minister Pranab Mukherjee, the Navy is discussing the posting of officers at two U.S. global military commands. "That was at another point in time,'' said a naval officer when asked about Mr. Mukherjee's observation that "there is no question of posting officers at U.S. military commands. We have a defence attaché in Washington."

Mr. Mukherjee made the remarks soon after his visit to Washington in July this year after the Left parties criticised the signing of a framework for defence cooperation with the U.S. Though the Indo-U.S. Naval Executive Steering Group would discuss the possibility of posting officers at the two U.S. military commands, naval officers pointed out that the final call was with the Government on a number of aspects such as the location of the officers — whether at the U.S. Embassy or at the command headquarters. The postings should ensure faster coordination with the U.S., especially with the joint naval exercises getting bigger and, therefore, more complex with each successive edition.

According to navy officers, the U.S. has in principle agreed to post an officer at the Pacific Command that keeps an eye on India and other countries to its east. However, the Navy is keen on posting an officer at the U.S. military's Central Command that oversees the area west of India, comprising the bulk of geographical area of operations for the Indian Navy.

The U.S. had offered to post an observer at the Pacific Command three years ago, but the previous National Democratic Alliance Government preferred an observer at the Central Command that included Pakistan, Afghanistan, Iraq and West Asia, a region vital to India's energy security.

The exercises would be of double benefit to India. They would not only refine its anti-piracy and anti-terrorist procedures but also expose the Navy to technological advancements in military platforms.

For instance, the participation of U.S. nuclear submarines in the two previous joint exercises gave Indian sailors "hands on experience" and now an Indian naval delegation is in Russia to receive advanced training on handling nuclear powered submarines.
Link
Fighter aircraft decision flies into turbulent political skies
Political pressures rather than the strategic interests of the Indian Air Force (IAF) may be the pivot around which the selection of fighter aircraft rests.

Some defence experts say growing warmth between India and the US and a far-reaching defence pact signed between the two countries in June could pressure New Delhi to choose the American planes.

"If India's requirements are beyond any existing fighters, we are prepared to make upgraded F-16s to India's specifications with complete transfer of technology," Mike Kelly, senior executive of Lockheed Martin recently told mediapersons.

The deal projects supply of 18 aircraft in flyaway conditions and the remaining 108 assembled in India under technology transfer.

Analysts point out that the US administration has also allowed the sale of the entire array of weapons platform mounted on the aircraft, including beyond visual range air-to-air missiles and 100 km standoff ground target- engaging missiles.

Russia has accepted that its position as India's main supplier of military hardware is threatened by the US, European and Israeli interests. Talks between New Delhi and Washington on joint development of hardware has made Moscow nervous.

While the US is pushing for contracts for either of its companies Lockheed Martin and Boeing—India seems more keen on Russian aircraft. However, due to the absence of an Intellectual Property Rights (IPR) agreement, Indo-Russian defence cooperation has run into rough weather, according to highly placed defence ministry sources.

The groundwork for the IPR agreement with Russia is being done by the team led by defence minister Pranab Mukherjee, who is currently in Moscow to ease an 'IPR stalemate.' An agreement, once signed, will open the gates for a plethora of military cooperation pacts, stalled for lack of such an IPR understanding, sources pointed out.

There is still one glitch that needs to straightened out. The government is not yet certain about the clauses to be included in the request for proposals (RFPs) to be sent out to aircraft manufacuturers, which was expected to be sent out a couple of months ago, sources added.

All the companies who received request for information (RFI) have already responded and are now awaiting government's call for RFP. The question is how long the MoD will take before it sets the ball rolling again.
Link
Russia proposes to modernize Indian warplanes
Russian aircraft manufacturer MiG unveiled Wednesday proposals on modernizing Mig-29 fighters imported by India, the Interfax news agency reported.

"We presented our new projects to the Indian defense minister and briefed him on the manufacture of test models," MiG General Director Alexei Fyodorov said.

"Currently we are in the phase of pre-contract work. We hope that a contract to modernize the MiG-29's will be signed next year," Fyodorov told reporters.

According to him, the proposed modernized version will still bea new aircraft different from the MiG-29SMT despite the fact that it uses many of MiG-29SMT's elements and will be adjusted to the requirements of the Indian air force, he said.

India has about 70 MiG-29s, and "we are planning to modernize all of them," Fyodorov said.

"As a result of the modernization, India will acquire a qualitatively new version of the MiG-29 light frontline fighter. The arsenal of this aircraft will include a wide range of various air armaments of the air-to-air and air-to-surface classes," Fyodorov was quoted as saying.

The updated fighter will be a multirole aircraft, he said. It will be able to effectively attack both air and ground targets. The plane will also be cheaper to maintain, the general director said.

In addition, MiG proposes modernizing MiG-27 fighter-bombers manufactured in India under license, the report said.

A modernized MiG-27 will carry out a test flight and be presented to Indian officials early in 2006, Fyodorov said.
Link
Russia, India to build new multi-purpose transport plane
Indian Prime Minister Manmohan Singh is to sign a deal on joint production with Russia of a new multi-purpose transport plane during a visit to Moscow next month, Indian Defence Minister Pranab Mukherjee said.

During the December 4 to 6 visit, 'there will be the signing of an agreement on joint production of a multi-purpose transport plane,' Interfax news agency quoted Mukherjee as saying at a meeting in Moscow.

Russia and India have already agreed to jointly produce BrahMos anti-ship missiles and have discussed potential cooperation in the construction of fighter jets.

Russia provides around 70 pct of India's arms imports.

Singh could also sign an agreement with Russia over intellectual property rights, which Moscow has insisted on as defence industry cooperation between the two countries mounts.

'An agreement on the protection of intellectual property rights agreed by us could be signed,' Mukherjee was quoted as saying at a meeting of the Indian-Russian committee for military cooperation.
Link
Army, IAF plan "Exercise Desert Strike"
The Army and Indian Air Force (IAF) will unite for the joint land and air exercise titled 'Desert Strike' in the scorching deserts of Thar, on November 18, and put to test its latest firepower, strike and logistics capability.

The exercise will be a first of its kind, as the Army will be showcasing its concept of 'Network Centric Warfare', which revolves around the "key elements of synergisation and co-ordination of a vast array of sensors like radars, electro optical devices, thermal images and UAV's through the Battlefield Surveillance System (BSS)".

The system serves to increase battlefield transparency as also optimize ' sensors to shooter' links, thereby generating higher precision in weapons delivery and lethal degradation of the enemy.

The exercise will be witnessed by 24 observers of 16 friendly countries from the immediate and strategic neighbourhood and 39 Defence Attaches posted in India, another first of its kind.

"Most of the observers coming for the exercise are in the rank of Lt. Col, Colonel and Brigadier. China is coming for the exercise, but Pakistan has not been invited. US, UK, Russia, all have been invited," said an Army official.

The exercise, which is held in a cycle of two years, began on November 11 and will continue till 20, but the actual execution, involving strikes and manoeuvres in actual battlefield conditions is yet to begin.

The exercise involves mechanized corps, artillery, air defence, special forces, reconnaissance and air support by the IAF. The weapons include T-72 tanks, missile firing T-90 tanks (Bhishma), all weather Defence Gun Missile System, Searcher UAVs (Unmanned Aerial Vehicles), Bofors guns, and Chetak and MI-17 helicopters from Army Aviation for para forces.

The IAF's hardware include, the Mirage-2000 fighter jets, MiG-27s, MiG-21 Bisons, Jaguars, Mi-35 Attack helicopters and An-32 for logistics and para dropping. The IAF is also using a plethora of ammunition in its armoury in the exercise, like Precision Guided Munitions (PGMs), cluster bombs, Anti-Tank Missiles (Shtrum) and rockets.

Sukhois, IAF officers said, was not involved in the operations because it was going through some trials and tests, adding that once that got over, it would be inducted in all the exercises.

"Sukhoi is, and will be one of the major inventories for the IAF," said an IAF officer.

The targets, officials said involved the neutralisation of armoured regiments, ground forces, command centres and 'Logistics Camp', adding that Ex-Desert Strike was aimed at integration of all the tri-services, but here it was limited to the Army and the IAF.

"Exercise Desert Strike like all other exercises, revolves around OODA concept, which stands for Observations, Orientation, Decision and finally Action," said Brigadier Bal, while briefing the media.

"The Army's night fighting capabilities, had seen a quantum jump, and Ex-Desert Strike will also witness the army's prowess at night fighting," he added.

The exercise organized by the South Western Command of the IAF and Southern Command of the Army will involve as many as 25, 000 Army troops (one corp). For the IAF, the whole of Jaisalmer Air Station along with fighter fleet from Agra and other places will be mobilised in the exercise.
Link
Cope India '06: Fast-paced and full of firsts
Under gorgeous, clear skies in a faraway land, two countries' air forces are engaged in a few firsts.
After kicking off this year's version of Cope India on Nov. 7 with a series of familiarization flights, a dozen F-16s from Misawa Air Base, Japan, and a slew of Indian air force fighters began squaring off in a series of mock combat sorties.
Except for rest, meals and an Indian holiday on Tuesday, they haven't stopped yet.
Cope India 2006, named for the fiscal year, marks the first time that U.S. Air Force F-16 pilots have flown against Indian fighters in dissimilar air combat training and the first time that U.S. pilots have trained with the Indian air force's newest and most advanced fighter aircraft, the Su-30 MKI.
By the time the exercise concludes Saturday, Misawa's pilots expect to log close to 150 training missions, said Lt. Col. Hugh Hanlon, Misawa's 13th Fighter Squadron commander, during a phone interview Tuesday from Kalaikunda Air Base, India.
"It's going really well on both sides," Hanlon said. "We're happy with the Indian aircraft's performance, and we're extremely pleased with our performance. I think they would say the same."
This Cope India is the third such bilateral exercise since 2002, and the largest joint combat exercise between the two nations since at least 1963. About 250 personnel from Pacific Air Forces, including airmen from the 961st Air Control Squadron from Kadena Air Base, Okinawa, are deployed to India in support of improving interoperability between U.S. and Indian air forces and promoting cooperation and stability in the Asia-Pacific region.
The Indian air force's MiG-21 Bison, Mirage 2000, MiG-29 Fulcrum, and MiG-27 Flogger aircraft also are joining the F-16s in a series of offensive and defensive counter-air engagements. Many of the training scenarios task the F-16s to protect ground targets against advancing Indian aircraft — and vice versa.
Each combat sortie is discussed and scored in combined post-flight briefings using a program that "shows the ground track and location of all aircraft during an engagement," Hanlon said.
"We're trying to not talk about the scoring stuff," he added. "I think both sides got a lot of bad press last year and everyone missed the emphasis. More importantly, both sides are doing well and we're accomplishing the objective that we set out here to obtain."
It was widely reported after Cope India in February 2004 that the Indian air force scored several unexpected successes against U.S. pilots flying F-15 Eagles.
Hanlon called the exercise an "absolutely incredible" training opportunity. "We try to replicate how these aircraft perform in the air, and I think we're good at doing that in our Air Force, but what we can't replicate is what's going on in their minds," he said. "They've challenged our traditional way of thinking on how an adversary, from whichever country, would fight."
Hanlon commended the 74 maintainers deployed from Misawa's 35th Aircraft Maintenance Squadron, noting not one sortie has been canceled due to maintenance problems.
"This pace has been unreal; the first day was just go, go, go," Senior Airman Troy Herberholzt, 35th AMXS F-16 crew chief, was quoted as saying in an Air Force news release.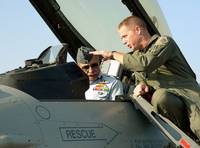 Nanjapa gets a bird's-eye view sitting in the cockpit of an F-16 at Kalaikunda Air Station, India, as he and Col. Rusty Cabot, U.S. deployed forces commander, discuss the capabilities of the F-16.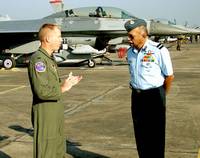 Col. Rusty Cabot talks with Indian air force general B.C. Nanjapa at Kalaikunda Air Station, India. A dozen F-16s from Misawa Air Base, Japan, are deployed to India for the Cope India '06 exercise.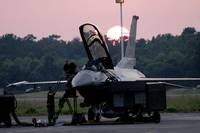 Staff Sgts. Lyle Janey and Allen Conard, along with Sr. Airman Sean Mcelree, all avionics specialists from the 35th Aircraft Maintenance Squadron, Misawa Air Base, Japan, put their finishing touches on an F-16 as the sun sets over Cope India 2006.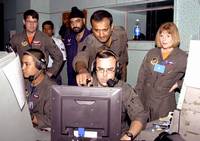 Capt. Michael Thomas, lower center, senior director, and Tech. Sgt. Steven Harshman, lead weapons director, with the 961st Airborne Air Control Squadron from Kadena Air Base, Okinawa, monitor and direct aircraft with an Indian Air Force squadron leader recently during Cope India '06.
Photo Courtesy: John Redfield and Martin Jackson of the United States Air Force
Link
Experts back India on N-deal
South Asia experts have cautioned the US Congress not to impose any additional conditions on India in an attempt to clinch the India-US civilian nuke deal as it could scuttle the landmark agreement itself and also significantly damage the burgeoning US-India relationship.

Testifying at a hearing of the full committee of the House International Relations Committee in Washington on Wednesday, Ashley Tellis, Stephen Cohen, Francine R. Frankel and Satu Limaye voiced their views on why the nuke deal was important for India as well as the United States.

They rejected India signing a fissile material treaty or any such thing as a pre-condition for Congressional approval of the civilian nuclear deal, and said it could have negative consequences for both India and the United States.

They also said India needs to be treated as part of the solution to proliferation rather than as a part of the problem.

The hearing on 'The US-India Global Partnership: How Significant for American Interests?' was called by Chairman of the Committee Henry Hyde to examine the implications of the civilian nuclear cooperation between India and the United States.

Two other hearings have already been held with the Bush administration officials and nuke experts.

Congressman from New York Gary Ackerman, senior member of the House, who wholeheartedly supports the India-US landmark agreement, brought up the issue of conditions.

He said, ''I would point out to those critics of the agreement that there are already many very serious and difficult conditions contained in the July 18 joint statement that India will have to meet.

"Indeed, there are some difficult conditions that the United States will have to meet. I also think that since this is likely to be a phased process, and that as long as the administration is forthcoming with information on Indian progress, members of Congress will be able to decide for themselves that India is working to keep its commitments even as we are working to keep ours.''

He added: ''It's perfectly appropriate for the Congress to include the conditions in the joint statement as part of the legislation we consider, but I have yet to be persuaded that the benefit of adding additional conditions would outweigh their cost.''

Ashley Tellis, senior associate at the Carnegie Endowment for International Peace, said it would be impossible to get India to cap its fissile material production as it is a matter of its national security issue in a region where China has a bigger stockpile of nuke weapons.

However, he said if a global agreement on a cut-off in fissile material was evolved, India would not lag behind in signing it.

He said the most important contribution that the legislative branch can make is by helping to change India's status from that of a target under US non-proliferation laws to that of a full partner.

''The Bush Administration's civilian nuclear agreement with India is directed fundamentally towards this objective. It would produce important and tangible non-proliferation gains for the United States just as it would bestow energy and environmental benefits on India,'' Tellis said.

He said so far US non-proliferation laws have treated India as a problem to be contained rather than as a partner to be engaged. It was the Bush Administration that looked at India through a new prism, he said.

He said: "In contrast to the past, President Bush sees India as part of the solution to proliferation rather than as part of the problem. He also views the growth of Indian power as beneficial to the United States and its geopolitical interests in Asia and hence worthy of strong American support."

Tellis also pointed out to the critics of the agreement signed between US President Bush and Prime Minister Manmohan Singh that they have failed to see the shrewdness of rewarding India's record of voluntary non-proliferation with urgently needed civilian nuclear programmes while placing India's future nuclear development within an international framework.

He also said that by ensuring India's nuclear programme enjoys the same benefits and is bound by the same obligations as other powers in the non-proliferation regime, the US is invoking one of its top national security priorities: the prevention of nuclear commerce between India and a rogue state or non-state actor.

Referring to the criticism that other non-signatories to the NPT like Pakistan or North Korea would demand the same recognition and benefits for their nuclear programmes as that of India, Tellis argued that such fears were groundless 'since India, a democratic and rapidly developing nuclear power with a good non-proliferation track record outside the NPT is almost universally acknowledged to be an exception and not the rule'.

Tellis also urged the US Congress to recognise the American national security benefits of bringing India into the recognised nuclear fold.

Stephen Cohen, senior fellow at the Brookings Institute, who was more critical of India's nuclear programme, said both the US and India miscalculated the complexity of this deal and the likely opposition.

"Our own abysmal knowledge of India and its politics contributed to this situation," he said.

He also said India would not be a dependent state nor will it become a close ally like Britain. At best, he said, it could emerge as an Asian France, ''a state with which we have many shared interests but one that sees the world through its own prism, not ours.''

The South Asia experts also agreed that advancing the growth of India as a global power, as the Bush Administration intends, is not directed 'at containing China' as many critics have alleged.

Such a policy of containing China is neither feasible nor necessary at this point because India too has no interest in becoming part of any coalition aimed at containing China.

Francine R Frankel, professor from the University of Pennsylvania, said, ''New Delhi has too much at stake in improving its relations with Beijing to be drawn into robust demonstration of support for US interests.''

On the contrary, she pointed out that 'the mindset of India advocates for a natural partnership between the two countries as better described by the determination not to walk into a US trap by becoming overtly anti-Chinese'.
Link
U.S. OKs sale of P-3C logistics support to India
The U.S. Defense Department on Monday told Congress it approved the sale to India of logistics support worth $133 million for two Lockheed Martin Corp. P-3C reconnaissance aircraft it plans to lease.

The Pentagon's Defense Security Cooperation Agency (DSCA) said the logistics support includes training devices, operations and maintenance training, as well as spare parts.

Bethesda, Maryland-based Lockheed would be the prime contractor, which DSCA said would help improve India's security, while at the same time strengthening the U.S.-India strategic partnership.

Congress has 30 days to block the proposed sale, although such action is rare.

DSCA spokesman Jose Ibarra said the notification did not include the leasing of the actual Lockheed P-3C Orion aircraft and had no immediate details on that part of the deal.

The Pentagon said the two leased P-3Cs would replace two existing Indian Navy patrol aircraft, Soviet-built IL-38 Mays, which were quickly reaching the end of their operational life.

"To maintain security, it is necessary that India replace these fixed-wing aircraft with an airborne operational capability for land-based maritime patrol and reconnaissance," DSCA said in a statement.

Lockheed officials in February first announced the company was in talks to sell up to 12 P-3Cs to the Indian navy. The company had no immediate comment on Monday's news.

India's rival, Pakistan, announced in August it had acquired eight P-3Cs from the United States, which would help boost its naval capabilities.
Link
Israeli companies invited to Indian Army rifles tender
Israeli defense companies have been invited to bid in an Indian Army tender for the purchase of 50,000 rifles, "Defense News" reports.

According to the weekly, the Indian Army is planning to upgrade the equipment of its infantry units. Indian military planners are currently considering future infantry models, including the infantry program of the US Army, an overall technological project for the future soldier; Israel's future infantry program; and South Africa's African soldier program.

The Indian Army is planning to equip its soldiers with an upgraded 5.56 mm assault rifle, sights and observation equipment installed on helmets, a radio and data communications system, and armor and survival equipment.

Within 3-4 months, the Indian Army plans to publish an international tender for the purchase of 50,000 rifles. Companies from Israel, Germany, South Africa, and the US will be eligible.

"Defense News" says that all bids must include a program for transferring rifle technologies to India in order to make local production possible.

Rifles offered in the tender are likely to include electro-optical components, such as thermal sights, holographic sights, video cameras and still photographs, a digital compass, and a global positioning system (GPS). Other equipment is likely to include a digital map and a battlefield identification system. A fire control computer will coordinate all the elements, and make it possible to use electronically summoned air blast ammunition. Rifles will also be equipped with a grenade launcher.

The Indian Army is also planning to buy several thousand light helmets with equipment for distributing data from sensors and other digital information. Battle suits will include ballistic armor and atomic-biological-chemical (ABC) identification kits. The suits, made of infrared-absorbing camouflage materials capable of changing color to match the surroundings, will minimize physical pressure on the body.
Link
Lockheed Martin eyes new opportunities in Indian arms market
Armaments major Lockheed Martin, in the race to supply 126 combat jets to India, is eyeing several other opportunities to sell aircraft and hardware worth bns of dollars to the country's armed forces.

The US firm will bid for an Indian Navy proposal to acquire some 30 submarine hunter helicopters, the Indian Air Force (IAF)'s plan to buy 80 medium-lift helicopters and an Indian Army programme to acquire tactical missiles.

"I'm telling my colleagues in the US that there's a new opportunity here almost every day," Royce Caplinger, managing director of Lockheed Martin, told IANS.

Lockheed Martin is also pitching its C-130J Hercules, one of the most successful military transport aircraft, to the IAF and will be responsible for maintenance and product support if the Indian Navy goes ahead with a plan to acquire used P3C Orion reconnaissance aircraft from the US Navy.

The firm also makes the missiles used in the Patriot Advanced Capability-3 missile defence system that the US has offered to India. The chief of the US Defence Security Cooperation Agency flew to India in September to make a classified presentation on the system to the country's military top brass.
Caplinger, who heads Lockheed Martin's new Indian office in New Delhi that will be formally inaugurated Monday, admitted the burgeoning defence ties between the US and India had opened up new doors for American armament firms.

Lockheed Martin is one of four military aviation majors short-listed for India's programme to buy 126 frontline jets, and Caplinger believes the F-16 Fighting Falcon jets offered by his firm stand a good chance even though they are pitted against France's Mirage 2000 and Russia's MiG-29 - both already in service with the IAF.

The fourth jet in the race is Sweden's JAS-39 Gripen. The US government has also unilaterally offered the F-18 jet made by Boeing for the programme.

"The Indian government's request for proposals should be issued before the end of the year and we are anxious to get on and compete. We have a team standing by and the US government is preparing as well," Caplinger said.

"The IAF has the Mirage and MiG-29 in its inventory and likes them but the F-16 represents the latest and greatest that the US has to offer. The platform may be old but the technology, weapon systems and cockpit are the latest."
"We have competed with the other fighters and we can win this bid."

When it is concluded, the 126-jet purchase will be one of the largest defence buys by India, which has spent billions of dollars over the past few years to acquire a refurbished Russian aircraft carrier, six French Scorpene submarines, six Il-78 midair refuellers from Uzbekistan and three Phalcon spy planes from Israel.

The US government has been aggressively pitching the F-16 and F-18 to India, and the US Air Force has sent an F-16 squadron from Japan for the Cope India 05 wargame currently under way with the IAF at a base in West Bengal.

During the exercise at Kalaikunda airbase, IAF pilots will fly in the F-16s to get a feel of the aircraft.

Noting that the F-16 was in service with 24 countries, Caplinger said Lockheed Martin would have "no problems" with offering co-production of the jets in India. "We are trying to be pro-active about this deal and have already visited Hindustan Aeronautics Limited (HAL) to look at their (production) facilities," he said.
By choosing the F-16, Caplinger said, India would also get "on the path" to the F-35 Joint Strike Fighter currently being developed by Lockheed Martin.

Lockheed Martin has tied up with Sikorsky to offer the MH-60 helicopter for an Indian Navy programme to replace its ageing Sea King submarine hunter helicopters.

"We hope to have the request for proposal for that programme soon. Lockheed Martin will provide the cockpit, sensors and weapons and Sikorsky the platforms," Caplinger said.

Lockheed Martin is also offering its shoulder-fired anti-armour Javelin missile to the Indian Army and patrol vessels and helicopters to India's Coast Guard, Caplinger said.
Link
Pranab Mukherjee to discuss new defence projects in Moscow
Defence Minister Pranab Mukherjee will be leaving for Russia on a three-day official visit tonight.

Mukherjee will co-chair the India-Russia Inter-Governmental Commission (IRIGC) on Military Technical Co-operation (MTC) with his Russian counterpart Sergei Ivanov, on whose invitation he is leaving for Moscow.

The IRIGC-MTC is the apex body of India's strategic defence partnership with Russia and annually reviews the work done as per plan and sets target for the coming year.

A number of new projects are currently on the anvil between on the anvil between the two countries and these will be discussed at the meeting of the IRIGC to take them forward.

Sources said that a major Russian concern regarding intellectual property rights (IPR) will be addressed successfully during Mukherjee's visit, adding that an agreement in this regard is likely to be signed during his stay in Moscow.

Mukherjee who is visiting Russia on the invitation of his Russian counterpart, will be meeting President Vladimir Putin and other high ranking officials of Kremlin and hold talks over bilateral defence relations and the current security situation in India's neighbourhood.

India and Russia have over four decades of defence ties. Russia is presently India's largest weapons supplier with export of Russian military equipment forming 40 per cent of Russian military sales worldwide.

India and Russia have jointly developed the Brahmos supersonic cruise missiles. The Indian Air Force's (IAF's) fighter fleet is mostly of Russian origin with the bulk comprising of the MiG - 21s, and other variations like MiG 27s, MiG 29s. The Sukhoi multi-combat aircraft (Su-30 and Su-30 MKI) developed by Russia is now being produced at Hindustan Aeronautics Limited (HAL) under licence.

The T-72 tanks and the T-90 MBT that forms the core of the mechanised corps of the Indian Army are also of Russian origin and manufactured at Ordnance Factories in India. India is looking at procuring the Tunguska air defence system and the Smerch multi-role rocket launcher from Moscow.

India has also signed a 1.5-billion dollar deal with Russia for Admiral Gorshkov, the aircraft carrier that will be handed over to India by 2009 after a refit.
Link
Israel spy satellite on Isro vehicle
Israel has decided to launch its next spy satellite aboard India's Polar Satellite Launch Vehicle (PSLV) rather than on its own indigenous Shavit rocket, according to a report in Spacenews, the Washington-based weekly on global space business.

The report quoting Israeli officials in Tel Aviv said Israel's defence ministry and the state-owned satellite producer, Israel Aircraft Industries (IAI), are finalising with Indian officials contractual agreements for the planned October 2006 launch of TECSAR, Israel's first synthetic aperture radar imaging satellite.

"On the government-to-government level, a pre-existing bilateral accord on strategic co-operation (between India and Israel) already covers most aspects of the mission," the report said. The estimated 260-kg TECSAR is slated as the exclusive payload on the PSLV, which will be launched from the Indian Space Research Organisation's Satish Dhawan Space Centre in Sriharikota, the report said.

Since 1999, India has launched four foreign satellites — a Belgian, a Korean, and two German — aboard the PSLV, which has emerged as Isro's commercial workhorse launcher. All four satellites were less than 100 kg in weight and flew as "piggyback passengers" with India's own remote sensing satellites as the main payloads.

India has also signed contracts for the launch of individual satellites for Indonesia, Italy and Singapore in the coming years.
Link
India keen to develop AWACS
India is hoping for a breakthrough in its experiments with Airborne Warning and Control Systems, Awacs, after the project suffered a setback in 2004.

The programme re-started five years after an airborne early warning plane crashed in Tamil Nadu killing eight scientists and the pilot.

"The airborne warning and control system has become an integral part of any air force's operations," said Air Marshall P Rajkumar, former director of Aeronautical Development Agency.

He said, that India is buying three airborne control systems from Israel and added the Indian air force has no experience with Awacs aircraft.

The Indian air force is training with such planes for the first time at the India-US joint air exercises in Kalikunda, according to Rajkumar.

India is keen to have its own Awacs, and scientists admit the crash of the airborne plane slowed efforts.

"Programme was not abandoned [but] it went on like a drip mode or a slow mode," said former director of CABS, DRDO, Dr K Ramchand

It was this time, he added that the Israeli's offered their technology to India, which was accepted.

Ramchand is confident India will make its own airborne warning systems soon.

"In the next ten years India will have a very cost effective AWACS costing less than 20 million dollars".

India's plans don't stop there.

"After the Awacs programme, the next is the Joint Stars programme. The Awacs controls the air battle and the Joint Stars will control the land battle," Ramchand said.

Despite the setbacks, Indian avionics scientists remain passionate and committed to the idea of building an indigenously developed Awacs, which will one day fly in the Indian Air Force.
Link
Chinese naval fleet leaves for exercises with Indian Navy
A Chinese naval fleet today left for a visit to India, Pakistan and Thailand during which the vessels will hold the first joint naval exercises in foreign sea areas.
The fleet of Chinese People's Liberation Army Navy (PLAN), comprising of a 'Shenzhen' missile destroyer and a 'Weishanhu' depot ship, is expected to hold joint military drills, the first ever by the Chinese navy in alien sea areas, with navies of the three nations.

Sources with the fleet said the drills will focus on items in non-traditional areas, such as joint search- and- rescue exercises, Xinhua news agency reported from Zhangjiang port in southern China's Guangdong province.

Passing four straits, the fleet is expected to enter the Arabian Sea via northern part of the Indian Ocean.

The whole voyage is almost 10,000 sea miles and the sail will last over 40 days.

Destroyer Shenzhen, China's self-developed missile destroyer, has visited 11 nations in four previous trips.

Weishanhu paid its maiden tour to foreign lands, the report said.

Three Indian Naval ships had visited Shanghai port in Oct, 2003 and held joint exercises with the PLAN vessels.
Link
U.S., India ready to join forces for 15-day air combat exercise
It's a fighter pilot's dream: Matching skills, wits and hardware in a dogfight against a foreign-made jet, except nobody gets shot and the adversary really is a friend.

Dissimilar air combat training is the centerpiece of the 15-day Cope India exercise. U.S. military officials say it's to improve the U.S. and Indian air forces' ability to work with each other and promote cooperation and stability in Asia and the Pacific. It begins Monday on India's east coast, over Kalaikunda Air Base about 80 miles south of Calcutta.

The third Cope India since 2002 is the largest joint combat exercise between the two nations since at least 1963. This one features F-16s from Misawa Air Base, Japan; an E-3 airborne warning and control system (AWACS) aircraft from Kadena Air Base, Okinawa, and several types of Indian fighters.

About 600 personnel from both nations are taking part, officials said, including about 250 pilots, maintainers and support personnel from Pacific Air Forces. Most are from Misawa and Kadena, although a handful are from Hickam Air Force Base, Hawaii; Andersen Air Force Base, Guam; and Yokota Air Base, Japan.

Misawa is sending 12 13th Fighter Squadron F-16s and about 165 personnel from base agencies including operations, mission support, maintenance, civil engineering, communications, security and logistics readiness.

Joining from Kadena are about 40 961st Airborne Air Control Squadron personnel and an additional 30 maintainers.

"It's the first time an AWACS has played in an Indian exercise," said Lt. Col. Roberto Guerrero, 961st commander.

The AWACS will provide both sides detailed battle information, such as location of potential adversarial aircraft, said Capt. Alison Schorr, 961st air battle manager and project officer who was to deploy to India on Friday.

It's the Indian Air Force's "first opportunity to work with an AWACS platform," she said. "They only have ground-based radar."

But the learning is expected to go both ways.

Lt. Col. Hugh Hanlon, Misawa's 13th Fighter Squadron commander, said his pilots are anticipating training for the first time against Indian fighters such as the SU-30 and MIG-21 Bison, Russian-made aircraft with Indian specifications - similar to aircraft some U.S. adversaries fly.

"Most U.S. training is against U.S. aircraft," he said. "This allows us to get real experience of seeing these aircraft (in a combat scenario) and to train against their performance capabilities."

"They're very good," Hanlon said of his Indian counterparts, "We're excited. Rarely, if ever, is an Air Force pilot provided the opportunity to actually go fly with these kinds of aircraft.
Link
India to buy IAI drones in 220 million dollar deal
India is set to purchase some 50 drones from Israel Aircraft Industries in a deal worth $220 million, the Pakistani English-language newspaper, The Daily Times, reported on Friday.

IAI's Heron drones are fitted with thermal cameras and are capable of reaching altitudes of about 6 kilometers. They will be put to use carrying out reconnaissance missions on India's mountainous borders with China and Pakistan.

Pakistan's Daily Times reported that India already has some 12 Heron drones that proved their worth in the aftermath of the tsunami when they were used to gather information in afflicted regions.

India was said to have been close to sealing the deal with IAI in 2004, but it was postponed due to the change in governments in New Delhi.

Earlier, the Australian army announced it would purchase 18 Heron drones from the IAI. A spokesperson said that the drones would be put to use in Iraq.
Link
Indian Army to hold Desert Strike exercise on Nov 18 in Rajasthan
The Indian Army's Desert Strike exercise will be held on November 18 for which preparations are being made on a war footing.

According to sources, Defence Minister Pranab Mukherjee, Army chief Gen J J Singh, Air Chief Marshal S P Tyagi and 79 defence representatives of friendly countries will also attend the function to be held at Pokharan field firing range in the district.

The exercise being held under fire power demonstration will test recently acquired weapons and other equipment for its strike capabilities, the source said.

Senior defence officials and security experts from friendly countries have also been invited to the function, source added.
Link
Russia Tests Missile Designed to Overcome US Defense Shield
Russian media are hailing an intercontinental ballistic missile test, calling it a successful demonstration of the military's capability to pierce the U.S. anti-missile defense shield.

The Topol-M intercontinental ballistic missile has unique capabilities, making it virtually invulnerable, Russia's leading television broadcaster, Channel 1, commented Wednesday.

Trud, a pro-government daily, said the American anti-missile defense umbrella was no longer a problem for Russia because the test-launch demonstrated that the newest warhead could overcome it.

On Tuesday, Russia test-fired the new missile a new Topol, which boasts a range of some 10,000 kilometers. It was fired from a ground-based launcher and hit a target in a testing ground in neighboring Kazakhstan, the Defense Ministry reported.

Russia's Kommersant daily said the military claimed that "maneuvers" by the warhead during the final stretch of its trajectory would prevent missile defense systems from intercepting and destroying the incoming missile.

This would therefore be Moscow's "asymmetrical" response to the U.S. missile defense system, it said.

Deployment of the new warheads would begin next year, Strategic Missile Forces commander Gen. Nikolai Solovtsov announced last month.

Russia recently test-fired a Bulava missile from a nuclear-powered ballistic missile submarine. The Bulava is a modified, sea-based version of the land based Topol-M.

If successful, Topol-Bulava missiles would be the first intercontinental weapon system Moscow has created since it withdrew from the SALT-2 treaty with the U.S. in response to the American missile defense plans.

The stated aim of the U.S. program is to provide protection against the threat of ballistic missiles fired by rogue states, not by major missile powers like Russia.

Russia has long argued it had the capability to defeat the U.S. anti-missile defense program due to the size of its ballistic missile arsenal.

After President Bush pulled out of the 1972 Antiballistic Missile Treaty to pursue the new anti-missile defense program, Russia announced it no longer felt bound by previous agreements that prohibited missiles with multiple warheads.

Russia has looked at equipping its new Topol missile with multiple warheads, an option that would reduce the weapon's vulnerability to the U.S. missile defense system, which is designed to attack one warhead at a time.
Link
The global defense industry is constantly shaping how borders are protected, wars are fought, terrorists are tracked and caught, and global security maintained. We aim to track news, policy, military exercises and strategic affairs between the world's largest democracies - India and the United States.
Given the vast interest and passion we have in this field, we decided to launch this blog to give visitors the ability to track these developments, exchange ideas and link to other sources of Information. Our primary sources and links can be found on the main page. Some of the pieces published herein our ours, otherwise it is reproduced from other sources (news, think-tanks or publications) to provide our readers the ability to interact and respond. The link to the original source can always be found under the article. Articles and op-ed pieces written by us include thoughts and opinions that are ours, not those of any government or political party. Last but not least, this blog is not-for-profit, nor is it financially supported by any corporation, entity or organization. It is purely to be used for informational purposes and not commercial and/or profit motives.
Thank you, Nik Khanna & Jango Unwalla
| | |
| --- | --- |
| | |
About The Blog
This blog focuses on current issues concerning defense and national security for the world's largest democracy - India. It is updated regularly providing readers with in-depth information on technology transfer, acquisitions, counter-terrorism, security and military collaboration and strategic dialogue between India and the United States. The site includes links to top defense policy & research institutes, think-tanks, military sites and research organizations.
Cooperative Cope Thunder
Nikhil and Jehangir wrote an exhaustive article about the Cooperative Cope Thunder joint event. Their article was publihed in Vayu magazine. Click on the link below to read the in-depth article with amazing pictures courtesy of mark Farmer at topcover.com
Download
Guard members are ordinary people doing extraordinary things.
If you're looking for a way to serve your community and country while maintaining your full-time civilian career, the National Guard is for you. Click below to learn more about the proud history of the Army National Guard.
Link