Under gorgeous, clear skies in a faraway land, two countries' air forces are engaged in a few firsts.
After kicking off this year's version of Cope India on Nov. 7 with a series of familiarization flights, a dozen F-16s from Misawa Air Base, Japan, and a slew of Indian air force fighters began squaring off in a series of mock combat sorties.
Except for rest, meals and an Indian holiday on Tuesday, they haven't stopped yet.
Cope India 2006, named for the fiscal year, marks the first time that U.S. Air Force F-16 pilots have flown against Indian fighters in dissimilar air combat training and the first time that U.S. pilots have trained with the Indian air force's newest and most advanced fighter aircraft, the Su-30 MKI.
By the time the exercise concludes Saturday, Misawa's pilots expect to log close to 150 training missions, said Lt. Col. Hugh Hanlon, Misawa's 13th Fighter Squadron commander, during a phone interview Tuesday from Kalaikunda Air Base, India.
"It's going really well on both sides," Hanlon said. "We're happy with the Indian aircraft's performance, and we're extremely pleased with our performance. I think they would say the same."
This Cope India is the third such bilateral exercise since 2002, and the largest joint combat exercise between the two nations since at least 1963. About 250 personnel from Pacific Air Forces, including airmen from the 961st Air Control Squadron from Kadena Air Base, Okinawa, are deployed to India in support of improving interoperability between U.S. and Indian air forces and promoting cooperation and stability in the Asia-Pacific region.
The Indian air force's MiG-21 Bison, Mirage 2000, MiG-29 Fulcrum, and MiG-27 Flogger aircraft also are joining the F-16s in a series of offensive and defensive counter-air engagements. Many of the training scenarios task the F-16s to protect ground targets against advancing Indian aircraft — and vice versa.
Each combat sortie is discussed and scored in combined post-flight briefings using a program that "shows the ground track and location of all aircraft during an engagement," Hanlon said.
"We're trying to not talk about the scoring stuff," he added. "I think both sides got a lot of bad press last year and everyone missed the emphasis. More importantly, both sides are doing well and we're accomplishing the objective that we set out here to obtain."
It was widely reported after Cope India in February 2004 that the Indian air force scored several unexpected successes against U.S. pilots flying F-15 Eagles.
Hanlon called the exercise an "absolutely incredible" training opportunity. "We try to replicate how these aircraft perform in the air, and I think we're good at doing that in our Air Force, but what we can't replicate is what's going on in their minds," he said. "They've challenged our traditional way of thinking on how an adversary, from whichever country, would fight."
Hanlon commended the 74 maintainers deployed from Misawa's 35th Aircraft Maintenance Squadron, noting not one sortie has been canceled due to maintenance problems.
"This pace has been unreal; the first day was just go, go, go," Senior Airman Troy Herberholzt, 35th AMXS F-16 crew chief, was quoted as saying in an Air Force news release.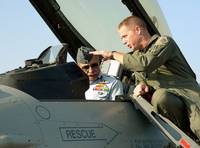 Nanjapa gets a bird's-eye view sitting in the cockpit of an F-16 at Kalaikunda Air Station, India, as he and Col. Rusty Cabot, U.S. deployed forces commander, discuss the capabilities of the F-16.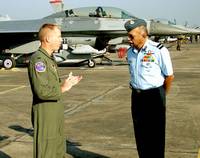 Col. Rusty Cabot talks with Indian air force general B.C. Nanjapa at Kalaikunda Air Station, India. A dozen F-16s from Misawa Air Base, Japan, are deployed to India for the Cope India '06 exercise.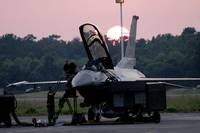 Staff Sgts. Lyle Janey and Allen Conard, along with Sr. Airman Sean Mcelree, all avionics specialists from the 35th Aircraft Maintenance Squadron, Misawa Air Base, Japan, put their finishing touches on an F-16 as the sun sets over Cope India 2006.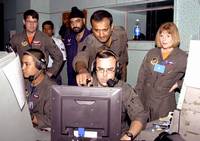 Capt. Michael Thomas, lower center, senior director, and Tech. Sgt. Steven Harshman, lead weapons director, with the 961st Airborne Air Control Squadron from Kadena Air Base, Okinawa, monitor and direct aircraft with an Indian Air Force squadron leader recently during Cope India '06.
Photo Courtesy: John Redfield and Martin Jackson of the United States Air Force